by Deb Rao
– Senior Columnist —
Biff Byford of Saxon checks in with Hardrock Haven to discuss the upcoming March release of Sacrifice. After 30 years, Saxon remains one of the heavy metal thunder weights of the British metal invasion. Sacrifice unleashes the powerful fury of the early Saxon heavy thunder days with a modern twist.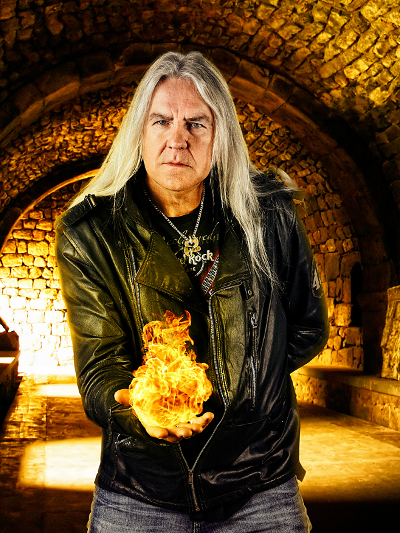 HRH: Biff, welcome to Hardrock Haven. Tell us about the writing process for Sacrifice.
Biff: It is a bit heavier than the last album.
HRH: Yes, you are going back to the early '80s sound on this album. I think it has that signature heavy metal thrash. Do you agree?
Biff: Some of the songs do. It has that modern niche as well. Some of the songs are really thrash metal. I suppose this is sort of the stuff that Metallica likes so much.
HRH: Over how long a time period did it take for you to create the album?
Biff: About four months from writing to finishing recording.
HRH: How did you come up with the title of the album Sacrifice?
Biff: I went to Mexico and they have a million ruins. I got quite a few subjects for a metal album.
HRH: After 30 years the band is still going strong. I want to congratulate you. What inspires you to keep writing great music?
Biff: We have a lot of passion for the album. We have a lot of fans around the world. We just love to play and write music and to go out and play in front of a live audience.
HRH: How do you feel to be part of the British metal invasion that has inspired so many new bands too?
Biff: Great really. For the Iron Maiden, Judas Priest, Motorhead, we have influenced quite a quite of lot of rock bands.
HRH: Do you attribute to Saxon's longevity?
Biff: I think songs. And we have still survived really. We never stopped and got back together later on. We have always been there.
HRH: Right. Kind of like The Beatles. From day one. I agree. I think that is the secret to success to stay together and never stop writing.
HRH: After all these years, what is your favorite thing about performing?
Biff: Just playing the songs live really. The atmosphere especially when the place is full and everybody is singing your song. It makes you feel it.
HRH: As a singer your voice is still as strong as day one. What so you do to keep it in shape?
Biff: Nothing really just take a deep breath and sing!
HRH: Saxon is getting ready to set sail on the High seas in the U.S. on the Monsters of Rock Cruise on March 16th. Are you excited?
Biff: Yes, that is the first shows in March. Then we go into South America and back to the U.K and then to Europe and hope to get to some North American shows. You are in Las Vegas right?
HRH: Yes. I hope you return here. I know the band played here at the Rio last year.
Biff: Yes, we enjoyed that. I was pretty surprised. Good turnout.
HRH: Do you have a favorite city to perform?
Biff: I don't think we have any favorite ones. The major countries and cities are always pretty special like London and New York, Rome, and Paris. They are always a bit special because you get people traveling from all over the world. We have a great time anywhere.
HRH: Do you enjoy playing the outdoor festivals more than the clubs?
Biff: We headline big festivals in Europe. It is different playing in front of 90,000 people. They are both great. Playing in a theater can be a different experience.
HRH: Do you have any favorite songs off of the new album?
Biff: I like "Made In Belfast." It's got a bit of everything. It has a Celtic beginning with a mandolin and then goes into a bone crushing metal riff. I think it is fairly melodic in the middle. It is a quite interesting song.
HRH: Is there anything else that you would like to say about Sacrifice?
Biff: It is a great album and we worked hard on it. It is getting 5 stars reviews around the world. We will keep our fingers crossed we can sell a few copies.
Online: www.facebook.com/saxon
Read Hardrock Haven's Saxon Sacrifice CD review here.