Csaba Zvekan of Raven Lord
by John Kindred
– Publisher —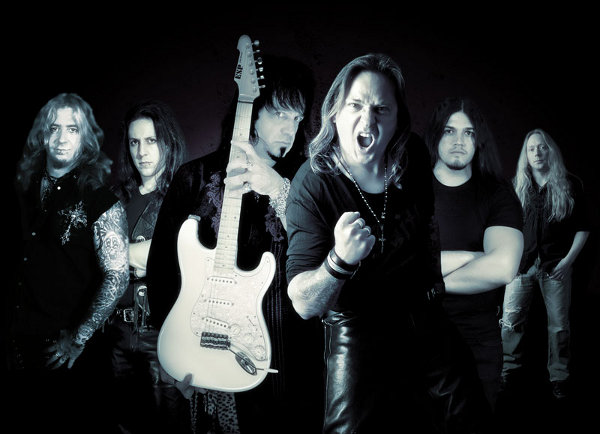 After his departure from Killing Machine vocalist Csaba Zvekan set out to create a new band that delivered heavy metal with progressive and Neo-classical influences. His new band Raven Lord fits the bill for his vision. Joining Zvekan is the shred-god Joe Stump on their debut studio album Descent to the Underworld which is a full-on metal assault. In this interview Zvekan talks with Hardrock Haven about his music career, previous bands, his journey to the USA and Raven Lord …
Hardrock Haven: Hello Csaba. Thanks for taking the time to talk with Hardrock Haven.
Csaba Zvekan: Well first of all thank you for the interest in Raven Lord and this fantastic opportunity to be in your online magazine Hardrock Haven. Also I would like to thank for the great CD review you guys have given us.
Hardrock Haven: Before we talk about your new band Raven Lord, let's dig into your history a bit. Your last band was Killing Machine but your career goes back a lot further. So when did becoming a lead singer in a band become your passion?
Csaba Zvekan: In very early years my parents had me tutored in the Music Academy on rather classical instruments. When I was a teenager I listened to a lot of Hard and Heavy bands like Led Zeppelin, AC/DC, Black Sabbath, Judas Priest and many other bands.
It was becoming clear to me that I'm the singer in the band when we jammed in a three-piece formation me playing guitar and singing, drums and bass. The drummer then pointed out to me to rather focus on the vocals and we would get another member who would play the guitar instead. From then on I kind of knew that this was becoming my main instrument.
Hardrock Haven: You were born in Subotica, Serbia (formerly Yugoslavia) and lived in Switzerland … what motivated you to move to the U.S. in the '90s?
Csaba Zvekan: Yes, my name is Csaba and that is Hungarian it's pronounced "Chawbaw". My last name Zvekan is Croatian and I was born as a Hungarian minority in the old Yugoslavia now Serbia. My musically oriented family moved to Switzerland when I was four years old. I grew up and went to school in Basel, Switzerland. The motivation there was the American dream and that is to play and work with these fantastic artists that all seemed to live in Los Angeles at that time. So one day when I turned 20 years of age I was like "Mother, I'm going to Hollywood, California." She wasn't nearly as happy and excited, as I was back then (laughs). Shortly after that I moved to Los Angeles to further my career as a sound engineering and musician by singing in many of them Hollywood based local bands.
Hardrock Haven: Including Killing Machine, can you tell me about the other bands you been or worked with?
Csaba Zvekan: Around the time when I was 18 years old I joined a local band called EMERGENCY on which we later got signed to a German label called Big MaXX. After that experience I found my own band called SARDONYX and with some distribution contacts I established my own record label called Dream Records. With SARDONYX– Open Gates was my second album released in Europe. Shortly after that I moved to Los Angeles to further my career as a sound engineering and sang in many Hollywood based local bands. On a few attempts Peter Scheithauer and me were trying to record albums together that always resulted him changing the vocals by a different singer. We recorded some demo tapes for the STREAM album and had Dave Spitz from Black Sabbath playing bass and Stet Howland from W.A.S.P., etc. on drums. So around 2009 when Peter Scheithauer asked me to sing and write songs for Killing Machine I said yes again. When all was said and done we had a full album written and we were ready to play shows that following summer. We opened up for AC/DC 's Black Ice Tour 2010 in Nice and Paris, France followed by Graspop Metal Meeting, Wacken and Foire aux Vins. Playing alongside with Soulfly, Europe, Saxon, Alice Cooper and many more.
Hardrock Haven: Your new band Raven Lord started in 2010. How long did it take to put together the current lineup?
Csaba Zvekan: It was around March 2011.This is when I met Axel Wiesenauer from ROCK 'N GROWL promotion. We shortly ended up working together and decided on making the band called Raven Lord. The band name came up through brainstorming and to differentiate things a bit the word was split up purposely to make it kind of unique.
I meet a couple of Swedish guys from Stockholm Tobias and Peter who wanted to make a band. Tobias introduced me then to Stefan a very talented guitar player and we started working with him. Jamie Mallender was working with ex-Black Sabbath singer Tony Martin before and when my manager proposed him to me. I was like "Hell yeah." JAMIE is a mufti-instrumentalist and has his own music school in Sheffield, UK . He has been with Raven Lord from the very beginning and contributes a lot to our common work. Larry Paterson our drummer was found through an online audition. However Larry is also involved and busy with another band, writing a book and making a documentary. So now that we have all these shows confirmed this summer but the dates were clashing left and right. So LARRY is taking some time out with RAVEN LORD and Rich Smith from Powerquest will be our new drummer. George Karafotis is a shredder and talented guitarist from Greece. George handles rhythm guitars and brings cool riffs to the RAVEN LORD table. Alessandro Duo now comes from Italy and fills the slot for the keyboardist. Also he will be our future recording and live player. And last but not least the mighty "shred-lord" Joe Stump who recently joined up with Raven Lord after the record was already done. We all are looking forward for his shredding techniques in the live situation. His interpretation of the songs and most of it the future Raven Lord songs are going to be "off the Richter."
It wasn't always easy to find the right band member. Especially in the beginning it was hard to find the right guys. Now that Raven Lord has a record out and our concept shows a lot of interest it would be much easier to find them players.

Hardrock Haven: Tell us about the process of writing, record and releasing the new debut album Descent to the Underworld.
Csaba Zvekan: The whole concept of the band was to have a hand picked, international band. So, we knew from the start that we would not be able to meet up to record, unless one of us fell into a well of gold coins! The whole thing was done through the Internet. Someone would upload an idea and everyone else would then work on it and change it and we quite easily and painlessly developed our ideas into song structures. I then would edit things, as I needed them, to work around the lyrics and melodies. There are obvious drawbacks to working this way but a great many pluses. We are not 18 year old's in a garage with no life but the band, time is precious to all of us. Working this way, each person can develop the songs in their own way and in their own time.
Hardrock Haven: You recently added Joe Stump to the band. Were you looking to add a second guitarist the whole time? And does George Karafotis and Joe share the spotlight as soloist in the band?
Csaba Zvekan: Raven Lord is a six-piece band. That means two guitars one lead and one rhythm. Joe Stump has worked hard for the last decades in his career as a "shred-master." Making a name as a solo artist as well as in other great bands. George Karafotis is our youngest member and adds to the overall beef in the guitar section. Eventually he might help out with some second harmonies. How ever I prefer to have a continued rhythm guitar played during the leads. The riffs are too important to be missed even during solos. One thing is for sure, Joe Stump and George Karafotis both players will stand in the spotlight.
Hardrock Haven: Did the Neo-classical edge exist before Joe joined the group?
Csaba Zvekan: Yes, and it was intentional. I was looking for this type of guitars with arpeggios and very Neo-classical play. Stefan Lindholm did a fantastic job there. Now that we have JOE STUMP in the band things will go into the next level as now there will be some serious shredding damage in the future.
Hardrock Haven: Now that the album is done and released how has the response been to the music?
Csaba Zvekan: It is incredible and I never though to make such an impact with this record. I mean I'm giving an interview everyday sometimes even two. CD-reviews are all very high notes while RAVEN LORD is getting more and more momentum in the download charts. We even peaked in France and UK in their amazon download charts. Press, fans and critics love the CD. It's an amazing feeling! So that's a good thing.
Hardrock Haven: What song or songs on the album are your personal favorites?
Csaba Zvekan: Let me explain what the songs are about first:
OK, so "The Rebel" is about us standing up against the tyrants of this World. I sing that "we all are the rebels" and should "take things back in our hands." We should think about our future and find ways how to better this world without violence and oppression. Basically an equal society where there is no suffering for humans, animals or nature.
"Let the show go on" is the image or the final scene for the Walt Disney movie "Pirates of the Caribbean" (laughs). Believe it or not I watched and liked that kids movie a lot so it ended up in this song. How ever there is also a little mix of anger and fiction in the whole song.
Now "Promised Land" is a song about near death experience and fits very well in the over all theme for "Descent to the Underworld." It is about slowly fading out from this world but eventually "I'm back from the Afterlife and back to the Promised Land."
All right "Black Friar" is pure mythological and fictional. It explains the RAVEN LORD flying down to the gates of the Underworld knocking on them doors entering and bringing messages back from the dead. "As he is the master of life and death."
Definitely one of the main and favorite topics for this album.
I am also having fun with "World out of steel" it's the city of metal where everything is in shiny armour. The song about the little city of "Wacken" and it's yearly festival with all them metal fans and metal gods out there \m/.
"Revelation" is my personal favorite as it is intense. It tells the story about the "eternal flames of fire" or hell, the apocalypse as it is described from the book of revelation. Many classical composers like Mozart, Bach, Beethoven, Grieg have written about this subject. Must be a very popular theme as it is for me too. In a live situation I prefer songs like "Black Friar," "Metal Knights" and "World out of steel." I can imagine it to be a great song for the crowd as they can sing along with shouts and choruses.
Hardrock Haven: Does Raven Lord plan to tour? Will you attempt to bring the band to the U.S.?
Csaba Zvekan: Yes, we are planning to play as many shows as possible. We'll do some summer shows in Europe first as the way I call it. This includes festivals, open airs, clubs and what ever we can get our hands on. Our first big confirmed show is the R-MINE METALFEST 2013.You can expect a very well organized METALFEST by R-MINE production. Also a well selected program by the promoter. With great detail and headliners like Symphony X, Rhapsody of Fire and Hell.
As far as RAVEN LORD we're playing Saturday 22nd June 2013 on the main stage. And everybody who goes out there to see us play can expect to be yelled at on top my lounge, shredded away from Joe Stump's leads and George Karafotis's riffs. Held in the grip by the rhythm section Rich Smith and Jamie Mallender. The only breaks you get to cool off are from our keyboarder Allessandro Duo or the short breaks between the songs.
As far as US shows goes. This is more realistically to happen in 2014.
Hardrock Haven: Thanks again for answering my questions. Is there anything I didn't ask that you might want to tell our readers?
Csaba Zvekan: I would like to thank again to Hardrock Haven for the CD review and the opportunity for this interview. Then I'd like to thank to our friends, fans and supporters and the readers of Hardrock Haven. Come and see us play one day! Thank you.
Hardrock Haven: We wish all the best. Take care.
Visist Raven Lord's official website: www.raven-lord.com
Facebook: www.facebook.com/ravenlordmusic
Read Hardrock Haven's CD review of Raven Lord's Descent to the Underworld here.