Damnation Angels | Bringer of Light
by Justin Gaines
– News Editor / Senior Journalist —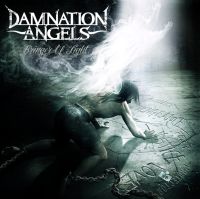 One of the most eagerly anticipated power metal debuts in recent memory, Bringer of Light is the first full-length release from UK-based symphonic power metal band Damnation Angels. The band made a decent impact with their 2009 EP Shadow Symphony, but with their recent hiring of Norwegian vocalist Per Fredrik "Pellek" Asly and addition to the 2013 ProgPower USA lineup, they've raised their profile significantly.
Given that Damnation Angels plays progressive-oriented power metal with a strong symphonic side, and they now have a charismatic Norwegian front-man, comparisons to Kamelot are inevitable. So let's get that out of the way up front. Bringer of Light sounds like a classic Kamelot album. Think Karma or Epica, but with a (much) better singer. Honestly, Kamelot fans that are less than thrilled with the band's recent output are probably going to lose their minds over Bringer of Light. Beyond the Kamelot comparison, Damnation Angels also brings to mind bands like Avantasia, Epica and Circus Maximus. Again, this is not a bad thing at all.
Bringer of Light has several things going for it, but there are three aspects that stand out in particular. The first is that under everything else, this is just a very well written, expertly executed melodic power metal album. The guitar work is very strong, the keyboards and piano are used brilliantly and never overused, and the melodies…well, calling them infectious is an understatement. They will be lodged in your head long after the album ends. You hear the basic power metal strengths most in the inter-connected "Someone Else," "Bringer of Light" and "Shadow Symphony." Factor in the symphonic elements and the album is that much stronger. Guitarist/chief songwriter William Graney handles this well. It never feels as overblown as say, recent Nightwish albums, but it is a huge part of the Damnation Angels sound, especially on the album's 10-minute bookends "The Longest Day of My Life" and "Pride (the Warrior's Way)." There's also a nod to one of the first symphonic metal projects – Metallica's S&M – with the very effective cover of "No Leaf Clover." The third element, and the one that is going to leave a lot of people with a new favorite singer, is Pellek's vocal performance. The man has a stunning, four-octave vocal range and he brings an incredible energy and charisma to the band and album. His voice is crystal clear and has tremendous power. Put these three key elements together and the result is nothing short of amazing.
If you like your power metal melodic and symphonic, Bringer of Light needs to go directly to the top of your buy list. Damnation Angels is one of the brightest new stars in the power metal universe, and are sure to appeal to fans of bands like Circus Maximus, Avantasia, Seventh Wonder, Epica and especially Kamelot. If you set aside the fact that Bringer of Light was released in Japan several months ago, this album has to be considered a top ten album for 2013, and so far is the year's best power metal release by far.
PS – As mentioned earlier, Damnation Angels will be making their U.S. live debut this September at the ProgPower USA festival. Given how rarely a band like this makes it to the U.S., if you have the opportunity to attend this event, do not pass it by.
Genre: Power Metal, Symphonic Metal
Band:
William Graney (g) (k) (v)
Per Fredrik "PelleK" Asly (v)
John Graney (d)
Stephen Averill (b)
Dawn Trigg (p)
Track Listing
1. Ad Finem
2. The Longest Day of My Life
3. Reborn
4. I Hope
5. Pt. 1 – Acerbus Inceptum
6. Pt. 2 – Someone Else
7. Pt. 3 – Bringer of Light
8. Pt. 4 – Shadow Symphony
9. No Leaf Clover
10. Pride (the Warrior's Way)
Label: Massacre Records
Website: www.damnationangels.com
Hardrock Haven rating: 9/10