Deadly Assassin | The Metal Knights
by Justin Gaines
– News Editor / Senior Columnist —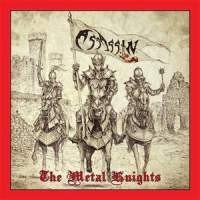 Briefly known as Assassin, Minnesota based heavy/speed metal band Deadly Assassin was active in the mid '80s, delivering high-speed heavy metal with high-pitched vocals and a Christian message. The band released a 10 song demo cassette (as Assassin) in 1987, and recorded some later songs as Deadly Assassin, but they, like so many other metal bands, did not survive the '80s. Now thanks to Stormspell's collection The Metal Knights, we have all of the Assassin/Deadly Assassin recordings collected on CD for the first time.
The very idea of a Christian version of King Diamond seems impossible to imagine, but that's not too far removed from Deadly Assassin's sound, at least on the vocal side, where Tony Santine goes from a gruff, thrashier style to a (very) high-pitched wail in a heartbeat. Musically, the band was somewhere between the typical NWOBHM-inspired traditional heavy metal sound and the emerging thrash sound. Exciter and Savage Grace come to mind. It's pretty interesting stuff, and very, very metal. You get a few repeats on this collection, as they demoed some songs both as Assassin and Deadly Assassin, but even with that there are a lot of vintage metal tunes to take in here, including a cool cover of the early Anthrax song "Metal Thrashing Mad."
As for the lyrical content, it is obvious (more so on some songs than others) that Deadly Assassin was a Christian band, but they don't get too carried away with it. It's mostly Revelations-inspired apocalyptic themes, and that's something plenty of bands of the era took on. The average metal fan can listen to this collection without getting a full on Sunday school session.
Since this is part of Stormspell's Red, White and Heavy series, The Metal Knights disc is a) limited to 500 copies, and b) not as good sound-wise as the usual Stormspell release due to the limitations of the source material. This is the tradeoff though. You sacrifice on sound quality (quite a bit on some tracks), but we at least get to hear these vintage metal songs that otherwise would be lost to history. It does have the usual high quality visual presentation Stormspell is known for, including rare photos and band info.
Stormspell markets their Red, White and Heavy series to "the initiated," and that's exactly who will get the most out of this collection. The Metal Knights is a release that is really only going to appeal to the most dedicated and die-hard collectors of cult '80s heavy metal. Those collectors are going to love discovering (or rediscovering) Deadly Assassin after all these years.
Genre: Heavy Metal, Speed Metal
Band:
Steven Aguirre (b)
Rick Bunce (d)
Joe Aguirre (g)
Brian Aguirre (g)
Tony Santine (v)
Track Listing:
1. A Warning from Heavens
2. Satan's Imprisoned
3. Metal Knights
4. Premonition
5. Spirit of the Night
6. By the Fire of Your Grave
7. A Warning from Heavens
8. Satan's Imprisoned
9. Soldiers of the Lord
10. Tyrants of Evil
11. Metal Knights
12. Premonition
13. Spirit of the Night
14. Dark Evil Forces
15. Assassin
16. Metal Thrashing Mad
17. Unchained Angel
Label: StormSpell Records
Hardrock Haven rating: 8/10