Hammerfall | Gates of Dalhalla
by Alissa Ordabai
– Senior Columnist —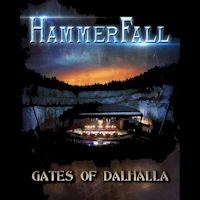 The intro of the opening track makes you double-check you are listening to Hammerfall, not to Motely Crue's "Shout at the Devil". But seconds later there is no mistaking these power metal troopers for anyone else in the biz. Recorded at an open-air venue near a small Swedish village, the album in hand is a 26-track marathon which only the most devoted fans will have the stamina to finish.
Don't get me wrong – Hammerfall's take on the genre has always been one of the most entertaining and pathos-free on the scene. Oscillating between sing-along drinking songs and good old-fashioned Kiss-inspired Seventies-style rock 'n' roll, it carries the goodtime vibe of a campus student party. The melodies may get repetitive after a short while, and the songwriting may roll along the all-to-familiar track, but flashes of spontaneous inspiration still fire up the proceedings in the form of Pontus Norgren's solos.
Virtuosically performed and flawlessly constructed, Norgren's leads rescue the material from total predictability. Instrumental guitar standout "Something for the Ages" becomes one of the biggest highlights of the album – an exciting, beautifully phrased song-like piece which adds a grown-up element beyond the band's campy – although often jocular – poses. The band's recent announcement of a hiatus couldn't have been accompanied with a more illustrative summation of their decade-and-a-half output.
Genre: Power Metal
Personnel:
Pontus Norgren – guitar, backing vocals
Anders Johansson – drums
Fredrik Larsson – bass, backing vocals
Oscar Dronjak – rhythm guitar, backing vocals
Joacim Cans – lead vocals
Track Listing:
1. Patient Zero
2. Heeding The Call
3. Any Means Necessary
4. B.Y.H.
5. Riders Of The Storm
6. Let's Get It On
7. Crimson Thunder
8. Renegade
9. Blood Bound (Special Guest: Stefan Elmgren)
10. Last Man Standing (Special Guest: Stefan Elmgren)
11. Fury Of The Wild (Special Guest: Stefan Elmgren)
12. Drum solo: Anders Johansson
13. Always Will Be
14. Dia De Los Muertos
15. Steel Meets Steel (Special Guest: Mikael Stanne)
16. Threshold
17. The Dragon Lies Bleeding (Special Guest: Jesper Strömblad)
18. Let The Hammer Fall
19. När Vindarna Viskar Mitt Namn (Special Guest: Roger Pontare)
20. Something For The Ages
21. The Templar Flame
22. Oh Fortuna (Special Guest: Team Cans)
23. Glory To The Brave (Special Guest: Team Cans)
24. One More Time (Special Guest: Team Cans)
25. HammerFall
26. Hearts On Fire (featuring all Special Guests)
Label: Nuclear Blast
Online: www.hammerfall.net
Hardrock Haven rating: 7/10