by Ron Higgins
– Columnist —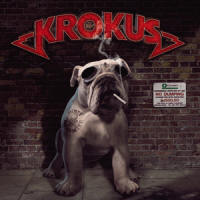 After working for two years in the legendary Abbey Road Studio with bassist and producer Chris Von Rohr, Swiss rockers Krokus are back! Their last release, the excellent 2010 Hoodoo, went platinum in their home country and this album is just as impressive. It's a no-nonsense, straight-ahead rocker featuring 12 explosive tracks, all clocking in at a succinct three to four minutes in length. The band also welcomes back guitarist Mandy Meyer to the fold after a mere 30 year absence! Dirty Dynamite is the band's 17th studio album, and after nearly four decades of rocking, they show no signs of slowing down now.
As anyone who has followed this band throughout their lengthy career knows, they have always been inspired by AC/DC. So it should be no surprise that many of the songs on their latest release have the down-and-dirty rhythm and blues vibe of the Aussie rockers. As lead singer Marc Storace has done before on songs like "Long Stick Goes Boom", he channels his inner Bon Scott. But this time, he does more than sound like AC/DC's former front-man, he becomes Ronald Belford Scott. The only thing missing is a kilt and some bagpipes. Songs like "Go Baby Go" and "Better Than Sex" are rhythmically and vocally so similar to vintage Bon-era AC/DC, bands like Airborne and Rhino Bucket sound like Air Supply in comparison. It's downright eerie, in an awesome "Bad Boy Boogie" sorta way.
The album kicks off with the appropriately titled "Halleluja Rock n Roll." It's an up-tempo, bluesy rocker that sets the tone for the rest of the album, right from the first sounds of a growling dog whose picture graces the album's cover. He's a tough, dirty bulldog, complete with cigarette and obligatory tattoo. He's a perfect metaphor for this enjoyable tough-as-nails release.
The second track is the aforementioned "Go Baby Go", which is part "Dirty Deeds" and part Little Richard's "Ready Teddy". This is followed by another nice rocker, "Rattlesnake Rumble" where the boys find their inner ZZ Top.
Next up is the title track, "Dirty Dynamite". Interestingly, this is a somewhat slower track with a groovier, bluesy vibe. It's a simple 12-bar blues tune that even features a nice piano accompaniment in the background. Compared to the other songs on offer, it's a bit of a surprise that they chose this one as the title track, lead single and video. It's not bad, just not representative of the rest of the album and not the strongest song on offer.
"Let The Good Times Roll" returns to the hard rockin' swagger of the earlier tracks. It begins with someone muttering either, "cut the track" or "cut the crap". Either way, it works, while paying homage to AC/DC's "cut this" prefix to "Problem Child". And yes, it's "cut this" not the four-letter favorite most people like to sing.
Next up is one of the most interesting tracks on offer. As they are known to do, they have included a classic cover tune. Remember when they did their take of The Guess Who's "American Woman"? This time around they go for a true classic, "Help" by the Beatles. What makes it so interesting is that, aside from the lyrics, you can barely tell it's the same song. They truly put their own spin on it and it comes out great. Vocally, it's more Rod Steward than Bon Scott so it's a little atypical but it becomes more enjoyable with each subsequent listen. It also has a bit of a Pink Floyd tinge to it. They prove quite convincingly that they are certainly no one-trick pony.
Returning to their hard rocking ways, "Better Than Sex" is another raucous rocker with a flirty "Don't Put Another Dime in the Jukebox" riff and a "Sin City" breakdown midway through. This is followed by another highlight, the interestingly titled "Dög Song", with a catchy "All Night Long" chorus. "Yellow Mary" sees another return to Rod Stewart-land and "Bailout Blues" features some blistering guitar work. The album wraps up with the excellent, high-energy "Live Ma Life" and "Hardrocking Man," which, ironically, is more poppy and less rocking.
It's not a perfect release but it's immensely enjoyable and seems to get better with each listen, slowly percolating into your musical consciousness like a well brewed cup of coffee. A cup of coffee with a shot of whiskey perhaps, but coffee nonetheless. If you like hard rock, you'll like this album. If you like Krokus, you'll like this album. Basically, if you like good old-fashioned, dirty, bluesy rock and roll, you'll like this album. And if you long for the days when the Young brothers were knocking out classics with their previous singer, then you owe it to yourself to get this release. It's essentially the album everyone wishes AC/DC would make.
Genre: Heavy Metal, Hard Rock
Band:
Marc Storace – Lead Vocals
Chris Von Rohr – Bass, Vocals + Producer
Fernando Von Arb – Guitar + Vocals
Mark Kohler – Guitar
Mandy Meyer – Guitar
Guests:
Kosta Zafiriou – Drums
Mark Fox + Tommy Heart – Vocals
Track Listing:
1. Halleluja Rock n Roll
2. Go Baby Go
3. Rattlesnake Rumble
4. Dirty Dynamite
5. Let the Good Times Roll
6. Help
7. Better Than Sex
8. Dög Song
9. Yellow Mary
10. Bailout Blues
11. Live Ma Life
12. Hardrocking Man
Label: The End Records
Website(s): http://krokusonline.com
Hardrock Haven Rating: 8.7/10