by Nikiforos Skoumas
– Columnist —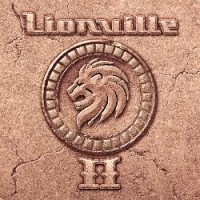 There seems to be no rest for a success story in the melodic rock world, and that certainly is true for Lionville. A year after the release of the band's debut album, Lionville has just issued the second full-length studio effort by the Swedish-Italian AOR formation. Lionville, the brain child of Italian guitarist Stefano Lionetti, is back with its second album under Avenue of Allies records and promises more of the same exquisite blend of Mediterranean and Scandinavian rock.
This time, Lionville seem to emerge with a full-time lineup, featuring Hardline members, keyboardist Alessandro Del Vecchio and bassist Anna Portalupi, guitarists Mario Percudani and Bruce Gaich, along with drummer Alessandro Mori. Star vocalist Lars Safsund fronts Lionville once again, proving that he is committed to the success of the project.
The simply-titled II, picks up where the debut left off, delivering more guitar-driven, though perfectly polished, adult-oriented rock songs. What you get with II is major melodic rock, and its overall optimism causes it to sound a little too white, even by AOR standards. In particular, the absence of a hard-hitting melodic hard rocker tunes in the style of "Heart of Thunder," which is a highlight of the previous album, is evident.
Upon the release of the band's debut album, some media were quick to make comparisons between Lionville and Work of Art, often concluding that a good part of Work of Art is embedded in Lioville's musical DNA. II seems to validate that assessment, with the inclusion of WOA mastermind Robert Sall as an external songwriter. Sall co-writes three key songs on the new Lionville album, including the opener, "All we Need," while Safsund is credited for "Shining over Me" and "One in a Million." So, as most would expect, Lionville does not stand musically too far away from the Swedish powerhouse, and that only can be regarded as a major advantage for Stefano and Co.
Once again, II is bound to have a few surprises for those who enjoyed the Lionville debut, and it thoroughly fulfills the demands of the Work of Art/Lionville fan base. Lionville seem to be here to stay.
Genre: Melodic Rock, AOR
Line up:
Lars Säfsund: Lead & backing vocals
Alessandro Del Vecchio: Keyboards & backing vocals
Bruce Gaitsch: Electric & acoustic guitars
Mario Percudani: Electric guitars
Anna Portalupi: Bass
Alessandro Mori: Drums & percussion
Track list:
1. All We Need
2. The Only Way Is Up
3. Another Day
4. Higher
5. No Turning
6. All This Time
7. Next To Me
8. Waiting For A Star To Fall
9. Don't Walk Away
10. One In A Million
11. Shining Over Me
12. Open Your Heart
Label: Avenue of Allies
Hardrockhaven rating: 8/10