LIVE! | Daughtry, 3 Doors Down with Aranda
by Jonna Ambur
– Photojournalist —
FEBRUARY 17, 2012, MOHEGAN SUN ARENA, UNCASVILLE, CT —
Aranda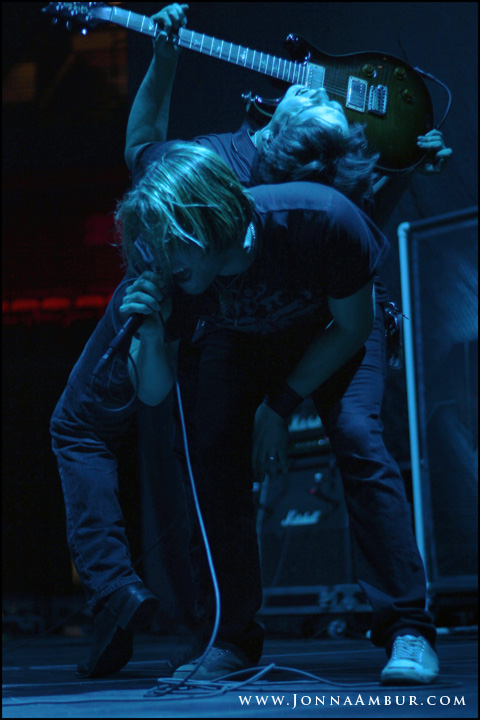 The Oklahoma City-based brothers Dameon (guitar/vocals) and Gabe Aranda (vocals/keyboard), along with Mike Walker and B. Webb comprise Aranda. The band formed in June 2001, and its first record, Aranda, was released in 2008. The band's most recent album, Stop the World, which was released in 2011, features "Undone" and the recent hit "One More Lie."
Up first, Aranda was just the energy the crowd needed to get the night started. The band's impressive guitar acrobatics, virtuosic skills and the set-ending standard "das boot" performance left everyone, even guests new to Aranda, cheering.
Set List:
One More Lie
Stand
Gravity
It Ain't Easy
Satisfied
Whyyawannabringmedown
3 Doors Down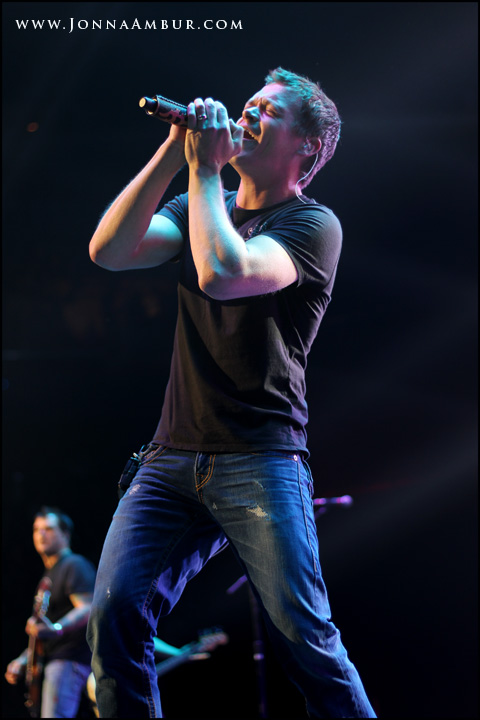 Mississippi's 3 Doors Down's first studio album, The Better Life, was released in 2000. Featuring hit singles, "Kryptonite," "Loser" and "Duck and Run," it went on to sell more than three million copies. In 2003, the band started The Better Life Foundation, TBLF. TBLF supports many children's charities and has assisted with aid to the Gulf Coast region of Mississippi after Hurricane Katrina.
Since The Better Life, the band has been putting out hit after hit from its following four studio albums. The band has been on the road in support of its Greatest Hits album, which was released in 2012. "One Light" is the new recording and hit single from that album.
Mohegan Sun was sold out and by the time 3 Doors Down came to the stage; the place was packed. After days of performing and traveling to and from Dubai, the band was running on adrenaline and arrived pumped and ready. Brad Arnold addressed the crowd in his smooth Mississippi twang and issued a challenge to the Mohegan Sun. Just before performing the song "One Light"; he asked that everyone "look for the chance to be that one light for somebody else." It was a heartfelt request that was received with applause. Soon after, the band played "Citizen Soldier," which had everyone standing and singing along. This is truly a band that loves its fans and uses its music to reach everyone on personal levels.
The band surprised everyone with a cover of Megadeth's "Symphony of Destruction," and when it came time for the encore, when "Kryptonite" filled the arena, fans screamed in approval as Chris Daughtry joined the band on stage to perform with them. The band's last song of the night, "When I'm Gone," was a dedication to our armed forces and their families. It was a solid hour of ass-kickin' rock and roll and a finale that people are still talking about.
3 Doors Down comprises Brad Arnold (vocals), Chris Henderson (lead guitar), Chet Roberts (guitar), Todd Harrell (bass), Greg Upchurch (drums)
Set List:
Time of My Life
It's Not My Time
Duck and Run
The Road I'm On
Away From the Sun
Let Me Go
Goodbye
Loser
There's a Life
One Light
Here Without You
Citizen Soldier
Symphony of Destruction (Megadeth cover)
The Better Life
Kryptonite
When I'm Gone
Daughtry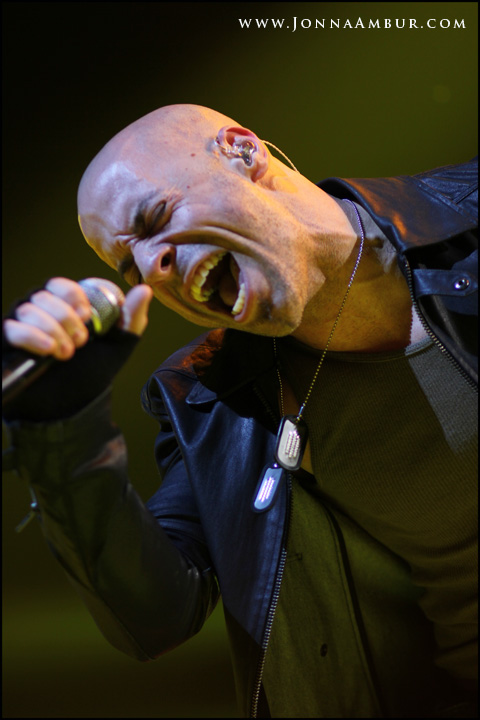 Daughtry, formed and fronted by American Idol finalist Chris Daughtry, closed the night. The band's self-titled debut album was released in November 2006 and reached No. 1 on U.S. charts. The album went on to sell more than four million copies in the U.S. and produced four Top 20 hits. The band's second album, Leave This Town, was released in July 2009. It quickly became Daughtry's second No. 1 album in the U.S. Daughtry's third studio album, Break the Spell was released in November 2011 and has since been certified Gold. The single, "Gone Too Soon," originally recorded by Daughtry as part of the album, is being sold as part of a fundraiser to assist the victims' families in Newtown, Conn.
Many people haven't seen Chris Daughtry since his American Idol days. Tonight, he proved that it doesn't matter if you win the contest; if you have the talent and desire to make it, you'll get there. Chris was offered the chance to be the new front man for Fuel shortly after Idol, but he decided that he was going to form his own band. He clearly made the right choice.
Chris had the ladies swooning and hoping to reach far enough to shake his hand as he made his way to all sides of the stage.He is the quintessential rock and roll front man and proved it by belting out each song with precision and sheer power.
It was announced in September of 2012, that bassist Josh Paul would be leaving the band, which led to the addition of Andy Waldeck. The band worked the arena like a well-oiled machine. Fan appreciation was apparent, especially when Chris sent T-shirts sailing into the crowd. The entire hour-plus set was full of changing moods and included a piano rendition of "Gone Too Soon."
In keeping with the tone of the double-header tour, Brad Arnold came on stage to join Daughtry to perform Phil Collins' song "In The Air Tonight." The set ended on a high note, with "September" and "It's Not Over," which rounded out its 15-song set and an amazing night of rock and roll! It was a night that won't be forgotten anytime soon.
Daughtry comprises Chris Daughtry (vocals), Andy Waldeck (bass), Brian Craddock (guitar), Josh Steely (guitar), Robin Diaz (drums), Elvio Fernandez (keyboards).
Set List:
Break the Spell
Feels Like Tonight
Outta My Head
Crawling Back to You
What I Want
Renegade
Gone Too Soon
Tennessee Line
Over You
No Surprise
In the Air Tonight (Phil Collins cover)
Every Time You Turn Around
Home
September
It's Not Over
LIVE! | 3 Days Grace, Daughtry with Aranda Concert Photo Gallery
[Photos by Jonna Ambur]