by Craig Newman
– Columnist —
February 22, 2013 at the House of Blues in Hollywood, CA —
Doro rocks and shakes the House of Blues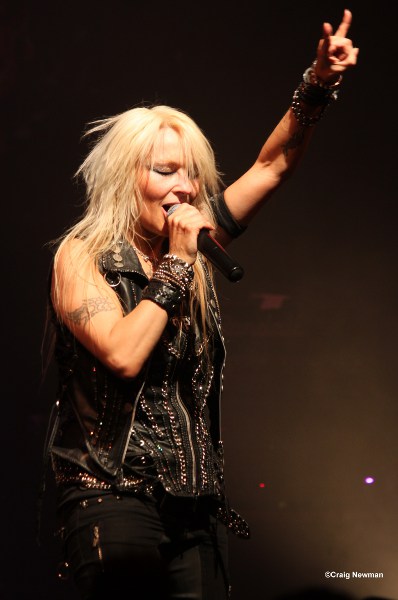 The metal queen Doro Pesch shook the House of Blues on Friday night Feb. 22.
Doro's show was over two hours of metal and energy that the audience could not stop fist pumping, shouting and headbanging with over 20 songs and five encores. She started the show with Warlock's "I Rule the Ruins" then followed with "Earth Shaker Rock." The songs were combinations from Warlock and her albums. The band has been touring the U.S. for the last five years, though previous tours they were doing some east coast shows. Doro has been consistently recording and performing for 30 years and that's why she is the "Metal Queen" and there will be more years of music from her.
The band was non-stop energy and very interactive with the audience. Nick Douglas on bass and Johnny Dee on drums have been with her for over 20 years with new members of the band — Luca Princiotta on guitar and keyboards and Bas Maas on guitar. They played three songs from the new album Raise Your Fist: The title song, "Revenge" and "Hero" which is dedicated to Ronnie James Dio. The Warlock songs were "All We Are," "True as Steel," "Burning the Witches," Johnny's drum solo during "Metal Racer." Other songs they played were Judas Priest's "Breaking The Law," "Unholy Love," "Fur Immer," "Metal Tango" and four encores. She took requests for that, including "Love Me In Black," "Burn It Up," and "East Meets West."
The crowd wanted more and they could have played more.
Overall the night was energizing and the crowd didn't want it to end, still shaking from the music and power.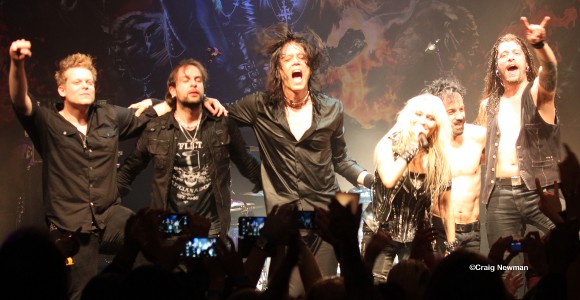 Set List:
1. I Rule the Ruins (Warlock)
2. Burning the Witches (Warlock)
3. Fight for Rock (Warlock)
4. Raise Your Fist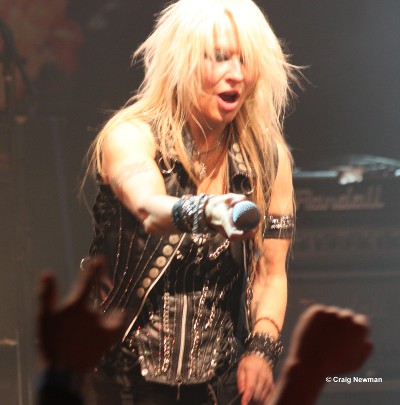 5. True as Steel (Warlock)
6. Hero
7. Metal Racer (Warlock)
8. Earthshaker Rock (Warlock) (with Drum Solo)
9. East Meets West (Warlock)
10. Unholy Love
11. Für Immer (Warlock)
12. Revenge
13. Breaking the Law (Judas Priest cover)
14. All We Are (Warlock)
Encore:
15. Hellbound (Warlock)
16. Love Me in Black
17. Out of Control (Warlock)
18. Metal Tango (Warlock)
19. Without You (Warlock)
20. Burn It Up
[Photos appear courtesy of Craig Newman]