by Jonna Ambur
– Senior Photojournalist —
JANUARY 26, 2012, WOLF DEN, UNCASVILLE, CT —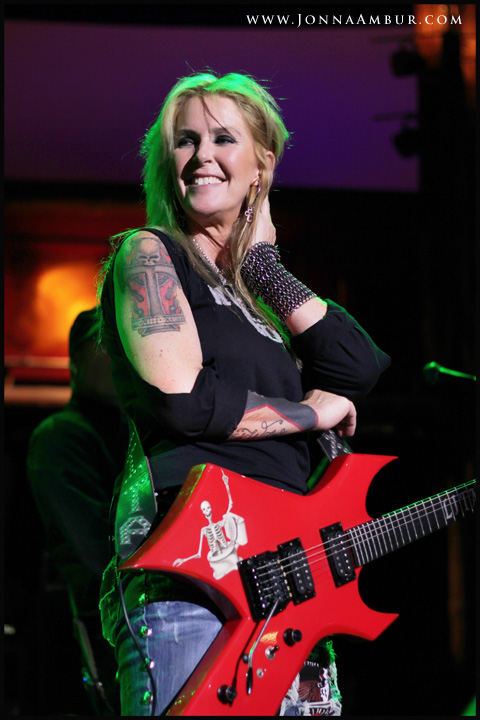 Lita Ford. Guitar player. Vocalist. Goddess of Rock!! Taking the stage with her band in support of her 2012 release, Living Like a Runaway, the Wolf Den was packed and the band was ready to kick ass. Supported by Mitch Perry on guitar, Bobby Rock on drums, and Marty O'Brien on bass, Lita was met with cheers from people that have been a fan of hers since her start in the late 70's.
The show was full of solid rock and roll vocals, sick guitar licks, thumping bass, booming drums, all the pieces of a quintessential rock show. Lita and Mitch jammed in between songs as if they were life-long band partners. Back and forth, riff for riff, a battle of like-minds and weapons resulting in two winners. Marty was not left out of the mix. It can be rare to see a bass and guitar player in jam mode but Marty's animated playing style was a perfect match for Lita. Bobby's quick fills and percussion precision rounded out this amazing foursome.
"The Bitch is Back," an Elton John cover, started the night followed by well-known hits "Back to the Cave," "Can't Catch Me," "Hungry" and "Under the Gun." "Relentless," "Hate" and "Living Like a Runaway" from her newest album and "Wicked Wonderland" from her 2009 album kept the crowd on their feet and their metal horns in the air. The night closed out with fan favorites, "Close My Eyes Forever" and "Kiss me Deadly."
Lita Ford accompanied by Mitch, Bobby and Marty will continue to tour into 2013 and will also participate in the Rock N Roll Fantasy Camp and the Monsters of Rock Cruise, both in March.
Lita Ford Photo Gallery
[Photos by Jonna Ambur]