Midas Touch | Presage of Disaster
by Justin Gaines
– News Editor / Senior Columnist —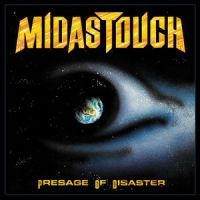 Here's another lost gem from the thrash metal vaults that has been brought back to life by Divebomb Records. Midas Touch was a thrash metal band from Sweden that was active in the second half of the 1980s. Despite the fact that their debut album, released by the Noise Records label – 1989's Presage of Disaster – sold fairly well, the band never issued a follow up and folded shortly after its release.
Perhaps the lack of an identifiable scene, like the Bay Area or German thrash scenes, worked against Midas Touch. Sweden is not exactly the first place you think of when it comes to classic thrash metal. Scene or not, Midas Touch put out a very solid thrash metal album in Presage of Disaster. It's a high speed, highly technical offering that shows a very strong Metallica influence. There are also traces of Testament and maybe Kreator, but for the most part this is an exercise in Metallica worship, not that that's a bad thing, especially in 1989. The lightning riffs, barked vocals and socio-political lyrics are all trademarks of the classic thrash sound, and they're all covered here, though Midas Touch adds a certain epic "Master of Puppets" feel to songs like "Forcibly Incarcerated" and "When the Boot Comes Down." Songs like "Sepulchral Epitaph" and "Aceldama – Terminal Breath" are more straightforward speed fests, but they're just as effective.
Midas Touch may not have been the most innovative thrash metal band around, but they played this kind of music very well. Presage of Disaster is an album that's worth another look all these years later, especially now that it has been reissued.
Divebomb's 2012 reissue of Presage of Disaster puts this long out of print (and very pricy) gem back into circulation, and does it in style. This hefty, 2-disc reissue features the full Presage of Disaster album, newly remastered by Jamie King (Deathwish, Confessor), on the first disc along with the band's 3-song 1990 The Deliberate Stranger demos. Disc 2 is loaded with rare and previously unreleased demo material, including five songs from the band's 1988 Noise Records sessions and the complete 10-song 1987 Ground Zero demo cassette. The remastered album is obviously the main attraction, but the demos are a lot of fun to hear, whether it's the rawer, almost punk-like energy of the Ground Zero songs or the harsher, more aggressive nature of the later The Deliberate Stranger recordings. You get a really good sense of where Midas Touch came from and where they might have gone. The booklet is also quite nice, with rare photos and an informative band essay.
If you're an old school thrash metal disciple, this is a reissue that you're going to want to own. And even if you already own the original Noise pressing of Presage of Disaster, this reissue has enough extras to make it a worthwhile upgrade.
Genre: Thrash Metal
Band:
Patrik Sporrong (b)
Rickard Sporrong (g)
Patrik Wiren (v)
Lasse Gustavson (g)
Bosse Lundstrom (d)
Track Listing:
Disc 1
1. The Arrival
2. Forcibly Incarcerated
3. Sinking Censorship
4. When the Boot Comes Down
5. True Believers Inc.
6. Reminiscence
7. Sepulchral Epitaph
8. Lost Paradise
9. Accessory Before the Fact
10. Aceldama – Terminal Breath
11. Subhumanity (a New Cycle)
12. The Deliberate Stranger (1990 demo)
13. Source of Discontent (1990 demo)
14. So Shall You Reap (1990 demo)
Disc 2
1. Forcibly Incarcerated (Involuntary Custody) (Noise Records demo)
2. Pow Wow (Noise Records demo)
3. Tru Believers Inc. (Noise Records demo)
4. When the Boot Comes Down (Noise Records demo)
5. (The Shape) of Rage (Noise Records demo)
6. Pow Wow (Ground Zero demo)
7. (The Shape) of Rage (Ground Zero demo)
8. When the Boot Comes Down (Ground Zero demo)
9. Subside Vision (Ground Zero demo)
10. Strikezone (Ground Zero demo)
11. M.A.D. (Armed for Justice) (Ground Zero demo)
12. The Dice (Ground Zero demo)
13. Masquerade (Ground Zero demo)
14. Instant Blaze (Ground Zero demo)
15. Tatsch Tooo Matsch (Ground Zero demo)
Label: Divebomb Records
Website: www.facebook.com/midastouchswe
Hardrock Haven rating: 8.5/10