by John Kindred
– Publisher —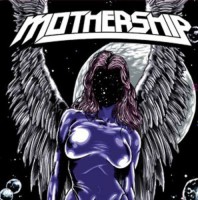 Mothership is a '70s hard rock-influenced, blues-based, heavy rock band. The band's self-titled debut release is a 45-minute journey back in time with a focus on the bass, drums and guitar, along with the vocals. Mothership is a three-piece outfit, hailing from Texas. Led by brothers, Kyle on bass and Kelley on guitar, the band was founded along with their father, John Juett. The boys were raised listening to their father's music collection, so when it was time to start creating their own music, it's not too much of a surprise that the family gravitated toward the '70s era.
Officially, Mothership's journey began in 2010. Judge Smith took over the drum throne in 2011, and by 2012, the band entered the studio to record its first album. Locked up in Crystal Clear Sound studio with chief recording engineer and producer Kent Stump (Wo Fat) sitting at the mixing board, the band created eight songs for its debut album.
Mothership harkens back to when music was pure and heavy, not watered down. The band opens the album with "Hallucination," a very Sabbath-inspired, heavy and plodding instrumental. "Cosmic Rain" brings vocals into the fold. The song continues the heaviness, but the tempo kicks it into another gear, energizing the song. Kells Juett handles lead vocals; he has a Glenn Danzig way of delivering the vocals melodies. No, he is not clone; it's probably the style of music. Kells' style can be described like talking-singing that progresses into kind of a shouting motif. It works well with the jam-band style of riffing going on throughout the CD.
"Win or Lose" opens with a classically inspired guitar intro that is very surreal and tranquil, showing off some dynamics in the confines of the music. That doesn't last long before the heavy riffs kick in and hammers you. While the riffs are dark, heavy and '70s-inspired sludge, the solos are anything but sludge. Rooted in pentatonic, Kells showcases fiery chops that meander in blues-shred and slides into more traditional heavy metal soloing. Being a three-piece, the bass is present in the mix. Brother Kyle has moments in the spotlight in which his chops are the focal point. And Smith has no problem unleashing double bass rhythmic progressions throughout the CD.
Mothership unloads with a debut album that captures the energy of rock in a stripped-down sonic landscape. The riffs are heavy and crushing. As a three piece, Mothership fills the room with sound. While the band could be considered a "jam" band, there is a method to the madness, and the trio showcases raw skill and ever-expounding energy.
Genre: Heavy Rock, Classic Rock, 70's-inspired Hard Rock
Band:
Kells Juett- Guitars/Vox
Kyle Juett- Bass/Vox
Judge Smith- Drums
Tracks:
1. Hallucination
2. Cosmic Rain
3. City Nights
4. Angel of Death
5. Win Or Lose
6. Elenin
7. Eagle Soars
8. Lunar Master
Label: Ripple Music
Web: https://www.facebook.com/mothershipusa
Hardrock Haven rating: 8/10