Rage Of Angels | Dreamworld
by Joe Mis
– Senior Columnist —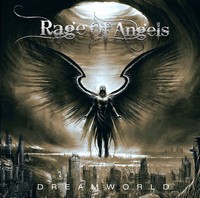 Dreamworld, the debut album from quasi-supergroup Rage Of Angels is scheduled for release on 22 February 2013. While the core members of the band are relatively well known, it is the lineup of stellar vocalists that push Rage Of Angels into the heavens, so to speak.
Rage Of Angels is the brainchild of Ged Rylands, the original keyboard player for the band Ten. Ged has also worked with Hugo, Contagious, Danny Danzi, and is now a touring member of Tyketto. During his years of touring and a long break for parenthood, Ged continued to write music and lyrics, and Dreamworld is the result. Ged teamed up with friends and colleagues to put together a fine album, a true decade long labor of love. This album not only features fine singers, but also a broad spectrum of guitar talent from across the metal and rock world. Ged also co-produced the album along with fellow musician Martin Kronlund.
Musically, Dreamworld does not fit a single genre. There are tunes that are progressive or power metal, and others that are butt-kicking blues rock. The band handles the tone and tempo changes without any issue, and seems quite comfortable no matter the style. The songs are all well-crafted and have solid flows to them, each one a big, juicy track seemingly molded to the vocalist and guitarists. Rylands contributes his fine keyboard and guitar skills, and he works well together with fellow guitarist Martin Kronlund and the rhythm section of drummer Pera Johanssen and bassist Michael Carlsson. The guest musicians each contribute something unique to the album, making it a true melodic metal feast for the ears.
"Dreamworld" opens the album with a bit of electronic ephemera – a little girl's voice, somewhat computerized (think the Red Queen from the Resident Evil movies), but becomes a sweeping modern rock anthem with big guitar hooks and a great vocal line courtesy of Matti Alfonzetti. The band shifts to commercial rock next, making the most of the easily recognizable voice of Harem Scarem's Harry Hess. "See You Walking By" is a true toe-tapper – maybe even a sing-along track, and Hess is allowed to perform to his strengths, as is Neil Fraser. Robert Hart (Bad Company) fronts the gritty "Through It All," but the bass and drums push this one over the top, and Fraser unleashes some blistering licks and solos. Tyketto's Danny Vaughn lends his smooth voice to the upbeat rocker "Over and Over," a track pushed by Ryland's keys and a bouncy drum line. "Prelude for the Gods" is a short symphonic keyboard piece that leads nicely into the second half of the album.
Primal Fear's Ralf Scheepers rocks on "Falling". He slips neatly into the bass and drum driven track and uses all of his impressive vocal range to make the track one of the real stand outs. Rylands and Fraser do a great job trading licks during the solo. Relatively unknown singer David Reed Watson gives an amazingly strong and emotional vocal performance on the power ballad "The Beating Of Your Heart." It is perhaps the one time on the album where the vocals truly outshine the balance of the band (with the exception of Tommy Denander's heartfelt guitar solo), and marks Watson as name to watch. Fraser and Vaughn again step to the front in the catchy, old-school blues-rocker "Spinnin' Wheel." Hot keyboard fills and rapid fire guitars are the rule in this nearly eight-minute extravaganza. "Requiem For The Forgotten Soldier" is a mostly instrumental track that features guitar contributions from Vinny Burns (Ten, Asia, Ultravox), Ralph Santolla (Deicide, Obituary, Iced Earth), Martin Kronlund (Lover Under Cover, Reece Kronlund), and Xander Demos – 'nuff said. "We Live, We Breathe, We Die" brings the album to a blues rock conclusion with powerful vocals from Robert Hart and amazing guitar work by Vinny Burns.
Rylands and Kronlund did a commendable job with the mix and production, allowing the sound to vary to suit their guest singers. All of the instruments are balanced, and the vocals are crisp and clear – and each song has an individual feel. Not an easy task when the number of participating performers is considered.
Any fan of melodic metal will enjoy the debut from Rage Of Angels, and Dreamworld is already a contender for many a 2013 "top ten" list. If you are a fan of strong vocalists and like a little variety, this release will not disappoint. Very highly recommended!
Genre: Melodic Metal
Band:
Ged Rylands (guitars, keyboards, backing vocals)
Martin Kronlund (additional guitars)
Pera Johanssen (drums)
Michael Carlsson (bass)
Guest vocalists – Matti Alfonzetti (Impera, Red White and Blues, Jagged Edge) on track 1; Harry Hess (Harem Scarem) on track 2; Robert Hart (Bad Company) on 3 & 10; Danny Vaughn (Tyketto) on 4 & 8; Ralf Scheepers (Primal Fear) on 6; David Reed Watson on 7
Guest musicians – Neil Fraser (Ten) – lead guitar on tracks 1-4, 6, 8; Tommy Denander – lead guitar on 7; Vinny Burns (Ten, Asia, Ultravox) – lead guitar on 9 & 10; Ralph Santolla (Deicide, Obituary, Iced Earth), Martin Kronlund (Lover Under Cover, Reece Kronlund), Xander Demos – lead guitars on 9
Track Listing:
1. Dreamworld
2. See You Walking By
3. Through It All
4. Over and Over
5. Prelude for the Gods
6. Falling
7. The Beating of Your Heart
8. Spinnin' Wheel
9. Requiem for the Forgotten Soldier
10. We Live, We Breathe, We Die
Label: Escape Music
Website: https://www.facebook.com/pages/Rage-Of-Angels-Escape-Music/482739221760263
Hardrock Haven rating: 9/10