Steve Lukather: A Conversation on Transition
by Alex Barbieri
– Columnist —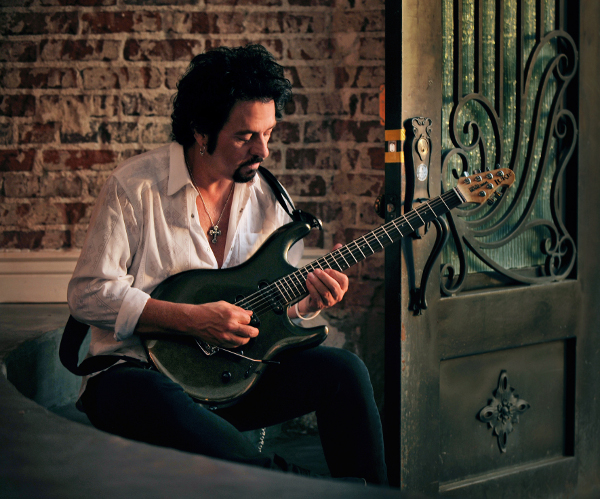 "It's been a bizarre, but most awesome journey," says Steve Lukather. Singer, songwriter, guitarist and hit maker for legendary AOR gods Toto; session player on more than 2,000 recordings with everyone from Michael Jackson to Paul McCartney; a proud member of Ringo Starr's All Starr Band, and—if that weren't enough—a respected solo artist in his own right.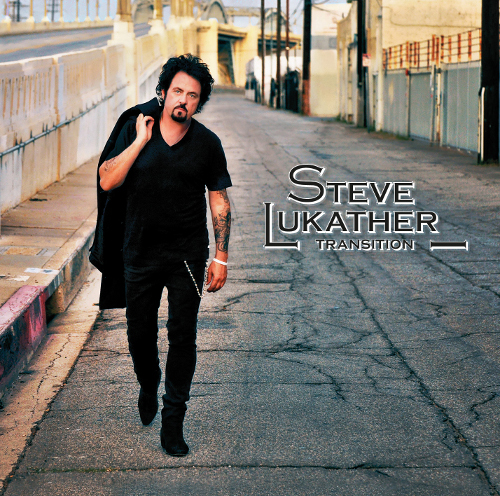 He's also one of the nicest and most appreciative guys you'll ever meet in the music biz. This writer knows it's true, because when I called him at home in the Hollywood Hills for this interview, he didn't know who I was, or that I'd be calling. It didn't matter. Despite his incredibly busy schedule, he immediately said, "Great, let's do it, bro!"
What followed was not just an interview, but a comfortable conversation with Steve Lukather on his recently released third solo album, Transition, what life is like being "clean in mind, body, and soul," the truth behind Toto, how Ringo Starr is, "a total inspiration as a human," a sneak peek at his upcoming book about his life in recording studios with music's biggest names, and much more. So sit back, relax, and enjoy this exclusive conversation on Transition.
::: Listen to the interview :::
Visit Steve Lukather online: http://www.stevelukather.net/Transition.aspx
[TEXT VERSION]
HRH: You know, I had a bunch of questions, but I'd rather just ask a few and have more of a conversation.
SL: OK bro, that's fine—whatever format you want to do that in.
HRH: The first thing is, what's on your plate for today? I know you're an incredibly busy musician.
SL: I'm trying to go over all the Ringo stuff I got to learn 'cause we start rehearsals tomorrow. I leave Monday for a month in Australia, New Zealand, Japan.
My new record, Transition, just came out. I'm getting over doing NAMM—it's pretty nutty, actually.
HRH: I'm sure that's not unusual for you.
SL: Well, you know, I've had a pretty big plate full, but this has been rather intense as of late. (Laughs.) It's nice to get the love, but wow! I'm taking on a lot at this point. But quality problems, I assure you.
HRH: Personally, I'm familiar with Toto and a lot of the bigger hits, but I really discovered you through your solo albums, All's Well That Ends Well and Ever Changing Times. I love the new CD Transition.
SL: Thank you man, I appreciate you saying so.
HRH: You're welcome, and I want to actually thank you because it's some of the most honest, authentic music I've heard. Not just rock, but just real music I've heard in a long time. And I think that's why I've gravitated towards it, and a lot of other people have also. Would you talk about that—your desire and drive to write more meaningful music?
SL: Well, here's the thing. A lot of people my age just sort of chuck a record out there to go on the road and cash in on their past laurels. I really separate the Toto thing from myself. Like when I go on the road solo, I don't play "Hold the Line" and those things. I don't do that because I've been really serious about establishing myself as a solo artist.
It's not a vanity project, it's not a shred record, it's not a blues record, it's not a fusion thing, it's like—I'm a songwriter, singer, guitar player. And the last three albums I've really focused, and on this one, I've really stayed the path.
I've got to give a lot of credit to my co-producer/co-writer, CJ Vanston, who really helped focus it. We sat from the first note to the last bit of mastering and saw the thing through together as a team. I can't just take all the credit myself. Not to mention, the rest of the great musicians and co-writers we have on some of the stuff. It was a team effort.
As a personal statement, I wrote a lot of the lyrics myself. I didn't want to just throw something out there, I wanted to dig deep. I'm refocused in my life. Clean mind, body, and soul. I practice a lot—I think I'm really treasuring my career and opportunities that have come because of it more now than ever in my life.
I realized, wow, life is rippin' by, and I want to make the most of it, and I want to make an artistic statement. I'm not trying to write a hit single. What the fuck is that anyway? Nobody knows what that is. I can't compete with Kesha. (Laughs.) You know, what the fuck? I can't even relate to some of this stuff.
I understand it's teenage music and all that, but I came old school. I'm trying to do something I can be proud of and something that I would like. You know, that's the whole point. You write music, you make a record and sit back and go, 'That's pretty good, I like that, I'm proud of that.'
And that's what we did on this. I can say that, without sounding egotistical. I spent over a year on and off working on this thing, so I had a lot of time to absorb it, fix, rewrite, re-do a vocal. I've been studying voice. I'm taking this real seriously. Much like it was starting all over again. And I didn't want to just write some fluff and throw it out there.
HRH: You can tell there's a great care.
SL: Thank you, I appreciate you saying that. I do care! Let's face it, I'm not a punk rock musician. I love big production; I like layered things. Beatles, Steely Dan, Elton John, Hendrix, Pink Floyd, Yes—these are records I grew up with and cherished—Genesis, all the '70s prog stuff. I grew up with these records, they touched me, so I carry a bit of that with me into my own music, the influences I wear on my sleeve. I tried to be as honest as I could about it, and I had a blast doing it.
HRH: You played on one of my favorite songs of all time: Chaka Khan's "I Feel For You."
SL: (Laughs.) Yeah, I've done a lot of stuff, man, I'm actually writing a book about my life in the studios.
HRH: When is that coming out?
SL: I've got a few things started, and I'm makin' the (book) deal now. It's going to take me a couple of years to get that out. How do I compile 2,000 records and 36 years into a couple of hundred pages, you know?
I have some help from a dear friend I went to high school with, Lonn Friend, who used to be the editor of Rip magazine. He wrote a good book himself.
HRH: Oh yeah, I used to read Rip all the time. Lonn wrote a pretty good book, too. ("Life on Planet Rock.")
SL: Yeah, we'll we've known each other since we were 14. So he's helping me focus this and make it a humorous, interesting read, as opposed to, "When I was seven I got my first guitar, blah, blah, blah," and you're nodding out after the first paragraph.
And I'm not going to write the sex/drugs tell all, because that story's already been told. I have a bigger story than that.
HRH: Any session highlights come to mind as far as fun?
SL: Oh, man, so many! I was a part of so many amazing sessions. Look at the Quincy Jones Michael Jackson Thriller stuff. I've worked on every one of The Eagles solo records. Those are two of the biggest selling artists of all time that I've been involved with. And then there's the Beatle guys—I've worked for Paul, George, and now Ringo. There's a huge amount of history just right there, and great stories to tell.
Without throwing anybody under the bus, I'm gonna talk about how we made the records, who did what, and what was interesting and put some anecdotes and humor into all of it.
HRH: And that's not even getting into Toto story.
SL: That's a whole separate entity. I mean, we went to high school together. There's a big myth that we were put together by some record company president, that we were all studio guys that got together.
Man, we all went to high school together and wanted to be studio musicians, and then Toto morphed out of that. Actually out of the Boz Scaggs Band.
I've known these guys since I was 15-years-old, that's 40 years of history right there. They're my best friends in the world. We've seen it all, been through the good, bad, and the ugly—death, divorce, disease, rebirth, kids. It's been a bizarre, but most awesome journey.
I have four kids—I've got a 27 and 25-year-old. Trevor, who actually worked on the record, is a great guitar player, singer, songwriter. And then I have two little ones, five and two, who are currently tearing my house apart right now. (Laughs.)
HRH: You talk about being clean in mind, body, and soul.
SL: Yeah, I'm going on four years, no smoking, no drinking, no idiocy. You know, 36 years on the road—36 years of Saturday nights will catch up with you. When you're 25, you're bullet proof. But you get over those hangovers. I just had one hangover too many. I said, 'Fuck this man, I'm done.' I don't go away anywhere, I don't go to meetings or anything. I just said, 'Enough.'
I was really miserable. I had a lot of huge sadness around me in my life, and I was kind of drowning, sadly. I hate to admit that, but it caught up with me in a negative way, and I stopped, that was all, simple as that.
My playing, my muse, my inspiration, and my health started to go; I looked like shit and wasn't playing to my potential. I didn't like myself, so I broke myself down to nothing and started over again, going on about four years now. I've never been better and I feel great.
HRH: That's excellent. How has everything improved, and specifically the music?
SL: Every way. Oh man, it was like the sun came back out. Hence, the term Transition. From the darkness into the light.
I learned a lot. I mean, it wasn't all bad. We had a blast. Some of it was outrageous fun! I'm not gonna be that guy. 'Oh, you should never do that.' There were some dark moments, but there were some really fun, hysterical live the rock' n roll life dream shit that was fun.
I didn't think I'd still be doing this 36 years later. At the time, our litmus thing was, The Beatles did this in eight years. Can you imagine what those guys did in eight years? It's staggering. And I never thought our records would still be played on the radio 35 years later. It's unbelievable to me, and it's a great honor!
There was no such thing as classic rock then, because it wasn't old enough to be called that. But now I'm in a classic rock band, and I've done a million records, and had some amazing experiences with all the legends and heroes from my childhood—and now they're my friends. It's surreal! I don't take it lightly, and I want to be worthy of any respect that I might get.
I used to be very down and negative on myself, I didn't like myself very much. That self-loathing is what drives certain people to do stupid things, like drink too much or take drugs.
It's a very strange life—you go from the highest highs to the lowest lows, to complete isolation in the hotel room, away from your family. Sometimes you try and chase that loneliness away in a negative way. It's a cliché, but I understand it, 'cause I've lived it.
HRH: I think that's how a lot of people like Jani Lane get in trouble—the singer from Warrant who passed away two years ago.
SL: He's not alone, the poor cat. Guys like that, they had it all for a minute, and then they lost it. I didn't know him, so I can't talk about him in that way, but I can generalize that some guys that get in a band and have some success and that's all they do—when that gets taken away from them, it messes with their heads, and everything starts to fall like a domino.
I was doing so much. I've never been at home waiting for the phone to ring, out of work. I've been very blessed that way. I've always kind of overbooked myself, as a matter of fact, and I've been very lucky to be able to do so many different things.
But that is a different set of problems, because I was never home, which cost me two marriages. I'm still friends with my exes. I didn't do anything horrible, but how can you be married to somebody who's never there.
And so, that caused me a great deal of emotional pain. But, you know, you get through these things. I am what I am and I've embraced that and I'm a much better person, and I make time for everybody.
HRH: What's a typical day in your life like?
SL: I get up really early, I pick the kids up from school, I do the normal dad stuff, and I schedule my life accordingly to my priorities. I'm a regular dad.
HRH: You're in Los Angeles?
SL: Yeah, I live in the Hollywood Hills, on the Valley side. But when you live in Hollywood, everyone's famous in Hollywood. My older kids went to school with Joe Perry's kids and Billy Idol's kids. I saw the singer in Buckcherry (Josh Todd) at my kid's school. We live in Hollywood, it's no big deal. My friends are actors and musicians, it just happens to work out that way.
HRH: Nice, how's the weather right now?
SL: Blue sky, puffy white clouds, nice, about 70 degrees out.
HRH: Good running weather.
SL: Yeah! I try to get out as much as I can. I hurt my right knee, so. But I get up and I do all my calisthenics, crunches, yoga stuff. I eat organically, sleep well, and try to stay the course.
I get out and do my three-mile hikes when I can, but lately the schedule's been a little hectic with the interviews and school and kids and rehearsals. Panic shopping, getting it together to leave for a month with Ringo and Toto, and it's been nutty.
HRH: Who else is in Ringo's band this time around?
SL: Todd Rundgren, Gregg Rolie from Santana/early Journey, Richard Page from Mr. Mister, Mark Rivera, who was with Peter Gabriel and Billy Joel, Foreigner, Greg Bissonette, Ringo, and me. Killer band, great fun and what a great set list.
I get to play so many parts and styles, from rockabilly stuff, to Santana and Toto stuff. Todd's stuff. Everybody supports each other—it's a great band, best bunch of guys.
Ringo's just everything you can imagine. He's just the greatest guy ever. A total inspiration as a human. If that's 72-years-old, I'm not scared about getting' old at all. It's all up to the individual, how you want to make your life, live it, take care of yourself, to groove like that.
HRH: Well, I'm gonna look you up and see if I can catch you in the New York area.
SL: Well, I don't know if we're gonna be out there with Ringo, but I know we're gonna be out there with Toto, and me solo as well, so please look me up. I'm really excited about playing the stuff live.
I got seven days off between the Ringo tour and my tour, and then I'm back out for two months in Europe. (Laughs.) I have an intense life, but it's a good one.
HRH: Tell me about the vocals. You said you've been working on your voice.
SL: Yeah, I got this really great voice teacher, Gary Catona, who's really helped a lot. That's the sort of thing you just gotta do—you gotta stay on it. And I'm very excited about that, actually. I like working on my craft. It means a lot to me.
Vocals are really hard. It's not like a fret on a guitar, a tuning peg, you know? It's a very fragile instrument. And I try to write shit in the right key now, so I can sing it. But still, it's a matter of control, and not smoking and drinking, and taking care of myself and resting has improved it a great deal. I think you might be able to hear that. I worked hard on those vocals, because that sells the song.
I'm not just a guy who does shred guitar. There's guys that do that much better than me. So, I try to play to my strengths. And judging by the reaction and the reviews, "the best of my career," I'm knocked out. People are buying this stuff—preorders are crazy.
I look up at the sky and say, 'Thank you Lord, I really appreciate this opportunity, man.' This is really going well. And they (Mascot Records) re-upped me for another record, so the next five years of my life are pretty sorted out. For an ageing musician like myself, this is good news.
HRH: I loved your last two solo albums, but there's something more cohesive about the new one.. I don't know if it's more relaxed, or more confident, or the groove, but there's something special about the new one.
SL: Thank you, man, I really appreciate that. You're very kind. Well, I'm trying man, I really am. I didn't want to go off the rafters. The last one got a really great reaction, even though I was really depressed when I wrote it. I saw that there was a style musically that CJ and I had created together, a sound if you will, that I wanted to continue with.
People have seemed to react to it in a positive way. And I think I found my voice, as far as stylistically, as a solo artist. Sure, there's a little Toto influence. That's part of my life. We still go out and play in the summers. This summer's our 35th anniversary.
But I wrote and sang and co-produced those records, too. So if there's any similarity, I can't really help that. But, I have a different sparring partner in CJ, so it brings a little different thing out.
HRH: I'm a big Def Leppard fan, and I was on the treadmill listening to your album front to back, and I knew I heard Phil Collen.
SL: Phil's a great friend. He just pops in. He sang on this one, and the last record, too. Rick Allen was my next door neighbor for 10 years. They're good friends. I'm a big fan. Incredible band, and the nicest guys you'd ever want to meet in all the world.
HRH: That's good to know.
SL: They really are great cats, man, and it was very nice of Phil to step in. He's working with CJ—wrote something on the last Def Leppard record—they're buds. We're all friends. I just ask my friends to come sit in, and everybody showed up. I'd say, 'Hey, do something on the record.' So they did, so I owe them a favor.
HRH: Good deal. Is there anything you want to say to your fans, and the Hardrock Haven readers around the world?
SL: I just want to say thank you very much for the support, and I hope you enjoy the new record. We worked hard on it, and I appreciate the good vibe, and come out and see me play live!
HRH: With Ringo, or solo, or with Toto. Or all of the above! (Laughs.)
SL: You can't escape me, I'm like herpes. I will return, every once in a while, you get a Lukather outbreak. (Laughs.)
HRH: Steve, thanks again. Can I call you Luke now?
SL: Yes, please do, please do.
HRH: Thank you very much, this has been a pleasure, big fan.
SL: Thanks, Alex. I appreciate it.
Watch the trailer for Transition:
http://www.youtube.com/watch?v=rG7xPJGfzwA
Order Transition on the official Steve Lukather website:
http://www.stevelukather.net/Transition.aspx
Special thanks to Steve Karas for setting up this interview.
Photos by Rob Shanahan.