by Alissa Ordabai
– Senior Columnist —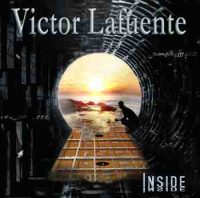 This may be instrumental guitar music, but it grabs and transports you swifter than most top bands with a hot singer. Not your stereotypical six-string noodler who'd exhaust you before he makes his point, Lafuente focuses on describing the world around him, not himself.
The Frenchman's influences turn out as varied as a bowl of bouillabaisse: there is rock, metal, jazz fusion, funk, flamenco, and even world music. But the tracks flow so naturally and sink in so easily, you never consciously clock the genres. Lafuente superfast chops do come in once or twice, but otherwise he uses his A-grade technique to fulfil the compositional plan and to relay true – not imagined – feeling. Which, in the case of Lafuente's compositions, rarely calls for neck-break speed and proves that having things to say leaves no place for bragging.
And finally, Lafuente has a fantastic knack for seizing your attention from the word go. The pumping riff on opener "Instable Perception" would have been enough to sustain an average song by an average player, but "average" doesn't apply to Lafuente. When he slips in wordless vocal interludes amidst the funky stop / start groove, this becomes a high-stakes game. Unexpected and challenging, those languorous breathers make you abandon routine perceptions and prepare you for a very singular album about to unfold.
But that's another thing about Lafuente – even the most complex compositional constructions come through almost as easy-listening with him. He always stays accessible, although never populist. And unlike many melody-oriented players, he never leads you into a sugar shock. Sweetness of his melodies is contrasted by harmonic sophistication, which – in turn – never feels like an overbearing complexity. Instead he finds imaginative – and hugely entertaining – ways to make sure you never feel overwhelmed or bored.
Still, the farther you get with this album, the more it surprises you. Standout "The Kraken" shows an orphic side to Lafuente with Middle Eastern intonations breaking out next to industrial metal and jazz. And then you get hit by the revelatory gem of the record titled "Aznarepse" – an intensely personal piece where Lafuente arrives at everlasting truths through exploring the intimate. Nostalgic for the time when the guitar still had its umbilical cord intact connecting it both to Spain and to classical music, "Aznarepse" also rings hopeful – a reflection on the journey the instrument has made from stuffy parlour to the biggest concert stages on the planet.
To sum up, this is definitely one of the most interesting and warming records you'll hear this year. Lafuente's fusion at times gets close to those stellar Kotzen / Howe albums which blew our minds in mid-'90s. His melodies are sweetness reincarnate, and his courage to get to the bottom of some very profound matters (without uttering a single spoken word) instantly gives him the rep a true stand-up guy – no hankering after shred cred, no noodling, no chasing an audience – be it highbrow or high school. He is just describing the world in his own voice full of colour, heart, and insight.
Genre: Instrumental Guitar, Rock, Fusion
Mixed and Mastered by Sébastien Bizeul at studioD²
Artwork by Bastien Diaz, David Jugnier & Victor Lafuente
Produced by Victor Lafuente and Ear-volution Records
Track List:
1. Instable Perception
2. Room 88
3. The Kraken
4. Mountain View
5. Simplexcity
6. Inside
7. Crop Circle
8. T.O
9. Just a Song
10. Aznarepse
11. Temple of Time
Label: Ear-volution Records
Online: www.lafuente.fr
Hardrock Haven rating: 10/10