by Joe Mis
– Senior Columnist —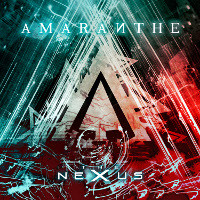 Take one part Bullet For My Valentine, add one part Lady Gaga and a hint of underground metal, beat vigorously with massive double bass drums and slice with razor sharp guitar riffs – that's probably an apt recipe for Amaranthe's upcoming sophomore album, The Nexus. Amaranthe's latest offering is unique blend of musical styles, and the band itself continues to be a study in contrasts. This Scandinavian act blends metalcore with melodic modern metal and pop (almost techno at times), and delivers it with precision. The band has taken an extra step towards uniqueness by using a diverse three vocalist lineup.
The Nexus is the follow up to Amaranthe's 2011 well received self-titled debut. They've kept things consistent, both in terms of line-up and production – perhaps the only noticeable change might be a notch up in intensity from 10 to 11. Founded by singer Jake E. and guitarist-keyboardist-composer Olof Mörck, Amaranthe quickly added vocalists Elize Ryd and Andy Solvestrom, drummer Morten Løwe Sørensen, and bassist Johan Andreassen. Jacob Hansen (Volbeat, Dreamshade, Ginger Wildheart) stepped back into the producer's role, ensuring a consistent sound.
Contrast and diversity is the key to Amaranthe. Vocalist Jake E. is a decent and smooth singer, capable of being gritty or poppy as needed, while Andy Solvestrom is a pure death metal growler-screamer. Contrasting the male vocals is Elize Ryd, a wonderful and versatile singer who sounds equally at home doing pop, metal, or ballad. Guitarist-keyboardist Olof Mörck is a solid performer, laying down big hooks and crunching riffs on both instruments throughout, and while he keeps his solos short and sweet they are all technically brilliant and appropriate to the song. Morten Løwe Sørensen and Johan Andreassen make a superb rhythm section, galloping along when called upon, and backing off nicely when needed. The six performers come across as a well-polished veteran act and work very well together.
"Afterlife" kicks off the album. This track is a high-energy rocker with a sing-along chorus, lots of keyboards and significant contributions from all three vocalists. It probably is the best example of the band's style – the unique blend of metal, electronica and pop. "Invincible" is another energetic track with upbeat lyrics and a bouncing rhythm line and strong vocal harmonies throughout. The bass and drums drive this track, and it features a simple and soaring guitar break. "The Nexus" follows with a real pop groove, but great death growls mixed in with the commercial pop-rock vocals, and an almost power-metal rhythm line. "Theory Of Everything" has a metalcore feel to it, with the 3 singers swapping on almost every line, but despite the heaviness of the music the chorus seems to float over the top of it all, at least until Andy's bellows takes over at the bridge.
"Stardust" is a keyboard driven rocker and displays the band's penchant for writing "sci-fi,"or at least science influenced lyrics. "Burn With Me" is a relatively low key traditional rock track, rolling in some great acoustic guitar passages and featuring some amazing duet vocals and Jake E.'s best vocal performance on the album. "Mechanical Illusion" is an interesting track where light keyboards are layered over dark and brooding rhythms. Andy's growls also contrast well with Elize's lighter vocals, and the clockwork delivery of bass, drums, and guitars play off the more free-form keys. "Razorblade" is another pop-tinged, toe-tapping track with intense metal riffs and nice vocal work by the three singers.
"Future On Hold" is another sci-fi influenced track with a very mechanical rhythm line and intense double bass drumming. Elize and Andy both push to their vocal limits, wile Olof lays down a solid guitar solo. "Electroheart" has a near techno/underground feel to the vocals and definite dance beat. Hearing death growls worked into this style of music is quite unique and seems to work. A touch of beauty and the beast singing before a pop chorus make the keyboard driven "Transhuman" a bit different. "Infinity" closed out the CD on a high. This track allows all members of the band to pull out all the stops and give 100%. Amazing vocals, brutal and intricate drum and bass lines, and superb guitar fills and breaks show the true ability of Amaranthe turned up to 11.
The Nexus is an excellent album – a fine example of what "melodic modern metal" should be. Strong technical performances, enthusiastic delivery, and a creative mix of styles and contracts, all backed up by razor sharp production and engineering make this album a rare treat. Positive and uplifting lyrics on a modern metal album are a pleasant change of pace from the gothic doom and gloom. Fans of almost any genre with find much to appreciate here, and Amaranthe proves themselves a band to watch.
The Nexus will be released worldwide on March 25th (March 26th in the US) by Spinefarm Records.
Genre: Modern Melodic Metal
Band:
Elize Ryd (vocals)
Andy Solvestrom (vocals)
Jake E (vocals)
Olof Mörck (guitars, keyboards)
Morten Løwe Sørensen (drums)
Johan Andreassen (bass)
Track Listing:
1. Afterlife
2. Invincible
3. The Nexus
4. Theory Of Everything
5. Stardust
6. Burn With Me
7. Mechanical Illusion
8. Razorblade
9. Future On Hold
10. Electroheart
11. Transhuman
12. Infinity
Label: Spinefarm Records
Website: http://www.amaranthe.se/
Hardrock Haven rating: 9.5/10