Bullet for My Valentine | Temper Temper
by Nikiforos Skoumas
– Columnist —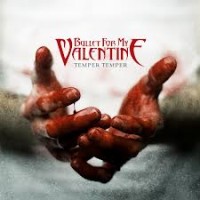 One of the most remarkable success stories in modern metal, Bullet For My Valentine, hit the music stores once again with their fourth all-original studio album Temper Temper. Temper Temper features the established line up of lead singer, guitarist Matt Tuck, drummer Michael Thomas, bassist Jay James and guitarist Padge.
Once again Bullet collaborates with renowned contemporary rock producer Don Gilmore who captured the previous album Fever. It has to be clear that there seems to be no intention from the band's side to enter new musical territory or take their style a step further, so to speak.
Temper Temper opens on the staccato drum and rhythm guitar of "Breaking Point" sounding very much like a mixture of "Your Betrayal" and "The Last Fight", both highlights of the previous album while surprisingly enough incorporates the kind of guitar solo you would expect to hear from an early Firewind album. The second track "Truth Hurts" also comes out as very heavy and moody while allowing for some very memorable vocal melodies from Tuck's part. The title track "Temper Temper" also shares similar harmonies with its predecessor "Fever" as well as entertaining the same subject of lust or sexual anxiety. The vocabulary is also strikingly similar "… Feels good when I loose control" and " … I feel the sweat dripping down your face."
From there onwards one can easily pick even more songs carrying the vibe of the previous album, namely "Dirty Little Secrets" and "Leech." The potential single "Riot" takes the role of the individualist of the bunch featuring rather unique rhythm patterns and uncommonly plain chorus by Valentine standards.
Clearly one has to approach the new Bullet for my Valentine album in the knowledge that it is confined within the musical boundaries set by Fever. Most of the songs on Temper Temper could have easily been featured on Fever while the band themselves have been perfectly honest admitting that the new album is bound to sound a lot like the previous one. Even by looking at the definitions of the two titles one is bound to find similarities as both fever and temper are associated with heat and tension.
Conclusively Bullet for my Valentine have lost the element of surprise this time around, yet an objective mind would never interpret that as lack of creativity or vision. It definitely comes down to the songs and for the biggest part Temper Temper is almost as good as Fever. So if you enjoy the Bullet of late, you will probably make the most of the material featured on Temper Temper.
Genre: Melodic Metal, Modern Hard Rock
Line up:
Matt Tuck – lead vocals, rhythm guitar
Paget – lead guitar, backing vocals
Jason James – bass guitar, backing vocals
Michael Thomas – drums
Track List:
01.Breaking Point
02.Truth Hurts
03.Temper Temper
04.Pow
05.Dirty Little Secret
06.Leech
07.Dead To The World
08.Riot
09.Saints n Sinners
10.Tears Don't Fall (Part 2)
11.Livin Life (On The Edge of A Knife)
Label: RCA, Sony Music
Hardrock Haven rating: 7.5/10