Charing Cross | Sinspiration
by Justin Gaines
– News Editor / Senior Columnist —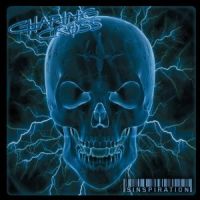 It's been five years since Swiss melodic hard rockers Charing Cross's debut album We Are…Charing Cross, one of the more promising debuts in the European melodic hard rock scene in recent years. The band is finally back with a follow-up, titled Sinspiration, and they haven't lost any of their energy, even if things are a bit rougher around the edges this time around.
What made We Are…Charing Cross such an effective album was how flawlessly the band walked the line between melodic rock and heavy metal, much like Jaded Heart and Pink Cream 69 do so well. Charing Cross totally nailed the sound that Edguy tried – and failed – to pull off with their last couple of releases. With Sinspiration, that sound is still very much present, but it's starting to fray a bit. It's a heavier album than the debut, with a much more prominent metal edge, but it also seems rougher in terms of production and to some degree the vocals. Peter Hochuli sounds less polished here, and seems to struggle with the language barrier.
Whatever its flaws, there are some good songs on Sinspiration, like the very upbeat, very catchy "Road to Nowhere" (and you'll swear that's Edguy mainman Tobias Sammett singing) and the hook-heavy "Hell on Wheels" and "Coming Home." There are also some obvious filler songs too though, so in the end it's up to the listener to decide whether the good outweighs the not so good, which isn't a problem the debut had.
Sinspiration has some strong songs, but in the end it's just not kind of follow-up album you might expect given how strong Charing Cross's debut was. If you're already a fan of the band, by all means check out Sinspiration for yourself, but if you're new to the band and enjoy the heavier melodic rock bands like Jaded Heart, Pink Cream 69. Shakra and Evidence One, you'll be better off starting with We Are…Charing Cross.
Genre: Melodic Hard Rock
Band:
Markus Flury (b) (v)
Riodi Halter (d)
Andre Dormann (g) (v)
Pascal Zwyssig (g) (v)
Peter Hochuli (v)
Track Listing:
1. Miracle Man
2. Fallen Angels
3. Twilight Zone
4. Alone
5. Road to Nowhere
6. Coming Home
7. Handful of Pain
8. H8
9. Thrill Me/Kill Me
10. Hell on Wheels
11. Wild Honey
12. Twisted Mind
13. Ashes to Ashes
Label: Fastball Music
Website: www.charing-cross.ch
Hardrock Haven rating: 6.75/10