Chris Broderick Pick Clip
by Chris A.
– Senior Photojournalist —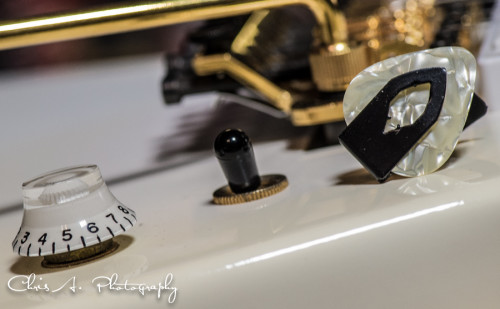 I play guitar and like most people who play guitar, I'm just an average player. I'm not a regular gigging musician or a performer but I am genuinely in love with the guitar. I'm a gear head. I love guitars and guitar gadgets and I like to try out new stuff especially if I think they can help me improve as a player.
Enter the Chris Broderick "Pick Clip." From the mind of the Megadeth, mega-shredder, Broderick has developed and patented his own guitar pick accessory, the "Pick Clip." Inspired by a desire to free up his right hand for finger tapping and two handed playing, Chris experimented with traditional thumb picks, super glue and rubber bands before designing and making his own product.
Constructed of titanium, the "Pick Clip" is a clever device that performs exactly as advertised, helping guitar players maintain a secure grip on their pick and freeing up their hand for picking… but that's just the tip of the iceberg.
Fast picking is about consistency and economy of motion. It's one of the reasons guys like Chris Broderick can rip the way they do. A lot of guitar players are fixated on their fretboard hand and often pay little attention to picking and picking techniques. Watch the picking of any guitar guru and you'll notice that their guitar pick is almost riveted in position between their thumb and finger. It doesn't shift or move around. The "Pick Clip" makes keeping the pick in one place almost a second thought.
Tiny claws on the clip that snag your pick and hold it firmly in place. Wrap it over your thumb, adjust the fit and prepare for launch. You'll acclimate to the feel and the effectiveness of the "Pick Clip" very quickly.
Using the clip is not cumbersome , unnatural nor uncomfortable. Most importantly, it doesn't interfere with playing. On the contrary, since the pick won't be sliding around you'll discover your picking will be more consistent and accurate after just a few minutes noodling around with the "Pick Clip."
The "Pick Clip" might also be a good aid for any new guitarists struggling to get achieve proper pick gripping form.
At $12.00 the clip isn't going to break your budget but it might be one of those accessories that really can help make you a better player and more creative guitarist.
For more information on the Chris Broderick "Pick Clip" visit the Official Chris Broderick Store at: http://chrisbroderick.com/blog/store/