Dan Johnson of Love and Death
by Mark Allen
– Senior Columnist —
Banging Death's Drums
Dan Johnson is one of the hottest up-and-coming hard rock/metal drummers on the scene today. For proof, you need look no further than the fact that Brian "Head" Welch (ex-Korn) selected him to bang the skins for his band Love and Death, which recently dropped their new album, Between Here and Lost, on Tooth & Nail Records. He also spent some time in fast-rising heavy metal band Back From Ashes when they lost their drummer. Simply put, the man knows how to wield a wicked stick.
Dan recently took time out of his busy schedule to converse with Hardrock Haven about working with Welch, his thoughts on piracy in the digital era, and what he wants to take with him when he dies.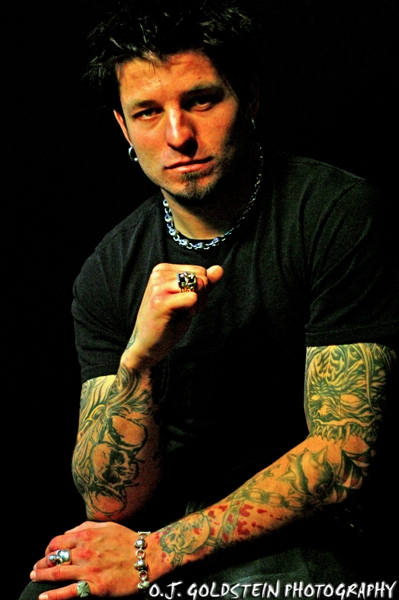 HRH: Dan, thanks so much for talking to me. How exactly did you end up pounding the drums for Love and Death?
DAN JOHNSON: I started playing with Brian [Welch] back in '09 when I auditioned through video. It's been a crazy ride with lots of changes since then.
HRH: But a good kind of crazy, no doubt. Now, you were drumming for Brian "Head" Welch before Love and Death came into existence; do you have any insight into what prompted the adoption of that particular name?
DAN JOHNSON: Brian didn't like the idea of just having guys play behind him; he wanted a band mentality. That's the world he was used to and so he came up with the name.
HRH: Judging from how tight the album sounds, it seems like he made the right choice. Let's talk religion for a moment; Welch's conversion to Christianity is well documented; do you feel his faith bleeds into the lyrics? More specifically, can Between Here and Lost be classified as "Christian metal," or does it target a wider demographic?
DAN JOHNSON: You can definitely tell from his lyrics, but our new album Between Here and Lost is definitely targeted to a wider demographic. He wants us to be known as Christians in a band … not a Christian band.
HRH: Makes sense; nobody likes to be pigeonholed…except maybe pigeons. Welch is a bona fide modern day rock star due to his long involvement with Korn. Were you a fan of Korn before you auditioned for the spot in Welch's band?
DAN JOHNSON: I was absolutely a fan of Korn! David Silveria is one of my favorite drummers, so that was a big reason I started taking drums seriously.
HRH: I'm a fan of corn too … preferably with lots of salt and butter. How much creative input did you have on Between Here and Lost?
DAN JOHNSON: I just bring the ideas behind the kit. Drums are all I do.
HRH: Well, the ideas you brought to the new album sound pretty darn good. Who do you consider to be the greatest drummers in rock/metal history?
DAN JOHNSON: Hmmm … well, I'm big into flashy playing, so I like guys like Tommy Lee, Vinnie Paul, Blas Elias, etc.
HRH: Listening to your drum work, you can definitely hear some of those influences. We are obviously living in the digital music age, with many people predicting that CDs will go the way of dinosaurs and Dodo birds within the next 3-5 years. What's your opinion—is digital music/downloads/MP3s a blessing or a curse?
DAN JOHNSON: I personally don't like it as much as going out and getting the CD. I just think it's more fun that way.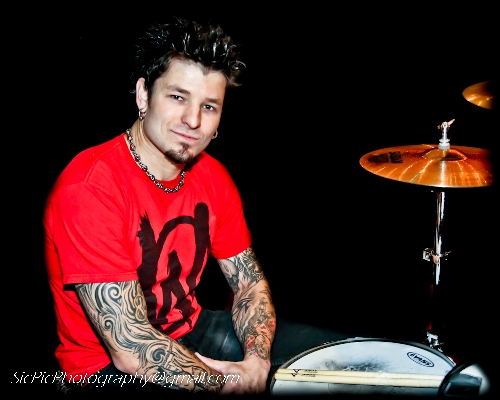 HRH: It's definitely more enjoyable, but sometimes the immediate gratification of a (legal) download is an allure too powerful to resist. Related to the whole digital music revolution, let's talk about piracy. Do you feel people illegally pulling your music off bit torrent sites truly has a negative impact on sales numbers, or are you just happy to have people listening to your artistic creation?
DAN JOHNSON: Both! (Laughs) I can't lie and say I've never gotten music for free, but I think the real numbers are in ticket sales and merchandise.
HRH: Now that is some refreshing candor from a musician. While Love and Death bears some resemblance to Korn, it is clearly more melodic; was that a deliberate attempt to increase mainstream/commercial appeal, or just a natural outcome of the creative process?
DAN JOHNSON: We all love metal but we all love radio-friendly choruses as well…especially me. (Laughs) So there was definitely an idea of wanting to appeal to a wider group of people when making this album.
HRH: Metal love with radio-ready choruses…it doesn't get much better than that. Okay, you are on your death bed and firmly believe that you only get to take one thing from this life into the next. What is that one thing you would take with you to the other side?
DAN JOHNSON: That's a tough one. Either my Vater fatback 3A drumsticks or an orange Monster energy drink. (Laughs)
HRH: Can't be sure about the sticks, but I'm pretty sure there are Monster energy drinks in Heaven; otherwise, they would just call it Hell. Dan, thanks so much for speaking with me. We here at Hardrock Haven wish you the best of luck in all your future endeavors, both rock-related and otherwise.
DAN JOHNSON: Thank YOU! I'm honored to do this with you guys.
For more information on Dan Johnson and Love and Death, please visit https://www.facebook.com/danjohnsondrummer or www.loveanddeathmusic.com.