by Joe Mis
– Senior Columnist —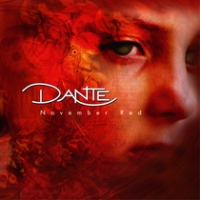 November Red is the third release from the German progressive metal band Dante, and a fine release it is. This epic seven track CD is a solid follow up to their prior releases, The Inner Circle (2008) and Saturnine (2010), and the 2 plus year gap between albums shows the care and concern that Dante puts into their music.
Formed in 2006 by keyboard player Markus Maichel and guitarist and bassist Markus Berger, Dante has done its best to blend modern progressive metal with old school rock touches. Their veteran status shows clearly through tight technical performances, well-written songs and impeccable engineering. The band has managed to combine traditional progressive metal and rock with the theatrical elements of symphonic metal and the precise recording technicality of any of a number of power metal acts. Think Dream Theater meets Savatage …
Moody keys and electronica courtesy of Markus Maichel open the album, and are quickly joined by the balance of the band. "Birds Of Passage (Caught In A Dream)" is a 10 minute long progressive anthem, highlighting the musical talents of the five-piece act. Tempo and mood changes are flawlessly handled, and the vocals of Alexander Göhs are very reminiscent of a young Zak Stevens. The big riffs demonstrated here are carried throughout the balance of the album. "The Lone And Level Sands" is a much more gritty driven prog metal tune featuring sweeping guitar hooks and an overall darker tone. Bass (Markus Berger) and drums (Christian Eichlinger) push this mix of power metal and progressive metal along nicely, and the chorus is smooth and memorable. Well done pianos and superb vocals make the ballad "Beautifully Broken" an emotional roller coaster, as well as the only sub-6 minute track on the CD. "The Day That Bled" has a very "Dream Theater" feel to the opening riffs and many passages thanks to dominant keyboards. It quickly becomes a true vocal showpiece for the band, and features some amazing guitar work from Markuses Bader & Berger.
"Shores Of Time" is nothing short of spectacular. The band manages to switch from heavy, dissonant guitar riffs to haunting piano atmospheric passages without making the tune seem like a mash-up, and the vocals move from powerful to gentle and back without losing emotional effectiveness. "Allan" is a soft, bass-driven mostly acoustic rocker with fine vocals and an overall gentle roll to it, and it builds in intensity to a decent wrap up. The band definitely saved the best for last. The title track, "November Red," is a near thirteen minute progressive epic. A long instrumental opening allows all the musicians to truly stretch, then the song goes soft and builds around the vocals and guitars. Numerous complex tone and tempo changes highlight the band's progressive leanings, and it closes the album in high style.
In summary, Dante's November Red is a very solid release, one of the best progressive rock and metal albums in recent memory. Top-notch technical performances, emotional delivery, crisp recording, and complex, well written tracks make November Red a cohesive and mature album, a true pleasure to hear. Highly recommended!
Genre: Progressive Metal, Rock
Band:
Alexander Göhs (vocals)
Markus A. Bader (guitar)
Markus Maichel (keyboards)
Markus Berger (guitar, bass)
Christian Eichlinger (drums)
Track Listing:
1. Birds Of Passage (Caught In A Dream)
2. The Lone And Level Sands
3. Beautifully Broken
4. The Day That Bled
5. Shores Of Time
6. Allan
7. November Red (In Praise Of Dreams)
Label: Massacre Records
Website: http://www.danteband.de/
Hardrock Haven rating: 9/10