Flotsam and Jetsam | Cuatro
by John Kindred
– Publisher —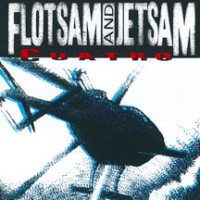 In 2008, Metal Mind Productions re-released Flotsam and Jetsam's studio album Cuatro. This was the fourth album released by Flotsam and Jetsam and originally was released by MCA Records on Oct. 13, 1992. The re-release is re-mastered and features five bonus tracks, four audio and one video track of "Wading Through the Darkness," as well new packing and liner notes from Eric A.K., Jason Ward and Ed Carlson. With an initial pressing of only 2,000 copies, this truly is a limited collector's edition for die-hard Flotsam and Jetsam fans.
Cuatro finds Flotsam and Jetsam, again, working with a new bassist, Jason Ward. Ward became the band's fourth bass player, a position originally held by Jason Newstead. Alongside vocalist Eric A.K., guitarists Edward Carlson and Michael Gilbert and drummer Kelly David-Smith, Ward and company delivered one of the band's best albums in its catalog. Cuatro was the first of the albums to be produced by the famous Neil Kernon, who brought the band's music to the next level. While Kernon provided oversight over the band's compositions and the album's pristine production, Ward became part of the band's writing team. Ward brought his riffs and ideas into the mix, which added a new dynamic edge to the band's music.
The original album features 12 songs. With Kernon guiding the ship, the music is anything but typical thrash or speed metal. The reality is the music pushes into the realm of progressive metal with elements of thrash and speed metal intertwined. Kernon pushed Eric A.K. to sing from his gut, making his vocal performance stronger and more powerful. The flawless production manages to balance all the instruments into a cohesive presentation. Bass, drums and vocals, all, are audible.
The songwriting process of the band pretty much involved the entire band. It also included the "sixth" member of the group, Eric Braverman, the production coordinator who is credited on all but two songs on the album. Another surprise contributor is none other than Soundgarden's vocalist Chris Cornell (listed as Christopher Cornell in the liner notes) who co-wrote "The Message" with Flotsam and Jetsam.
Metal Mind Productions' 2008 re-release of Cuatro offers fans a nice digipak limited edition of their beloved band Flotsam and Jetsam. The bonus tracks include two more versions of "Wading Through the Darkness," which are a radio edit and industrial mix; an edited version of "Cradle Me Now" and an additional unheard song "Date With a Hole." The quality of the video of "Wading Through the Darkness" is just OK. It looks like it's been pulled from a video tape transfer; however, the audio quality is fine.
Up until this re-release, Cuatro has been out of print. Used copies could be picked up at used CD shops or eBay. Metal Mind Productions give possible new fan and old fans, alike, the opportunity to own a piece of metal history and rediscover or discover an overlooked and talented band. While this version of Cuatro was released in 2008, copies continue to be available for purchased here. On April 16, Flotsam and Jetsam are set to release their newest CD titled Ugly Noise on Metal Blade.
Genre: Thrash Metal, Speed Metal, Progressive Metal
Band:
Eric A.K. – lead, background vocals
Edward Carlson – guitars, background vocals
Michael Gilbert – guitars, background vocals
Jason B. Ward – bass guitar, background vocals
Kelly David-Smith – drums, background vocals
Track Listing:
1. Natural Enemies
2. Swatting At Flies
3. The Message (Carlson, Knutson, Ward, Smith, Gilbert, Cornell)
4. Cradle Me Now (Carlson, Knutson, Ward, Smith, Gilbert)
5. Wading Through The Darkness
6. Double Zero
7. Never To Reveal
8. Forget About Heaven
9. Secret Square"
10. Hypodermic Midnight Snack
11. Are You Willing"
12. (Ain't Nothing Gonna) Save This World
2008 Metal Mind re-release bonus tracks
13. Date With Hate" (Carlson, Knutson, Ward, Smith, Gilbert, Ellefson)
14. Wading Through The Darkness" (radio edit)
15. Wading Through The Darkness" (industrial mix)
16. Cradle Me Now" (edit version)
17. Wading Through The Darkness" (video)
Label: Metal Mind Productions
Web: http://www.flotsam-and-jetsam.com/
Hardrock Haven rating: 9/10