Great White | Ready for Rock n Roll
by Derric Miller
– Managing Editor —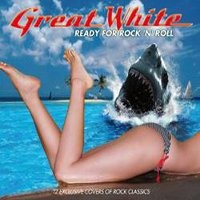 Back in 2002 when there was only one version of Great White, the band released Recover, an album of … covers! Collector's Dream Records took it upon themselves to re-release the album under a different name with a slightly different track order. The timing is confusing, because … which Great White gets the royalties for this album? That aside, Great White does Zeppelin almost better than Zeppelin, and as a band paying homage to their musical inspirations, no band does it better than Great White.
Most of the songs are from before the '80s, except for the surprising cover of The Cult's "Love Removal Machine." Much like the original, the guitar kicks in and you think "Is this the Rolling Stones?" Maybe that was the band's intent; to cover a song that sounds like a cover of the Rolling Stones. Anyway … Russell is a master on this track, not quite as sleazy as Ian Astbury but damn close. It's sad hearing how well Kendall and Russell forged the Great White sound and knowing this ain't happening again, mate.
"Ain't No Way to Treat a Lady" is the highest you've heard Russell sing during the verses. Sure, he sings higher at the beginning of "On the Edge" and on other songs with screams, but this is word for word during the verse and chorus where he's using his high range. It's like hearing Tony Harnell sing "Everyone's a Star" where there's just no let up on the high-pitched notes. The song itself is far and away more polished than the Q5 version, which is more AC/DC sounding.
Great White does actually cover the Rolling Stones on "Bitches and Other Women." It's basically a completely different animal with Russell singing. It's hard to imagine two more disparate singers than Russell and Mick Jagger — maybe Tiny Tim and Chuck Schuldiner — so it just doesn't sound quite right.
"Burning House of Love" is on this release and although the PC Police typically need to take it in the 'nards at all times, sometimes discretion really is the better part of valor. There are thousands of people who never want to hear this song again.
The other covers that hit home are "Ready for Love," "No Matter What," and "Lady Love." What's the connection on these songs? It's one of the greatest singers on earth making music with one of the most talented and bluesy guitarists around. Kendall's blues-laced mastery of his instrument and Russell's immeasurable vocal talent is what made Great White platinum, and then some. Che sera … sera.
Ready for Rock n Roll is like most cover albums. The diehards snatch it up, the curious tune in, and for the rest of the masses, it's a hurry up and wait process for the new music. Well, Great White with Terry Ilous already showed us theirs; Jack Russell and his band mates are going to show us theirs hopefully soon. In the meantime, here's a look back at what used to be …
Genre: Hard Rock
Track listing:
Sin City – (AC/DC)
Love Removal Machine – (The Cult)
Ain't No Way To Treat A Lady – (Q5)
Ready For Love – (Mott the Hoople/Bad Company)
Bitches And Other Women – (The Rolling Stones)
Again And Again – (Status Quo)
Down At The Doctors – (Dr. Feelgood)
Tangled Up In Blue – (Bob Dylan)
Burning House Of Love – (X)
Fire And Water – (Free)
No Matter What – (Badfinger)
Lady Love – (Robin Trower)
Label: Collector's Dream Records
Online: http://jacksgreatwhite.com/, www.greatwhiterocks.com
Hardrock Haven rating: 7.6/10