Hollywood Undead | Notes From The Underground
by John Kindred
– Publisher —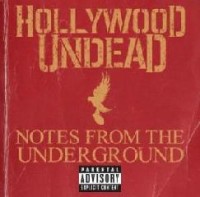 Hollywood Undead is a band whose image brings nothing new to world of music. Hiding the band's visage with masks obviously goes back to the most notable band, KISS, whose members are the masters of at keeping their identity hidden. Flash forward to the modern era, and there is Mushroomhead, Slipknot, Lordi and many others. There is nothing new or really exciting from this unoriginal representation of a band's image. Music is what truly defines a band.
Well, these masked marvels have been at it since their debut release, Swan Songs, in 2008. Each band member uses a pseudonym wears their own unique mask. The current lineup comprises Charlie Scene, Da Kurlzz, Danny, Funny Man, J-Dog and Johnny 3 Tears. To date, the band has sold more than 3 million records worldwide, releasing one live CD/DVD, Desperate Measures 2009, and three studio albums: Swan Song 2009, American Tragedy 2011 and finally 2013's Notes From the Undead. The music that the band performs can be characterized as rap-metal. Unique to the band's delivery is that, at any given time, all members of the band may provide vocal interplay (rap) within the context of a particular song.
Listening to Notes From The Underground, the metal-rap is a prominent feature within each song. But the band, much like Linkin Park, mixes in regular vocals with metallic-screamo-rap-style vocals. There is a strong industrial vibe in the songs, and even Euro-dance pop influences are a part of the music. The beats have a strong groove-oriented vibe. The band mixes up various instruments in each song, making the tunes dynamic. Mixing groove and melody with rap and regular rock vocals with crunchy guitars, piano and keyboard melodies, the band's approach to song writing has an appeal that captures the listener's attention.
Like many bands that make up this genre, the lyrics often are dark, heavy and thematic journeys. The songs are written to appeal to a fan base that is trying to discover who they are and what they are about. It appeals to the youth of this current disjointed time in history. With so many bands currently delivering this style of music, fans can be picky about which group appeals to them the most. Hollywood Undead has all the skills and talent necessary to match their peers. While this may not be everyone's cup of tea, sometimes you need to experience music that's not in your regular listening rotation. There is enough musicality happening on Hollywood Dead's Notes From The Underground for open-minded metal heads to find enjoyable.
Genre: Rap Rock, Rap Metal, Alternative Rock, Hip Hop
Band:
Johnny 3 Tears
J-Dog
Charlie Scene
Funny Man
Da Kurlzz
Danny
Track Listing:
1. Dead Bite
2. From the Ground
3. Another Way Out
4. Lion
5. We Are
6. Pigskin
7. Rain
8. Kill Everyone
9. Believe
10. Up in Smoke
11. Outside
Label: A&M/Octone
Web: http://www.hollywoodundead.com
Hardrock Haven rating: 7.8/10