Joe Satriani unveils track listing and artwork for new album: Unstoppable Momentum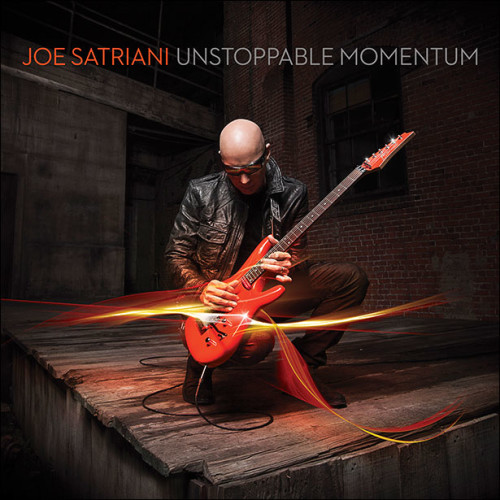 Legendary performer and the hardest working guitarist in the business, Joe Satriani confirms the release of his 14th studio album, "Unstoppable Momentum" in the UK on Monday May 6 (U.S. release is Tuesday May 7) through Epic Records/Sony Music UK. The album was recorded at Skywalker Sound in San Francisco and was produced by Satriani and Mike Fraser (AC/DC).
Unstoppable Momentum dovetails Satriani's UK Tour which starts a month later on Saturday 8 June at the Manchester Apollo.
After returning from the South American G3 Tour in October 2012, Satriani got down to writing new music over the next two months. As he recalls, "A very prolific and cathartic two months followed resulting in a bundle of new music I was very excited to get recorded." Click HERE to download the album artwork and read the official web press release.
Eleven songs were selected to record, all of which were "heading in different directions and touching on a variety of musical influences." With that in mind, Satriani assembled a new studio band, including Vinnie Colauita (Sting, Jeff Beck) on drums, Chris Chaney (Janes Addiction) on bass and Mike Keneally (Dethklok) on keyboards. "The idea was to crank up the energy level of the sessions, and allow for more individual expression from each player. The chemistry with Mike, Chris and Vinnie was fantastic and we blazed through the tracks with everyone laying down amazing performances."
Track Listing:
1. Unstoppable Momentum
2. Can't Go Back
3. Lies And Truths
4. Three Sheets To The Wind
5. I'll Put A Stone On Your Cairn
6. A Door Into Summer
7. Shine On American Dreamer
8. Jumpin' In
9. Jumpin' Out
10. The Weight Of The World
11. A Celebration