by Jonna Ambur
– Senior Photojournalist —
MARCH 12, 2013, TOAD'S PLACE, NEW HAVEN, CT —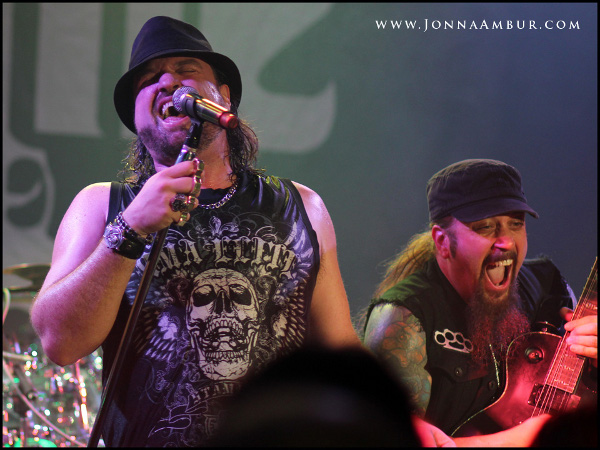 Adrenaline Mob is a culmination of epic musicians who formed a metal super-group. On the first night of the band's tour, The Mob performed at New Haven's famous, Toad's Place. A dedicated pack arrived early to get a prime spot and warmed up to supporting tour band Nothing More and local Connecticut bands, Vengeance and Mile Marker Zero.
The talent on the stage couldn't be surpassed; their force couldn't be measured; their power couldn't be contained! Hitting the road in support of the band's album Covertá, released the day of the show, the hour-plus set brought the house down. The band performed songs from Covertá, as well as previous albums, Omertà from 2012 and Adrenaline Mob from 2011.
The set was non-stop, and they didn't hold back on their appreciation for everyone that had come out to help them start their tour. After the show, before they went on to their next stop, they visited with fans, talked shop, took photos and signed autographs. They made it clear that their band members were a family, and their fans were an extension of the bonds that keep them going.
The current lineup includes Russell Allen (vocals) from Symphony X, Mike Portnoy (drums) from Dream Theater and Avenged Sevenfold, Mike Orlando (guitar) from Sonic Stomp and John Moyer (bass) from Disturbed.
Set List:
Psychosane
Feelin' Me
Down to the Floor
Angel Sky
Indifferent
High Wire (Badlands cover)
Believe Me
Hit the Wall
All on the Line
Come Undone (Duran Duran cover)
Undaunted
Encore:
Guitar Solo
Stand Up and Shout (Dio cover)
The Mob Rules (Black Sabbath cover)
LIVE! | Adrenaline Mob Concert Photo Gallery
[Photos by Jonna Ambur]