LIVE! | KISS – Shouting It Out Loud In Sydney
by Cameron Edney
– Guest Columnist —
March 09 – 10, 2013 at All Phones Arena in Sydney, Australia —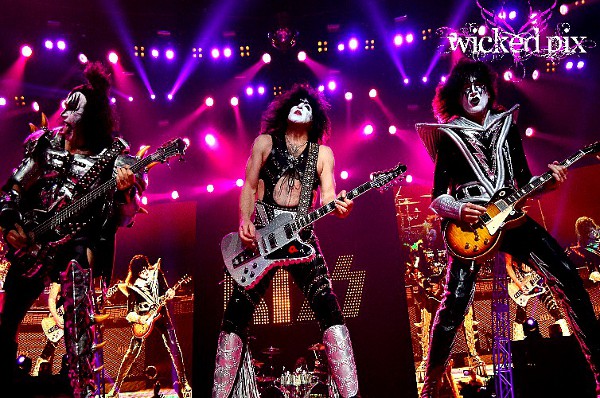 Growing up there wasn't too many bands that made the impression on me that Kiss did. Having older siblings who were part of Kissteria in 1980 here in Australia, it was only a matter of time before I would follow in their footsteps. Born in 1979 during the bands peak in Australia my first memory of Kiss was watching the "Shandi" video clip on a music show called Sounds. As the years went on my love for Kiss grew, I knew all the songs, had all the albums and that memorabilia. Damn, at one point I probably could have done with another house just for storage!
Over the years I had witnessed Kiss live in concert ten times, most of which have been mind-blowing experiences. When the most recent tour was announced with both Motley Crue and Thin Lizzy joining the bill I knew these would be shows not to miss.
Attending both of the bands performances last week in Sydney was brilliant. I loved the stage show, and usually do. The one thing you can always count on with a Kiss show is plenty of great lights, huge video screens and plenty of pyrotechnics. This is something that Kiss once again delivered!
Dubbed the Monster tour I was pleasantly surprised to see the band finally mixing up the set-lists from night to night. For the diehard fans this is something that's been asked for years and finally the band are answering those pleas. Kiss played incredible sets over the two nights in Sydney which included "Crazy Nights," "Hotter than Hell," "Out of this World," "Lick it Up," "Firehouse," "War Machine," "Deuce," "Shout it out Loud" and "Hell or Hallelujah."
The one thing I took away from this year's Kiss experiences was just how much Gene had stepped it up live! Gene's voice was by far the best I have ever heard him sing live, the band sounds flawless, Paul's voice was brilliant under the circumstances. I am sure many fans were not aware that Paul recently underwent throat surgery and even though his voice didn't hold up as strong as in the past during some tracks, it really didn't seem to matter to lifelong fans. Paul's onstage presence is unlike any other performers on earth, there is no one that works a stage and a crowd like Paul Stanley!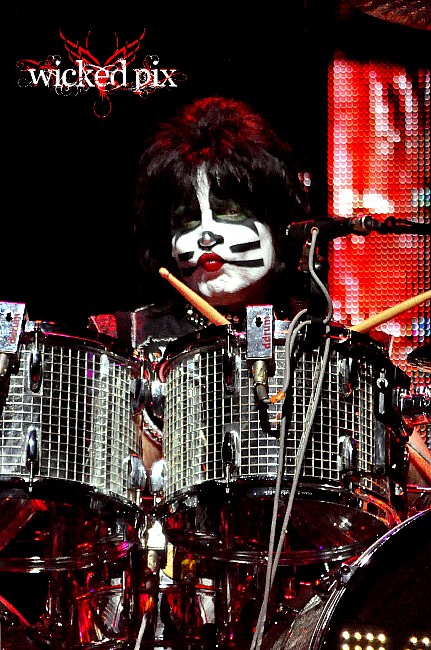 Eric Singer … what can you say? His drumming, as always, was kick ass, his vocal ability like Simmons on this tour flawless and that drum riser … incredible! Tommy Thayer also did a kick ass job on the tour, on night one of Sydney Tommy's track "Outta this World" is one of my favorites from the Monster and probably my favorite track played of the night. I was looking forward to hearing it again on night two but was equally impressed with hearing Tommy do "Shock Me" live once again.
Musically I couldn't fault the band on this tour… in the past there has been a bum note here and there or points where the wrong lyrics were sang but besides the intro to "Crazy Nights" on night 1 there was nothing to fault. Just like the band has been doing in recent years, all the onstage craziness is still in place, Gene is still breathing Fire … that never gets old. Paul is still flying out over the audience during "Love Gun," the band still have that incredible ending with the drum riser, more fireworks than any New Year's eve party and let's not forget Gene's blood spitting act which has always been one of my favorite parts of the shows.
One of the coolest things about this year's shows was how the band incorporated some covers and funny moments into the set on nights 1 and 2 the band broke into Led Zeppelin's "Stairway To Heaven" and The Who's "Won't Get Fooled Again," while Paul also treated the fans on night 2 to his version of the Aussie classic "Tie Me Kangaroo Down."
All in all, once again Kiss showed the critics why they are one of the greatest live acts on the planet and if you were at any of the recent Australian shows I'm sure you would agree. With the band recently announcing more shows overseas, I urge you all not to miss Kiss on this Monster tour, you won't be disappointed!
Set List Night #1
Detroit Rock City
Shout It Out Loud
Deuce
Firehouse (Gene Spits Fire)
Hell or Hallelujah
Calling Dr. Love
Outta This World (With Tommy and Eric Instrumental Jam)
Psycho Circus
Gene's Blood-Spitting Bass Solo
I Love It Loud
Crazy Crazy Nights
War Machine
Love Gun (Paul Stanley Flies To Secondary Stage Over the Crowd)
Rock and Roll All Nite
Lick It Up (Excerpt From The Who's 'Won't Get Fooled Again')
Black Diamond (Brief Excerpt from Led Zeppelin's Stairway to Heaven)
Set List Night #2
Detroit Rock City
Shout It Out Loud
Deuce
Hotter Than Hell (Gene Spits Fire)
Crazy Crazy Nights
Calling Dr. Love
Shock Me (With Tommy and Eric Instrumental Jam)
Psycho Circus
Gene's Blood-Spitting Bass Solo
I Love It Loud
Hell Or Hallelujah
War Machine
Love Gun (Paul Stanley Flies To Secondary Stage Over the Crowd)
Rock and Roll All Nite
Lick It Up (Excerpt From The Who's 'Won't Get Fooled Again')
Black Diamond (Brief Excerpt from 'Tie Me Kangaroo Down' And Led Zeppelin's Stairway to Heaven)
LIVE! | KISS Concert Photo Gallery
[Photos appear courtesy of Cameron Edney]