LIVE! | Sevendust with Lacuna Coil & Candlelight Red
by Deb Rao
– Senior Columnist —
March 23, 2013 at Boulder Station in Las Vegas, NV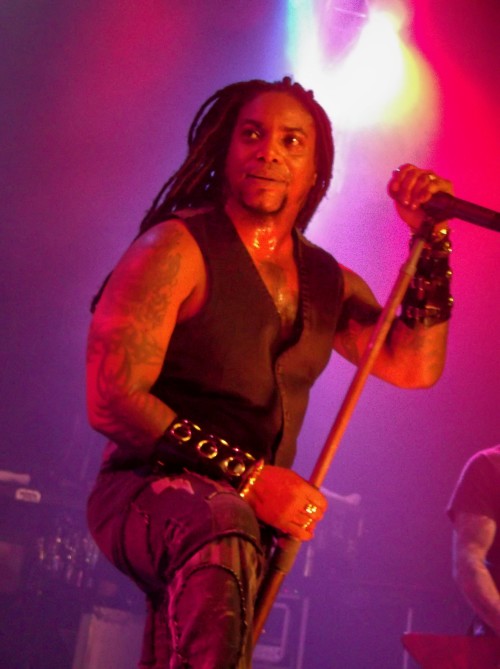 Sevendust is currently on the road supporting their latest release Black Out The Sun. The band made a special stop in Las Vegas at Boulder Station in Las Vegas for a sold out show with special guests Candlelight Red and Lacuna Coil.
Candlelight Red kicked off the show at 7:30 P.M. for a 30 minute set. The band has been touring non-stop and sounded tight. Fans showed up early to catch a glimpse of the rising band that Hardrock Haven first unveiled last year. The band has been in the studio working with Sevendust drummer Morgan Rose. Highlights of the set included new song "Reflecting" and "Medicaided." When asked about what the new album and what it is like working with Sevendust drummer Morgan Rose guitarist Jeremy Edge commented, "We experimented with a lot of low tunings. Just try to get a big heavy sound. It is still kind of organic feeling. Some songs I didn't so any solos. I just did a lot of textures. Some songs we did some solo work. One song kind of has a bluesy solo. We didn't go overboard. Basically playing with just is right for the songs. Trying to create a texture."
"It is freaking awesome working with Morgan. He is quite the mastermind. He hears so much stuff. He is like don't move it there. Then he will hum something. We just keep going and spiraling. It is always a really cool experience."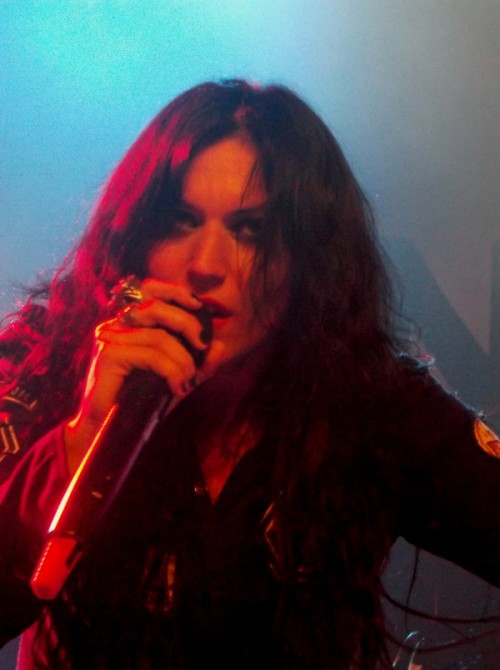 Next up Italian metal band Lacuna Coil took the stage. This was my first time seeing the band. The vocals of Cristina Scabbia and singer Andre Ferro soared. I really enjoyed the vocal trade offs. Cristina has an amazing stage presence and the songs were very well crafted. Highlight of the set was the acoustic "End Of Time." Lacuna Coil ended the energized set with "Spellbound."
Set List:
I Don't Believe In Tomorrow
I Won't Tell You
Kill The Light
Self Deception
Fragile
End Of Time
Survive
Our Truth
Intoxicated
Trip The Darkness
Spellbound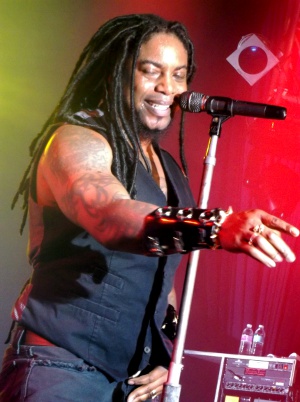 Sevendust has acquired quite the following over the past few years. Their stellar musicianship and musical bond speaks volume. The tour has been getting rave reviews with sold out performances everywhere. Las Vegas seems to be one of Lajon's favorite places to play, as he commented he didn't want to leave Vegas because they treated the band so well. Sevendust is touring in support of their latest release Black Out The Sun. The album is phenomenal. Be sure to check out Morgan Rose exclusive track by track break down here at Hardrock Haven.
Sevendust kicked off the set with new song "Decay." The audience was captivated by the tight brutal onslaught of the band. The band played many songs from their last release, plus Morgan Rose's favorite song, "Till Death." The vocals of Lajon WItherspoon were outstanding. Drummer Morgan Rose pounded the drums with precision and was amazing to watch. The set roared and only slowed down a moment for "Angel Song."
Be sure to check out Sevendust coming to a city new you and pick up a copy of Black Out The Sun. Possibly the best album release of 2013.
Set List:
Decay
Praise
Denial
Ugly
Bitch
Angel Song
Waffle
Strong Arm
Till Death
Pieces
The End Is Coming