LIVE! | Stitched Up Heart at the Troubadour
by Anabel Dflux
– Photojournalist —
March 25, 2013 at Troubadour in West Hollywood, CA —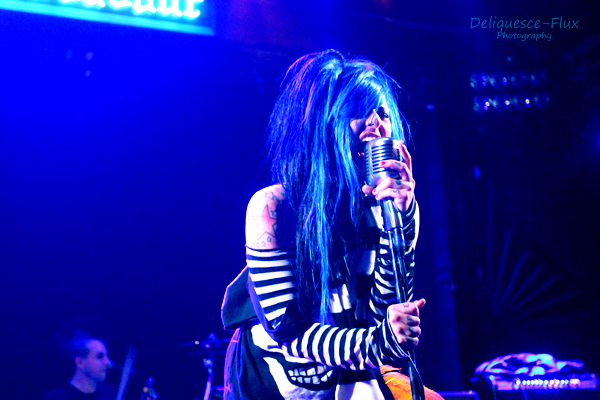 Returning exactly a month after their Roxy Theater show, Stitched Up Heart was shaking up West Hollywood again on March 25th, at Santa Monica Blvd's very own Troubadour. This was the band's first time setting foot in the historically rich venue, and Stitched Up Heart were sure to leave the Troub' with quite an impression.
Vocalist Mixi started the show off with a characteristic enthusiasm and a gleeful smile on her face, welcoming all of the attendees to their set. Clever, colorful lighting effects and great sound encompassed the space, intriguing both the downstairs audience and upstairs onlookers. Bassist Derek brought a fantastic liveliness to the left of the stage with his fun energy, often pairing up with guest musician Merritt Goodwin. Guitarist Grant swooned the crowd at the right side and last but certainly not least, drummer Decker really spiced things up with his excitable smile and skilled drum beats!
Interaction with the audience was a must, with blue-haired Mixi Demner getting down into the crowd every few moments, and encouraging everyone to sing to the music. After getting off stage, the band made a point to hang out with their fans and allow everyone to have a splendid Monday night.
This rock n' roll band is definitely a force to be reckoned with- sweeping fans under their spell everywhere they go.
Members:
Alecia 'Mixi' Demner on vocals.
Grant Webb on guitar.
James Decker on drums.
Derek Jochmann on bass.
Merritt Goodwin was a guest musician at this show.
Set List:
1. Abducted
2. Frankenstein
3. Funhouse
4. Marionette
5. Your Demise
6. Bitter End
7. Grave
8. Freax
9. The End
Stitched Up Heart Concert Photo Gallery
[Photos by Anabel Dflux]