LIVE! | Vince Neil, Night Ranger, Skid Row, Warrant, Quiet Riot
by Deb Rao
– Senior Columnist —
March 22, 2013 at Orleans Arena in Las Vegas, NV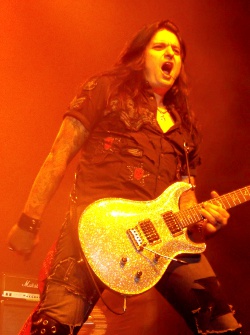 For one night only the Las Vegas strip was turned into a Metal extravaganza with Bob Rocks at the Orleans Arena featuring Vince Neil, Night Ranger, Skid Row, Warrant, and Quiet Riot. The Strip may have its glamor and glitz with Celine Dion but the '80s bands that performed at the Orleans Arena showed Las Vegas how to rock!
Quiet Riot kicked off the night's festivities. It was so refreshing to see Quiet Riot again. After Kevin Dubrow passed many fans wondered what would become of the band. Frankie Banali surely made the right decision to continue the band. Frankie, Alex, and Chuck are back where they belong onstage. Highlight of the set was when drummer Frankie Banali took the mic to pay tribute to Randy Rhoads and Kevin Dubrow with the song "Thunderbird." A truly class act, Frankie is one of the best drummers in the business. Kevin Dubrow also commented in the past to me many times that guitarist Alex Grossi is a great guitarist in true Randy Rhoads style.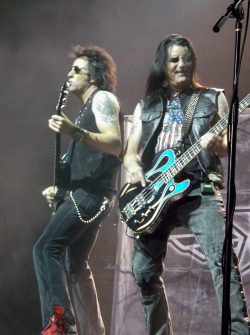 Next up Warrant stole the show. Kicking the set off with "The Downboys" Warrant rocked the house. Back in Vegas by popular demand, Warrant sounded really tight and rocked with perfection. Highlights of the set were ballads; "I Saw Red," and "Heaven." Singer Robert Mason also performed on acoustic guitar. Robert is truly doing an amazing job as Warrant's front-man.
Warrant rocked hard with guitarist Erik Tuner extraordinary performance on "Uncle Toms Cabin." The band ended the set with their mega hit "Cherry Pie." The bands over played 30 minute set and left the audience wanting more. Be sure to check out Warrant on tour! They also performed new song "Sex Ain't Love" off of Rockaholic.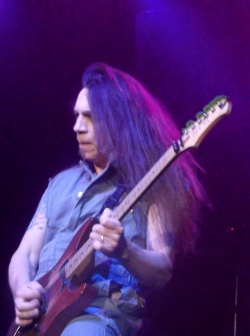 Next up Skid Row hit the stage. They kicked into full gear during "Monkey Business." Singer Johnny Solinger announced the band would have a new album out April 16th entitled United World Rebellion. The band performed a new song off it that was a mixture of punk meets heavy metal called "Kings Of Demolition." The song has that old school vibe and sounds really promising. Highlight of the set was "I Remember You" and "Youth Gone Wild."
It was great to see Night Ranger perform again. The set rocked with many classic hits including "Don't Tell Me You Love Me," "Sister Christian" and "Rock In America." Guitarist Brad Gillis did an amazing job.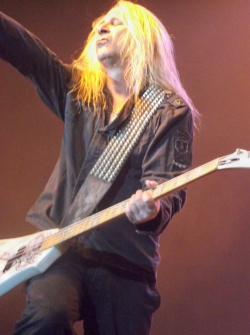 Headliner Vince Neil hit the stage with much energy. Vince looked great and seemed really happy to be back onstage after his recent medical scare. The band played many Motley Crue hits including "Dr. Feelgood," "Shout At The Devil," Kickstart My Heart" and ended the set with "Girls, Girls, Girls." Highlight of the set was guitarist Jeff Blando and bassist Dana Strum played tribute to the late Ronnie James Dio with "Heaven And Hell" and a cool Led Zeppelin medley.
Tonight's concert was a journey through time. With timeless songs that have survived many decades. The '80s were all about guitar solos and great lyrics. Tonight the top of the metal genre displayed stellar musicianship with songs that will endure for generations to transpire.
Special Thanks to Warrant guitarist Erik Turner for making this review possible.