by Alexandra Mrozowska
– Columnist —
Mark McGee, who once was an axeman of power metal act Vicious Rumors and played alongside the legendary Gregg Allman, is now running his own project Luvplanet, and he is an important figure in the San Francisco Bay Area music scene. With Hardrock Haven, McGee discusses his past and current activities, the best acts of the thriving 1980s Bay Area scene, the metal days of Vicious Rumours and the shift to southern rock sphere, and his band Luvplanet, sharing many precious memories along the way.
Mark McGee – ex-Vicious Rumors, ex-Gregg Allman and Friends, Luvplanet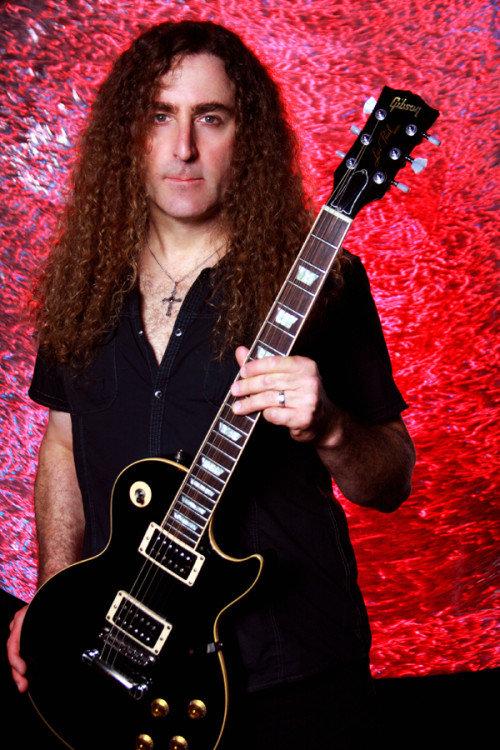 HRH: Starting from the point that is crucial in every musician's career, why did you choose to pick up the guitar in the first place? What ignited you to do so?
MM: It was probably a combination of a few things. I always enjoyed music when I was very young, plus my oldest brother had an acoustic in the house, so obviously that was integral. And add into that a tough home scene, and I was way too shy to talk to girls. And there you have it.
HRH: Do you remember the first or one of the first songs you learned to play?
MM: "Smoke On The Water," "Proud Mary," and "Let There Be Rock" were some of the first.
HRH: What was your method of learning how to play the instrument? Were you a self-taught or rather a music instructor's diligent disciple?
MM: My brother showed me a few chords, but it was mostly a lot of practice. I was able to hear the notes fairly well, and the fingering seemed to come pretty easy, too. So I guess you can say that I found my true calling when I was young. I also was completely addicted to it. I clung to it; it was my world. By age 11, in my mind, I knew I was going to make records, write songs and tour the world. I guess I'm lucky it happened 'cause that would have been quite a let down.
HRH: In your early days, you were working in the San Francisco Bay Area club scene, getting experience. What was it like to share the stage with many notable acts of the era? What are your memories of that period?
MM: It was an amazing time at a time when the SF Bay Area music scene was thriving. Bill Graham was putting on world famous concerts at Oakland Stadium and the Cow Palace in San Francisco, and the club scene was very active with many quality venues and no shortage of original bands. Not like the times we are in now that's for sure. In my first professional band, Overdrive, we warmed up the audiences for bands like Blue Oyster Cult, Loudness, Metallica, Randy Hansen, Quiet Riot and Y & T. I was only 16. Even though I came up in the San Francisco Rock/Metal scene, it's just because that is what was happening at that time. And the Bay Area was the hub for that music. Even though I am known for my work with Vicious Rumors, my influences are much more melodic and classic rock than Metal. Local buddies and after-hours hangouts back in those days were with my friends from bands like Laaz Rockit, Exodus, Violation, Dammaj, Roadrunner, Legacy and many others. We were all very lucky to have been in this area when all of this was just exploding.
HRH: What were the first bands you've played in? Can you tell us a bit more about such names as Overdrive or Starcastle?
MM: Overdrive was not actually the first band, but it was the first band that was writing originals and taking it seriously. It was formed with my schoolmates Mark Pena, Mike Carsey and Randy Ferrarra. We were going to be the next big thing in our minds. Actually, we did accomplish a lot and had a very good, devoted following back then. Unfortunately, it imploded once Mike decided he wanted to sound like Motley Crue. I just wasn't into that; I was more into Scorpions, Aerosmith, UFO, Rush, Kiss and Zeppelin. I am still friends with them, and Mr. Pena is like my brother.
After that, I started writing a lot of songs that would end up being the template for my next band, Now. Initially, I called by good buddy Devin Lacey to join me as the bassist. Devin soon formulated a few song ideas, and we both knew this was going to be a very creative project. The logical choice then was to bring in Mark Pena on Drums and then came in Vocalist/Keyboardist Rob Bonstin. Now was only together for about two years. We recorded a dozen or so demos, played many gigs and opened for some national acts. One of these shows ended up being Now opening for the '70s Prog rock band Starcastle. They toured, playing arenas and opened for many of the big '70s acts like Rush, Yes, Styx, Heart and Jethro Tull.
Original bassist Gary Strater had relocated from Illinois to California after the original band broke up. Once he was out here, he decided to put a new, more modern version of Starcastle together, and that was the lineup that Now opened for. Although Now was a great outlet for me, I realized that I was a little bit limited with how far I could push certain aspects of the music, not to mention some of the members weren't quite getting along very well. I hit it off tremendously with Gary and the guys from Starcastle, and unexpectedly, at a second show we did together, they asked me to join the band. This was a big decision for me because Now was my band, but I decided to move on and join up with Gary, vocalist George Harp and drummer Scott McKenzie, whom I would come to know and play music with throughout my whole life. For whatever reason, once again this band would only last two years together. However, I must say that this period in my musical life was one of the best and most inspired periods. Gary was so brilliant, and I learned a lot from him about many aspects of music. He sadly lost a battle with cancer in 2004, but there isn't a day that goes by that I don't think of him. He was a master, a great bassist, a great singer and a visionary. He was very spiritual and generous, and I was lucky to have known him.
HRH: The first important stopover in our journey through the years is, undoubtedly, a period of playing with Vicious Rumors. As a member of the band, you released six albums, including the award-winning 1992 'Welcome to the Ball' release. Which of them are you are most proud of, and which, in your opinion, really stands out among the band's discography?
MM: Well, I think that the debut Atlantic release is a special record to many fans, although there are different favorites for different fans. I know that in all things Metal, "Digital Dictator" is considered a legendary album in the European Metal community, although I think that "Welcome to the Ball" probably is the best record, with all things considered.
I am very proud of all the VR recordings. Obviously, for a lead guitarist Metal is a prime form of music to get your ya ya's out. But I have always been more of a song guy, with old-school, classic influences. I would say that I am very proud of my instrumental piece "Electric Twilight" on the 1990 release and songs like "The Voice," "Dreaming" and "Thunder & Rain pt2" from 1994's "Word of Mouth." I love heavy music as long as there is enough melody woven in for balance and texture. And if there isn't a good vocal, then I am just not interested. "Word of Mouth" has some of the best songwriting on it, I think. And I don't just say that because it is mostly my record, as Geoff was not able to play guitar during much of the preparation for that one. He was battling Carpel Tunnel Syndrome, and then you have Dave Starr and Larry Howe who weren't getting along at all and Carl, who was wrapped up with other things during that period as well. I felt like the team leader, coach, songwriter and referee all at the same time. I even ended up playing Bass on 50 percent of the album because right before we went in to record it, Dave Starr was let go from the band. We had nailed down bassist Tommy Sisco to come in; however, he didn't know all the material, so he only played on half the record. Personally, I think if "Word of Mouth" had the sound/mix that "Welcome to the Ball" had, it would be the best of the bunch.
HRH: With Vicious Rumors, you've shared the stage with some of the most famous hard rock and metal acts of the late-1980s, early-1990s era. Are there any special memories from those gigs? What was the experience?
MM: Touring with Paul DiAnno was a thrill. Supporting Paul Stanley in Oakland, Calif., in 1989 on his solo tour was a huge thing for us and a very memorable day because after the show that night, the A&R rep from Atlantic Records shook our hands and said, 'Well it's official, and we are going sign you guys to the label.' Some memorable things for me include playing the original Marquee Club and Hammersmith Odeon in London and touring with Savatage for four weeks on the 1991 'Welcome to the Ball' / Savatage – 'Streets A Rock Opera' tour. The time we spent together was awesome and getting to know and become close with Criss Oliva was something I cherish very much. We just hit it off and were pretty much inseparable on that tour. He was one of those people I looked forward to getting to know more in the years to come. It was horrible when he got in that car wreck. I wrote "Thunder & Rain pt2" as a dedication to Criss. I called Jon Oliva (Criss' brother) right when I found out. It was kind of freaky because Carl dedicated that song to Criss every night on 1994's Word of Mouth European tour, and then shortly after, we came home from that tour, Carl was taken from us in the same exact way. Carl got in his car crash just three weeks after I left the band. Many people think I left because of that, but I left prior to Carl's accident. So then, I received the same phone call from Jon, with him kindly offering his condolences and friendship.
About a year or so later and after Alex Skolnick left Savatage as Criss' replacement, Jon asked me to play on a demo they sent me for the song called Starlight, which they loved. Jon then asked me to come join Savatage and told me that he doesn't know why he didn't call me right when Criss passed because he knew how close we were and how much Criss meant to me. Of course, this was a nice thing for me to hear from him. They wanted me to fly to New York for a photo shoot. It was all so overwhelming, but I told Jon I would love to do a record with Savatage, but I could not commit to joining the band since I had just left VR to do my own thing. It's things and times like these that make me believe there is no such thing as a coincidence.
HRH: Why did you leave the band in 1995?
MM: I was tired of feeling limited with the types of songs that VR would do, and I felt like we could use a little revamping of our sound. It is important to show growth as an artist and in a band so that things stay fresh and not predictable. I was getting a little push-back on some comments I made regarding this subject. And so, instead of saying 'either my way or I'm out of here,' I just decided it was time to leave. I wanted it to be a natural thing that everyone was feeling, so I figured what better way to know where everyone was at with it than from just their initial responses. I love the guys, but I can't be held back in any music situation, or else why do it?
Playing with Gregg Allman was a different story altogether. I was there to represent his music and his history. I mean, I had my moments where I could put my stamp on it, and I knew when it was time to play the Duane solos or whatever. In this situation, it is important for the musician to know what things the fans want to hear and what moments you can make your own. It is quite different when it is a band that you are a primary songwriter and driving force in.
HRH: How did you hook up with Gregg Allman, and in what circumstances have you joined Gregg Allman and Friends?
MM: In the middle of 1995, I began doing little local gigs with the Alameda All Stars, which was a band from my hometown of Alameda, Calif., that had been around for years. It was a fun little music club, so to speak. Some of them already were playing with Gregory, so when they had a spot open for a new guitarist, I was given an audition. I got the gig and played internationally with Gregg over a 10-year period, 1995 – 2004, 2007. I think I am the longest-running guitarist in his solo career. Unfortunately, I never wrote and recorded a full-length album with him, which would have been a great time, but I do appear on two Sony releases, 1997's 'Searching for Simplicity' and 2002's No Stranger To The Dark / The Best Of Gregg Allman. Playing with Gregg was a great experience, as I toured and traveled and met people from this whole other music scene of Southern Rock/ Blues / Jam Band. It also pushed me to develop my slide guitar skills, which I can't even imagine not having as part of what I do now. Any new way you can find to express yourself is always a good thing.
HRH: Recording with Gregg, you've had a chance to co-work with the legendary producer Tom Dowd (Allman Brothers, Clapton, Aretha Franklin, Lynyrd Skynyrd). What was it like working with him?
MM: It was a thrill. He is a genius. I mean REALLY! He passed away in October of 2002. We were on tour, and it was a very sad day, to say the least. Tom was so gracious and generous in the studio. It was crazy because we recorded that session at Fantasy Studios in Berkeley, Calif., in studio A, which is the same room that VR did VR, Welcome to the Ball and Word of Mouth. As I like to say, 'the world keeps shrinking.' I mean, he didn't have to listen to me, but he would discuss with me different things that I brought up or asked about regarding the session when he really didn't have to. That experience was all of a few days, but it was a huge thing to work with Tom. We have hours of in-the-studio footage from that session with Tom and everyone clowning around and interacting. God rest his soul.
HRH: The time you spent in Gregg Allman and Friends was another period of intensive touring. With your current music projects, are there any bands or artists you'd like to share the bill with in the future?
MM: Yeah, with GA, we played shows in the U.S., Canada, Japan and Europe. We shared the bill with such acts such as the Spinners, Wilson Pickett, Jimmie Vaughn, David Crosby, Bad Co., REO Speedwagon, The Fabulous Thunderbirds, Ted Nugent, Joan Jett, Derek Trucks Band, Kansas, Neville Bros., Cyndi Lauper and many others. One cool thing about playing with Gregg is that he doesn't open for anyone, so there I was with these legendary acts going on before me. It was quite a rush, I must say.
Regarding acts I'd like to share a bill with in the future, well, I guess Luvplanet opening for Aerosmith, Rush or the Foo Fighters would be cool.
HRH: Luvplanet is the new chapter in your history. How did Luvplanet start?
MM: I was called by a guy named Daniel Polselli, who I knew, but was also a friend of Nicole Sutton's, to come down to his place, 'SRS Studios' and put down some guitar tracks for three of Nicole's demos. What better way to meet your future bandmate, songwriting partner, best friend and wife, than to meet in a recording studio with all of that creative atmosphere. The session was done, and I went home.
A week later, I was called, again, to come down to SRS and do a little jamming with Nicole, Stu Hamm and Jeff Campitelli. Of course, I went down to have a little fun and jam a bit. This evolved into two rehearsals per week throughout most of 1999, with a few live shows played at the end of that year. It was a lot of fun getting to know everyone during that time. Much of the music we worked on were songs written by Nicole, and many of them ended up on the first Luvplanet CD that was released in 2003. Stu and Jeff also are on the debut Luvplanet CD.
However, shortly after that, Stu and Jeff's commitments with Joe Satriani took them back on the road, and then it was up to Nic and me to find the permanent rhythm section. I was first convinced that whoever these new members would be, they were people I never met. I felt this just because of how everything came about. It didn't take long to realize that, perhaps, that wasn't the case. I soon knew exactly who to call and reached out to Tommy Sisco and Scott McKenzie. That lineup would last for eight or so years, as we released the next three albums State of Mind in 2005, Lucky One in 2008 and Luvolution in 2010. Scott left the band a year and a half ago to focus on some different areas of his life, but we are still very much family.
Following Scott's departure, we were lucky to find drummer Cedric Wilmott, who has been in the band ever since. We are hoping to have our fifth studio album released in 2013, depending on how things line up, it may be a live CD this year and the new studio CD next year. Only time will tell. One thing is certain; Luvplanet is here to stay, as we have way too much music pouring out of us.
HRH: What are your current music plans? What you are up to right now? Is their any other exciting news on the way?
MM: Yes, Luvplanet is preparing songs to record for our 5th album. Hopefully this album will have a few special guests gracing us with their presence. I can't say who but cross your fingers 'cause if it goes down it will be quite legendary! At some point I hope to finish what will be my first solo release but basically it is all about Luvplanet right now. Thanks for the great questions Alex and thank you to all the fans and supporters of my music thru the years. With out you it means nothing!
Mark McGee links:
http://www.markmcgee.com
https://www.facebook.com/pages/Mark-McGee/306002570700
Luvplanet links:
http://www.luvplanet.net