by Justin Gaines
– News Editor / Senior Columnist —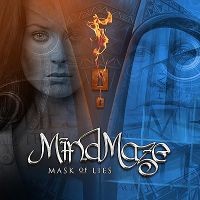 Pennsylvania-based progressive metal band MindMaze have just released their debut album, titled Mask of Lies, independently. The female-fronted band, which was previously active under the name Necromance, plays a fairly traditional brand of progressive metal some power metal elements and a healthy measure of melody. Mask of Lies also features guest appearances from Lord Tim (Dungeon, Lord) and John Gaffney (Sinister Realm).
Mask of Lies is an easy album to get into. Right from the start you know you're in familiar territory. Progressive metal has grown in a lot of interesting directions lately, and as great as that is there's something about that classic, Dream Theater-inspired sound that – when it's done right – is hard to resist. MindMaze definitely get it right. The songs on Mask of Lies have a high level of technicality, keyboards play a prominent role, and the band wisely avoids the kind of lengthy, self-indulgent instrumental clinics that so many others seem powerless to resist. Instead, MindMaze keeps things very accessible through a great use of melody and Sarah Teets' strong, steady vocal performance. Unlike some vocalists (who shall remain nameless), Teets understands the difference between shouting and singing, and she uses her range and power to great effect here. The vocals are the perfect counterpoint to Jeff Teets' intricate and melodic guitar work.
Highlights on Mask of Lies include the powerful, anthemic "Breaking the Chains" the title track, which really satisfy on a power metal level. The album's two epics – "Dark City (Dreaming This Life)" and closer "Destiny Calls" – also stand out as tracks most likely to excite the Dream Theater fans.
This was a pleasant surprise. Mask of Lies is just a well-written, well-executed melodic progressive metal album all around, and the production and artwork are beyond what you might expect from an independent release. MindMaze is a band that should have a pretty wide appeal. Obviously, fans of female-fronted metal (anything from After Forever to Seven Kingdoms) will enjoy this, but fans of high quality progressive metal in general ought to find a lot to like in Mask of Lies. MindMaze proves that the future of American progressive metal is in good hands.
Genre: Progressive Metal
Band:
Sarah Teets (v)
Jeff Teets (g)(k)(v)
Rich Pasqualone (b)
Kalin Schweizerhof (d)
Track Listing:
1. Never Look Back
2. Breaking the Chains
3. This Holy War
4. Cosmic Overture
5. Fading Skies
6. Mask of Lies
7. Dark City (Dreaming This Life)
8. Remember
9. Destiny Calls
Website: www.mindmazeband.com
Hardrock Haven rating: 8.5/10