Mustasch | Sounds Like Hell, Looks Like Heaven
by Justin Gaines
– News Editor / Senior Columnist —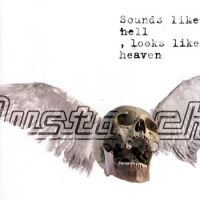 Swedish heavy rockers Mustasch are back with a new studio album, their sixth overall, titled Sounds Like Hell, Looks Like Heaven. The album has actually been out for about a year overseas, but it's finally getting a proper US release this year. With any luck, this will be the album that brings the band – already a massively popular and Grammy winning act in their home country – the attention of American rock and metal fans.
Mustasch has an interesting, and completely awesome, sound. Their rhythms and riffs are heavy – as in giant slab of granite HEAVY, which gives them one foot in the stoner metal territory occupied by bands like The Sword and Orange Goblin, but there's also a hard rock side to things that brings to mind Motorhead and The Cult (especially in singer/rhythm guitarist Ralf Gyllenhammar's vocal style and overall presence). They've got an overall vibe that's similar to Volbeat, even though their sound is very different. So yeah, hard-heavy-rock-metal, what's not to like?
Sounds Like Hell, Looks Like Heaven is a short album (ten tracks totaling just 35 minutes), but it's a pedal to the metal blast all the way through, and every song is a winner. Once the high octane opening number "Speed Metal" kicks in, you can pretty much forget about doing anything other than rocking out for the next half hour. Song after song, riff after riff, and groove after groove, Sounds Like Hell, Looks Like Heaven refuses to let go until the short, strange outro "Northern Link" sends us off on a mellow note.
This is such an easy album to recommend. If you like music that rocks, buy a copy of Sounds Like Hell, Looks Like Heaven and become a Mustasch fan for life. It's past time that American audiences are let in on what European crowds already know. Mustasch is a band that has all the potential in the world to get huge here if they follow the path Volbeat took in touring relentlessly and winning over new fans one club at a time.
Genre: Heavy Metal, Stoner Rock
Band:
Stam Johansson (b)
Danne McKenzie (d)
Ralf Gyllenhammar (v) (g)
David Johannesson (g)
Track Listing:
1. Speed Metal
2. The Challenger
3. It's Never Too Late
4. Cold Heart Mother Son
5. Morning Star
6. Dead Again
7. Your Father Must Be Proud of You
8. Destroyed By Destruction
9. I Don't Hate You
10. Northern Link
Label: Regain Records
Website: www.mustasch.net
Hardrock Haven rating: 9.25/10