Odd Dimension | The Last Embrace To Humanity
by Joe Mis
– Senior Columnist —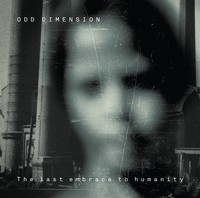 Italy is fast becoming a mainstay in the progressive metal and Gothic metal scene, and the upcoming release from Alessandria's Odd Dimension only emphasizes that fact. Their second studio debut album, The Last Embrace To Humanity, is a fine follow up to their well-received 2011 debut, Symmetrical. A little grittier and a little darker, The Last Embrace To Humanity is, as the label's press release puts it, "an ambitious concept album about the alienation of mankind in an era in which everything tends to be severely damaged or even destroyed in the name of progress" – and it builds on the solid footings of Symmetrical.
Odd Dimension dates back a dozen years to 2001. The lineup of the band has remained unchanged since Symmetrical ensuring continuity of both sound and performance, and building on the veteran teamwork displayed on the first release. Founding members Gianmaria Saddi (guitars), Federico Pennazzato (drums) are joined by bassist Gigi Andreone, vocalist Manuel Candiotto, and keyboard player Gabriele Ciaccia. The band has managed to garner some solid support from other people in the Italian metal scene – singer Michele Luppi (Vision Divine, Secret Sphere) lends his voice on a track, and Simone Mularoni (DGM) and Marco Barusso (Lacuna Coil, H.I.M.) handled recording and mixing duties. Odd Dimension's The Last Embrace To Humanity will be released by Scarlet Records on March 26, 2013.
Despite being only 8 tracks long, The Last Embrace To Humanity is a solid album that demonstrates a good deal of musical variety and maturity. The band continues their trademark mixing old and new school influences to produce a relatively different but undoubtedly progressive metal sound. Odd Dimension's music combines intense guitar lines, soaring keyboard passages and touches of straight up rock and power metal – a refreshing mix that cements the band's unique style.
The veteran performances and strong teamwork are not surprises. Manuel Candiotto's vocals are solid throughout. He sings with a trademark rasp in a relatively high range, but manages to pull off every note without straining. Gianmaria Saddi (guitars) works well with Gabriele Ciaccia (keyboards). Both are content to be rhythm players and drive the music, and step into the spotlight when called to provide solo passages. The backbone is very solid as well. Gigi Andreone's bass work is lively and intense, and meshes well with Federico Pennazzato's intricate drum work. Both are true musicians and not mere clockwork timekeepers. The band's songwriting skills have matured even further. Each track has a unique style and intensity level coupled with strong lyrics and excellent musicianship. As on Symmetrical, the arrangements are simple and basic. The minimal electronic trickery provides an almost "recorded in a single take" tone. The production and engineering are very good throughout.
The album opens with "The Unknown King." Light keyboards lead into grinding guitar hooks and then a slow paced bass and drum rhythm line. The track is packed with solid vocals, sweeping musical passages, progressive rock tempo changes, and a great guitar break. The band's love for the pioneers of progressive rock is easy to hear – Dream Theater, Rush, Symphony X are all apparent, but not imitated. "Under My Creed" opens with an upbeat piano phrase over a bouncing rhythm line before becoming a near symphonic metal song. Candiotto's natural grit and vibrato are the ideal counterpoint to the smooth keys and gentle piano, and gallops along nicely with the more energetic passages. Piano, drums, bass and guitar work as a well-oiled machine on the more ballad-like "Dissolving Into The Void." "It's So Late" is an upbeat mid-tempo rock tune with a strong bass line, well-done keyboards, and an excellent duet vocal line courtesy of guest singer Michele Luppi.
"Another Time" is a conventional soft rock tune, almost Bon Jovi-like in tone and execution. This track shows the emotional depth and softer side of Candiotto's voice, and the range of the band as a whole. It is different from everything else on the CD – a well done change of pace. "Fortune And Pain" seems to be the "everything but the kitchen sink" track, blending symphonic metal, power metal, prog metal, and just about every other kind of metal into a powerful and cohesive track that is quite likely the best on the release. "The New Line Of Times" opens with an acoustic guitar passage nicely backed by the keyboards, and then bass and drums take over to make it a rolling slow tempo rock track with a sing-along chorus. Ripping guitars and keys float over an intense rhythm line to make "Far From Desire" an excellent closing track.
Odd Dimension's The Last Embrace To Humanity is an excellent effort and a fine follow up to Symmetrical – free of the sophomore jinx. The band has used all their tools and talent to grow into an even more solid prog metal act, and with continued growth future releases will be even stronger. Refreshingly unique, Odd Dimension should be a staple on every prog metal fan's "gotta have" list.
Genre: Progressive Metal
Band:
Manuel Candiotto (vocals)
Gianmaria Saddi (guitar)
Gabriele Ciaccia (keyboards)
Gigi Andreone (bass)
Federico Pennazzato (drums)
Guest musician: Michele Luppi (vocals on track 4)
Track Listing:
1. The Unknown King
2. Under My Creed
3. Dissolving Into The Void
4. It's So Late
5. Another Time
6. Fortune And Pain
7. The New Line Of Times
8. Far From Desire
Label: Scarlet Records
Website: http://www.odddimension.it/
Hardrock Haven rating: 9/10