by Steve Patrick
– Columnist —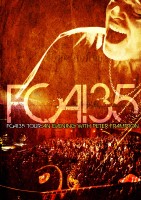 It seems that Peter Frampton is rock 'n' roll's version of Sisyphus, forever cursed to relive live shows he did 35 years ago. Thankfully, despite having lost his trademark golden mane, Frampton's performances have only improved over time. The new blu-ray release FCA!35 only proves that the English guitar wizard is still very much coming alive whenever he takes the stage.
The Frampton Comes Alive! record is something that every casual classic rock fan should be at least aware of. The album contained career-defining versions of songs like "Show Me the Way," "Baby, I Love Your Way," and "Do You Feel Like We Do" that inspired legions of other guitarists to work on their talk box technique. Since FCA! is so familiar to so many people, one would think doing a 35th anniversary tribute would be a major undertaking.
Here on this blu-ray, Frampton and company have gone to great pains to recreate the FCA! experience. Frampton graces the stage to the same introduction that starts the live record. Even the firecracker explosion on "Wind of Change" is faithfully present and pumped into the venue's sound system. Also, Frampton's primary touring/recording guitar from the 70's, "The Phoenix," was recently rediscovered after having been lost for decades and was used throughout the FCA! portion of the set.
Musical highlights include the guitar duel on "Give You Money" between Frampton and his band member, guitarist Adam Lester. "Do You Feel Like We Do" has ballooned to epic proportions and, while it may seem a bit indulgent, is performed with such mastery that Frampton pulls it off to close out the first set.
Then Frampton plays a second set of his other material as well as newer songs from his recent studio albums, Fingerprints and Thank You Mr. Churchill. The second set opens up with a new song, "Asleep at the Wheel." The song is one of the darker tracks from the Churchill record and features some incendiary guitar leads from Frampton. Songs like this one prove that Frampton's talent has only increased in the 35 years since FCA!.
We then get a peek at Frampton's political side on the song "Restraint" which is about greed in today's economy and is performed with a running stocks ticker projected on the screen behind the band. Then there is a substantial instrumental section of tracks pulled from the Fingerprints album. An autobiographical tune from the Churchill album is a high point of the 2nd set and is about the first stringed instrument Frampton learned to play: a banjolele.
Peter's son Julian joins his dad by singing lead vocals on a couple tracks: the new, hard rocking song "Road to the Sun" and the old Humble Pie classic "I Don't Need No Doctor.". Julian Frampton is no Steve Marriott, but the family dynamic provided a new twist to a rock relic. More Humble Pie material shows up later in the set on "Four Day Creep", a great bluesy monster of a song where several members of the band take a turn doing vocals. Also, a couple of Frampton's high-profile covers also pop up in the set: "Black Hole Sun" and "While My Guitar Gently Weeps." The latter has been a live staple since George Harrison's 2001 passing and was a fitting way to end the show.
All in all, FCA!35 is clearly a must-have for die-hard Frampton fans, but casual fans who just have an appreciation for rock history will find a lot to enjoy here. The bonus feature documentary about the rediscovery of "The Phoenix" guitar is particularly interesting. Frampton pulls all the punches on this blu-ray and shows off what can still happen when this 62-year old guitar legend comes alive.
Genre: Rock
Band:
Peter Frampton (guitar/vocals)
Adam Lester (guitar/vocals)
Rob Arthur (keyboards/guitar/vocals)
Stanley Sheldon (bass)
Dan Wojciechowski (drums)
Julian Frampton (vocals)
Blair Masters (synth)
Track Listing:
1. Somethin's Happening
2. Doobie Wah
3. Lines On My Face
4. Show Me the Way
5. It's A Plain Shame
6. Wind of Change
7. Penny For Your Thoughts
8. All I Wanna Be (Is By Your Side)
9. Baby, I Love Your Way
10. (I Wanna) Go to the Sun
11. (I'll Give You) Money
12. Shine On
13. Jumpin' Jack Flash
14. Do You Feel Like We Do
15. Asleep at the Wheel
16. Restraint
17. Float
18. Boot It Up
19. Double Nickels
20. Vaudeville Nanna And The Banjolele
21. Road to the Sun
22. I Don't Need No Doctor
23. Black Hole Sun
24. Four Day Creep
25. Off the Hook
26. While My Guitar Gently Weeps
Studio: Eagle Rock Entertainment