Pretty Maids | Motherland
by Justin Gaines
– News Editor / Senior Columnist —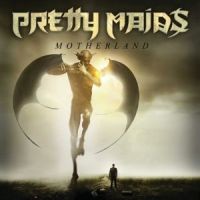 Fresh from celebrating their 30th anniversary with a massive live CD/DVD set and extensive touring (including their first ever US appearance), Danish melodic metal heroes Pretty Maids are back with a new studio album, titled Motherland. It's the band's 12th studio album (or 13th, depending on how you count the acoustic Stripped), and it follows what has to be considered one of the band's best ever albums, 2010's Pandemonium.
Expectations are understandably high with any new Pretty Maids album. They're one of the most consistent bands around, and Pandemonium was a near flawless release. Fortunately, with Motherland, the band has delivered a more than worthy follow-up. Everything you expect (and love) about a Pretty Maids album – Ken Hammer's melodic guitar work, Ronnie Atkins's unique smooth/heavy vocals, the steady rhythms and perfect amount of keys – is present and accounted for on Motherland, and the band seems to have taken the energy and momentum from their recent touring and channeled it right into these songs.
Motherland has a great mix of the kinds of songs Pretty Maids does so well. There are full on heavy metal numbers (see lead-off single "Mother of All Lies" and the patriotic "Motherland") and slower, gorgeous love songs (like "Wasted" and "Bullet For You") that are worthy of an AOR album. It's the songs where these two styles meet that the album really takes off; moments like "Why So Serious" and "Sad To See You Suffer." Heavy, light or in-between, the melodies, musicianship and vocals all shine on Motherland, and there's really not a song that's less than terrific.
It's worth mentioning that lyrics to some of the songs on Motherland are fairly political. Not all of them (the love songs are quite clearly love songs), but some of the heavier tracks like "Mother of All Lies" and "To Fool a Nation" have a decidedly right wing message. How much this affects you is probably going to depend on your own point of view, but it's not overt enough to keep anyone from simply enjoying the songs.
Go ahead and reserve a spot on your "best of 2013" list. With Motherland, Pretty Maids continues their already impressive legacy and proves once again why they're the leaders of the melodic metal pack. Motherland has no chance of disappointing long-time Pretty Maids fans, and it's the kind of album that will make instant converts out of new listeners as well.
Genre: Melodic Metal
Band:
Ronnie Atkins (v)
Ken Hammer (g)
Morten Sandager (k)
Allan Tschicaja (d)
Rene Shades (b)
Track Listing:
1. Mother of All Lies
2. To Fool a Nation
3. Confession
4. The Iceman
5. Sad To See You Suffer
6. Hooligan
7. Infinity
8. Why So Serious
9. Motherland
10. I See Ghosts
11. Bullet For You
12. Who What When Where Why
13. Wasted
Label: Frontiers Records
Website: www.prettymaids.dk
Hardrock Haven rating: 9.5/10