Stacey Blades: Confessions of a Real Rockstar
by Alex Barbieri
– Columnist —
Seasons change, and so do band lineups, and 2013 finds Stacey Blades—formerly the guitarist in Roxx Gang and LA Guns—a solo gun. Let's give Blades a call at his home in Los Angeles and see what he's up to these days.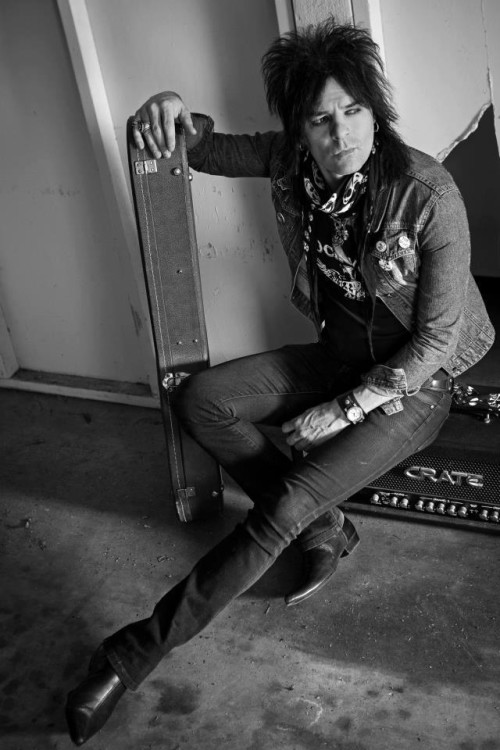 HRH: Stacey, it's Alex, thank you very much for agreeing to the interview. Let's get right into it: what happened with LA Guns? Was it the old "creative differences," or is there a "smoking gun?"
SB: Well, it was a combination of different things. I sort of started burning out around the summer time 2012. The road trips were become very grueling, and I just wasn't really enjoying it anymore. I felt like I was on a treadmill so to speak. I suffer from what's called sciatica, which is nerve damage in the leg.
Flying all day and then sitting in mini vans for hundreds of miles was killing me. I'm alright if I'm on a bus and can stretch out. We were flying every week, come home for two days, then right back to the airport. This was months and months. It was really starting to take a toll on my back and left leg.
Also, my guitar playing was starting to take a different direction. I really wanted to bring back that early bombastic guitar stuff back into the fold and the rest of the band wanted to go in a more '70s straight ahead direction. It was an amicable split though, and I really enjoyed being part of the band for close to a decade.
HRH: Back in 2009, I was the singer in Tango Down, and had the pleasure of opening the show for you and LA Guns at a club called Maximum Capacity in Chicopee, Ma. The place was packed and you guys killed it—the entire Cocked & Loaded album front to back.
A highlight of the night was watching you play on your side of the stage. You were note perfect, but also had such a cool black-hair-and-leather, LA gutter punk rock 'n roll vibe.
Growing up in Alberta, Canada, who were your guitar and performance influences that really made an impact on you?
SB: Ya, that was cool playing the entire Cocked & Loaded album. I felt—and still feel—it's SO IMPORTANT to learn the material pretty much note for note! Well I really grew up in Toronto. I only lived in Calgary for a little bit. All the cool '70s stuff influenced me. Cheap Trick, The Cars, Alice Cooper, Rush, Aerosmith. All the early LA wave of metal influenced me big time, like WASP, Dokken, Ratt and Motley! My biggest guitar influence was of course, Randy Rhoads.
HRH: I thought LA Guns Hollywood Forever was a very strong album. Some great hard rock tracks on it, "Sweet Mystery" being my favorite. Is the LA Guns style of guitar playing your favorite, or would you say you personally have a different style?
SB: Well, I really love blues-based guitar, but I really also love many other styles. I really tried to inject different styles into Hollywood Forever. I've been getting into more progressive guitarists, like Blackmore and Eric Johnson. My favorite guitarist is Randy Rhoads and you can hear a little bit of that influence especially on tracks like "Underneath the Sun" and "Requiem." I had the most bitchin' "Randy Rhoads" solo for that song, but they made me change it, lol!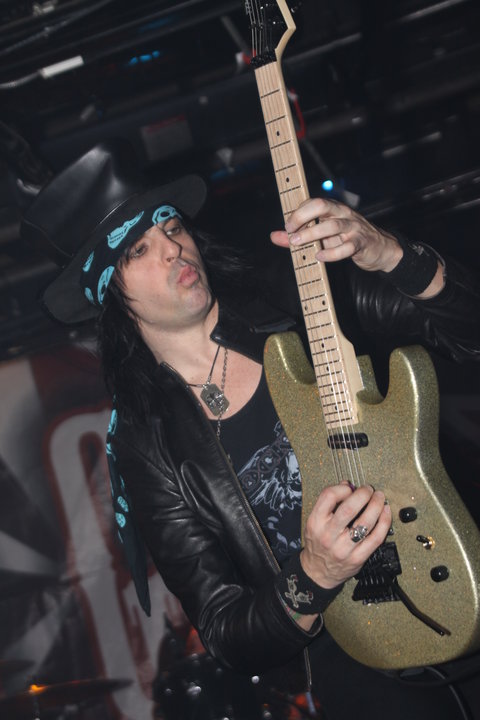 HRH: Enough about the past—I read on Facebook that you're recording with legendary producer Andy Johns, who did Humble Pie, Free, LA Guns, Chickenfoot, and Van Halen, among others. He also produced one of my favorite hard rock albums of all time, Stone Fury's Burns Like a Star.
Tell, us about the project with Andy, and what it's like to work with him—is he a real task master in the studio?
SB: Ya, that Stone Fury album is really good. Me and my buddy used to crank that in his bedroom back in '83 hahaa!
Working with Andy is fun and you just absorb the guy's mojo! I have been working with a singer named Paul Christiana from New Orleans. He is amazing! He sounds like Scott Weiland, David Lee Roth and Janis Joplin!! We did four songs at Unison Studios here in LA. I believe that his entertainment lawyer is gonna shop it in the next month.
HRH: I know what it's like to be out of the protective womb of a band situation and on your own. What's next musically for you—are you looking for another band, or going to give it a go solo?
SB: Well, right now I'm doing a lot of recording projects. I'm working with this software company called Soundtrack Loops. We have done about 22 two minute guitar tracks in lots of various styles ranging from EVH, Zeppelin acoustic type stuff, Eric Johnson style to Stevie Ray Vaughn. They will be available the third week of March. You can go directly to www.soundtrackloops.com.
I'm also playing some selective shows with HardRock AllStars, featuring Juan Croucier from Ratt, and Jamie St. James and Pete Holmes from Black N' Blue. Great guys and great musicians. We will start gigging end of April. I'm also teaming up with Robert Mason from Warrant to do some acoustic shows, which is really going to be very cool.
Robert is a very talented singer of course, and plays great guitar and piano. I'm pretty much a free agent right now, so if Alice Cooper, Slash and even Pink call me up, you better believe I'll be taking the gig! Lol!
HRH: On your website, you announced that you hooked up with a company called Six String, and helped create a new guitar app for iPad, iTouch, and iPhone. Tell us about that.
SB: Cool new app for guitarists! You can interact with hundreds of other players, share gear info, post videos, sound bites and gig info. Really cool app!!!
HRH: You've also recorded guitar loops for a company called Soundtrack Loops. What's that about, and can we look forward to hearing your playing on any TV shows or movies?
SB: Ya, as I mentioned those go on the market this month!! I really did some killer stuff with them!!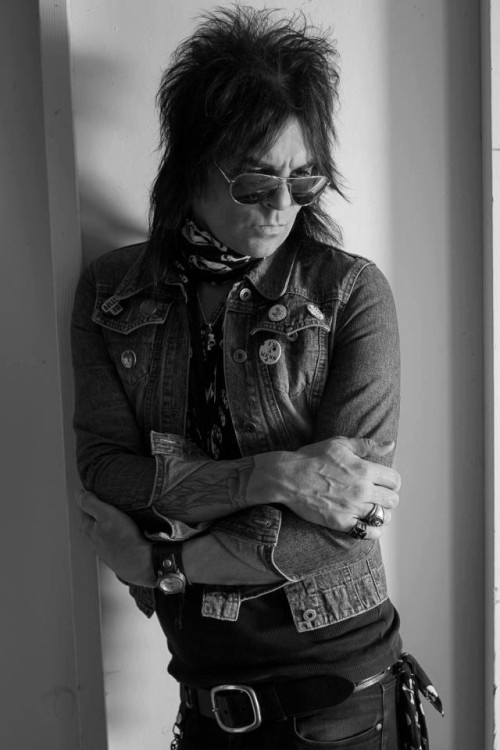 HRH: Memory lane: what are some of your favorite memories of your career in rock 'n roll, thus far? Is there a favorite live show or recording experience that comes to mind?
SB: Well, replacing Tracii in LA Guns was very exciting and rewarding. Lots of great shows, too many to count. M3 Festival 2010 to 17,000 people was a good one!! All the albums we did with Andy Johns. Of course, getting to know all the fans was awesome to! I'm very proud of my book "Snake Eyes: Confessions of a Replacement Rockstar" being published back in 2009 as well.
HRH: That's quite an accomplishment. How did the book come about?
SB: I wrote it back in 2007. Took about a year and a half to write. It was a shitload of work let me tell you!! I thought I had a pretty good story to tell, so I started writing and next thing you know it was published and received great reviews! I have since rewritten and included six new chapters. I'm hoping to get it republished this year!
HRH: Outside of music, what are you involved in and into? What's a day in the life of Stacey Blades like?
SB: Day starts off with a pot of coffee, ha ha. Loads of emails and phone calls. I'm constantly networking! There's at least a few hours with the guitar. I have been getting into reality TV creative production as well. I'd like to start doing more of that, but been really busy with other stuff right now. I enjoy spending time with my two cats and my lovely fiance as well!
HRH: What are you listening to on your iPod lately? Any bands or artists we should know about?
SB: Really getting into vinyl again!! Been on this Ronnie James Dio kick. Love the stuff he did with Sabbath. Been listening to a lot of Heaven and Hell and Mob Rules. Really been listening to The Cars a lot, and an amazing Canadian band from the '70s called Max Webster!
(Editor's note: Blades is right: Max Webster rocks. Check them out.)
HRH: Stacey, thank you again for your time and everyone here at Hardrock Haven wishes you happiness and success. Anything else you want to say to the Hardrock Haven readers and rock fans around the world? The floor is yours.
SB: Want to thank first and foremost all my fans out there. You guys rule! Lots of great stuff brewing, so be sure to follow me on Twitter (@stacey_blades) and my Facebook page and Facebook music page, and be sure to drop by Staceyblades.com! Thanks Alex—anytime dude!
Visit the official Stacey Blades website:
http://staceyblades.com/
Friend Stacey Blades on Facebook.
https://www.facebook.com/stacey.blades.1
Order Stacey Blades' book, "Snake Eyes: Confessions of a Replacement Rockstar" on Amazon.
http://www.amazon.com/Snake-Eyes-Confessions-Replacement-Rockstar/dp/1439229511
[All photos by Arjen Van Eijmeren.]