The Great Gamble | Book I
by Justin Gaines
– News Editor / Senior Columnist —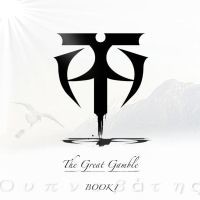 Here's another independently-released album that snuck by us in 2012 but has been getting plenty of repeated listens in 2013. Book I is the debut album from The Great Gamble, a progressive metal band out of Scranton, PA, who, like The Reticent, Fallen Martyr and The Deadstation, is pushing the boundaries of the genre and delivering music that's more than up to the quality level of the big names in the scene.
With Book I, The Great Gamble seems to capture the very best elements of the progressive metal genre, both classic and modern. The first impression you're likely to get is Dream Theater fronted by Doug Pinnick of King's X, thanks in large part to Al Joseph's deep, soulful vocals. It doesn't take long to realize that there's a lot more going on in The Great Gamble's sound. There are moments on Book I when you hear Shadow Gallery and Symphony X, and moments when a more modern Coheed and Cambria vibe comes through.
There are six songs on Book I, and nearly all of them hit the 10-minute mark, with one – album closer "The Sleepwalker Pt. 1 – Tears of Dagon" – hitting sixteen minutes. As you might expect, the long songs mean plenty of chances for the band to show off their considerable technical chops. That comes in the form of some intricate guitar work, complex rhythms and even some remarkable violin solos. The obvious risk for any progressively-minded band is that the overall song can get lost in all that instrumental excess, but for the most part The Great Gamble avoids that here. There are a couple of moments when the songs seem a minute or two too long, but by and large this is an album that you can get lost in, and one with a great flow from song to song.
It's worth mentioning that The Great Gamble is a Christian band, and their lyrics reflect that if you stop to really take them in. They're not preachy or over the top with them; it's more on a conceptual level, and is not likely to interfere with your enjoyment of Book I if you don't happen to share the band's faith.
Book I is a very strong debut from one of the most promising young progressive bands America has to offer. With a start this strong, it's hard to imagine The Great Gamble remaining unsigned for much longer. If you're a fan of progressive metal in any of its many forms, do yourself a favor and check out The Great Gamble. You have nothing at all to lose, since you can use the link below to download Book I for free directly from the band.
Genre: Progressive Metal
Band:
Christopher David (b)(v)
Steve Michael (d)
Matt Weaver (violins)(v)
Al Joseph (v)(g)
Track Listing:
1. Release the Kraken
2. The Marketplace
3. Legends of the Symmetria
4. The Ghost of Three Reflections
5. Breach at Fort Mycenae
6. The Sleepwalker Pt. 1 – Tears of Dagon
Website: www.thegreatgamble.bandcamp.com
Hardrock Haven rating: 8.75/10