by Joe Mis
– Senior Columnist —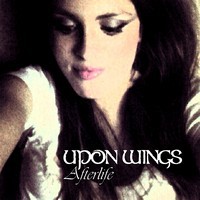 Afterlife is the debut from American operatic rock act Upon Wings. Built around the sweet soprano of Anne Autumn Erickson, the four tracks are a blending of operatic rock, pop, and Gothic metal.
Despite being a relative unknown, Upon Wings has some pedigree. The band is fronted by classically-trained dramatic mezzo-soprano Anne Autumn Erickson, and Peter Tzaferis provides the drums. Brett Hestla (ex-Creed, Dark New Day) contributed backing vocals and some guitar, Kid Rock's Grammy-nominated mixing engineer Glenn Brown played keyboards, and well-respected guitarist Kevin Jardine lent his strings to the release. Hestla, Jardine, and Brown combined to handle recording and mixing duties.
Undoubtedly, "Afterlife" is the standout track on the EP. The opener is a truly complete song, with strong vocals, thought provoking lyrics and outstanding musical performances by all involved. Anne Erickson uses her voice well, not focusing on the operatic end of her range. She approaches this song as more of a Gothic rock power ballad, and does not drown out the solid guitar work and great backing vocals that make this song complete. The listener will easily pick up the hints of her total range and power, but not be beaten over the head with it. "You Are My Weapon" follows, but it is not as strong. Anne's voice is much more operatic and displays more range – and there is some spectacular guitar work, but her higher powered vocals are too big a contrast to the slower, almost plodding rhythm line.
"Take Away" is another soft rocker with nice performances and a simple rhythm line, but the lyrics are a bit repetitive – in a sub three minute track the phrase "take away" is used more than 20 times. This unfortunately has the effect of making the entire song seem to almost loop back on itself and run longer than its time. "The Dream (I'm Only Happy When I'm Sleeping)" is very different form the other three – just vocals and keys. Anne show fine range, excellent vocal control and emotional depth. The simple arrangement gives this track an ethereal, other worldly feel – a great closer and a very well done piece.
Overall, Afterlife is well produced and recorded thanks to the veteran engineering team. The sound is warm and approachable, and the operatic vocals are kept nicely in check – never overpowering the music. Good songwriting is evident throughout, but the band needs to break away from the slower, plodding tempos and mix it up a bit. The music is excellent for a four song EP, but a greater variety of tone, tempo, and sound is needed before the band moves on to a full length release.
Anne Erickson is a gifted singer and a good songwriter, and Upon Wings is an act with great potential. A little more seasoning and the addition of a wider variety of styles and pacing will come in time, and make Anne a vocalist to follow.
Genre: Gothic Rock
Band:
Anne Autumn Erickson (vocals)
Glenn Brown (keyboards)
Kevin Jardine (guitars)
Brett Hestla (guitars, drums, backing vocals)
Peter Tzaferis (drums)
Track Listing:
1. Afterlife
2. You Are My Weapon
3. Take Away
4. The Dream (I'm Only Happy When I'm Sleeping)
Label: Sword of the Spirit Records, LLC
Website: http://uponwings.com
Hardrock Haven rating: 7/10