by Nikiforos Skoumas
– Columnist —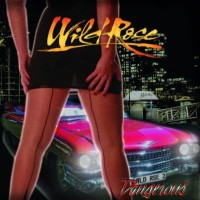 The Wild Rose camp has got to be one of the hardest working in the Greek rock scene; in 2011 Wild Rose debuted with Half Past Midnight, an album that redefined such terms as "retro" and "'80s-oriented" melodic rock. What followed was a multi-album deal with AOR Heaven records under which Wild Rose guitarist Andy Rock put out his first solo album Into the Night along with the second, brand new Wild Rose studio album Dangerous.
To those who bought the previous two albums, it should be clear that the driving force behind this band is Andy Rock. Originally coming out as the rhythm guitarist, for the biggest part, next to lead player John Bitzios and star vocalist George Bitzios, Andy wrote Half Past Midnight in its entirety with the occasional aid of keyboardist Haris Patsios.
As of 2013, John and George Bitzios are officially out of the line up which leaves Andy, Harris, bassist Phill Sakaloglou and drummer Vagelis Domanos in search of suitable replacements. Enter lead guitarist Tiny Carpo and seasoned British vocalist David A. Saylor of melodic rockers Push UK.
A common side-effect of line up changes is the contrastive musical orientation of the new offering. Wild Rose has gone to great lengths to ensure that the end result deviates as little as possible from the original album. Indeed upon first play it will be almost impossible to pick the minute alterations of the new voice of Wild Rose and the same goes obviously for the new lead guitarist.
Once again Wild Rose sound unforced, natural and — unlike most newcomer acts — seem uninterested in proving themselves, instead they celebrate the greatness of Adult Oriented Rock with a classic twist. Pick "I Can't Stop Loving You," the melodic orientation of the song is as '80s as you can possible get in 2013 and should be more than enough to make the sale. From there onwards the album treats you to such fiery radio rock as "Is this Love," the protestant opener "Alone," the playful "If You Still Love Me" and the defiant "Hold On," a synergy that makes the album an irresistible treat for any fan of the genre.
Conclusively the album's artistic value is definitely worth a nine out of 10 considering that Dangerous is very likely be looked upon as a classic of the genre in the years to come. However, if one is to place Dangerous in the context of three remarkable releases by a group that seems to never run out of stellar songs, then Dangerous certainly deserves a ten out of ten.
Genre: Adult Oriented Rock, Melodic Rock
Line Up:
Andy Rock (Guitars,Keyboards,Back Vocals)
Phill Gun (Bass Guitar)
Dirty Haris (Keyboards, Back Vocals)
David A. Saylor (Lead Vocals)
Tiny Karpo(Guitars,Backing Vocals)
Junior Domanos(Drums)
Track List:
01. Alone
02. Hold On
03. I Can't Stop Loving You
04. If You Still Love Me
05. Dream On
06. Awake
07. Tonight
08. I Won't Forget You
09. Is This Love
10. Not A Day Goes By
Label: AOR Heaven
Hardrock Haven rating: 10/10