D-A-D | Dic.Nii.Lan.Daft.Erd.Ark
by Derric Miller
– Managing Editor —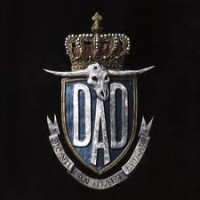 D-A-D has always been ahead of their time. Hell, they wrote the lyrics "A bad breath kiss to my pillow pet" in 1989 and the Internet says Pillow Pets weren't even invented until 2003. See … this band knows what's coming way before the common man. On their 11th studio release D-A-D just keeps proving over and over that they are one of the best Hard Rock bands on the planet and deserve a lot more love than listeners in the U.S. give them.
"A New Age Moving In" kicks things off, with a groovy, old school riff. Jesper Binzer has one of the most unique and identifiable vocal styles around. You know it's D-A-D instantly just hearing his melodically gruff and playful delivery. This is a huge arena anthem, heavy, and with a mellow breakdown before the guitar solo.
"I Want What She's Got" was their first single, and the chorus is about as syrupy (it's a compliment) and addictive as a Weezer hit. If you've seen the video you'll understand that after all these years, the dudes still have an incredible sense of humor and enjoy being D-A-D.
They start playing to their strengths on "Fast On Wheels." When D-A-D composes a mid-tempo rocker, that's their wheelhouse. This song is uplifting, asking you to take a breath and enjoy where you are, to live in the now. "Everybody's fast on wheels, they don't know how good the ground feels. I don't think I want to move … I'm home soon." Writing a memorable hit that is as existential as it is awesome isn't something most bands can concoct. This is their "Boys of Summer."
"Breaking Them Heart by Heart" is another strangely thoughtful track. On the surface, it's catchy song. But the constant references to "it," as in "More sin than evil, and it will again tonight;" "it believes it's the only one hurting;" or "it will be breaking them heart by heart" leads one to believe the story is a dissection of the those famous for being famous, or for being beautiful, or for being rich, etc. It dehumanizes the main character in the story by not assigning gender, meaning the song can be aimed at any soulless person, male or female.
If you want to hear a good horror tale, listen to "The Wild Thing in the Woods." Jesper's fevered vocal delivery veers the song into The Twilight Zone, when he snarls lines like "It's not what I already lost but what I'm going to lose," or "it's an angels wish; me, it's myself I can't fix!" The song tears into the darkness as a guitar solo ends the madness. Fun stuff …
The last three songs are all as high-quality as the earlier tracks. The hook on "Can't Explain What It Means" will have you humming along after one listen; "Drag Me to the Curb" slaps you with its sharp lyrics, like "Like a legend about to retire, take a bath with an electric wire;" and "Your Lips Are Sealed" is as close to a ballad as they get on the release, another thought-provoking, airy composition that gifts you with knowledge like "Lay yourself down on a track of tears; that's how a secret feels."
If you do the smart thing and pick up the deluxe edition, you'll get acoustic versions of five of the new songs and 11 live tracks, including favorites like "Jihad," "Everything Glows" and "Ridin' With Sue."
Is there a flaw? Well, the album is called Dic.Nii.Lan.Daft.Erd.Ark. So … yeah. But D-A-D wields a sense of humor and makes Hard Rock listenable, fun, and enjoyable again. And they make you think. Dic.Nii.Lan.Daft.Erd.Ark is better than Pillow Pets, Stompeez, SeatPets and Jim Beam, combined.
Genre: Hard Rock
Band:
Jesper Binzer—lead vocals, guitars
Jacob Binzer—lead guitar and keys
Stig Pedersen—bass and vocals
Laust Sonne—drums, keys, guitars, bass
Track Listing:
DISC 1
01. A New Age Moving In
02. I Want What She's Got
03. The End
04. Fast on Wheels
05. The Place of the Heart
06. Last Time in Neverland
07. Breaking Them Heart By Heart
08. We All Fall Down
09. Wild Thing in the Woods
10. Can't Explain What It Means
11. Drag Me to the Curb
12. Your Lips Are Sealed
DISC 2
01. I Want What She's Got (Acoustic)
02. The End (Acoustic)
03. A New Age Moving In (Acoustic)
04. Last Time in Neverland (Acoustic)
05. The Place of The Heart (Acoustic)
06. A New Age Moving In (Live)
07. Jihad (Live)
08. The End (Live)
09. Everything Glows (Live)
10. Ridin' With Sue (Live)
11. Monster Philosophy (Live)
12. We All Fall Down (Live)
13. Last Time in Neverland (Live)
14. I Want What She's Got (Live)
15. God's Favorite (Live)
16. The Place of the Heart (Live)
Label: AFM Records
Website: www.d-a-d.dk
Hardrock Haven rating: 8.8/10