Flotsam and Jetsam | Ugly Noise
by Jonathan
– Senior Columnist —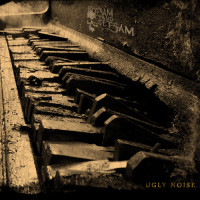 A return to form? Definitely! However, with some experimental additions as well. The legendary Flotsam and Jetsam have released a new and very ambitious CD called Ugly Noise. Let's start by not doing what everyone else is doing. You'll read reviews that feel the need to discuss previous members, in addition to the politics surrounding the recording and distribution of Ugly Noise; not in this review. Reason … because none of that really matters, this review is about the here and now; this review is about the music on Ugly Noise.
We begin with the cover, the tattered remnants of a piano that's clearly seen some better days. The sepia color and the angle of the keys, together they create depth and a mood which is exclusive to Ugly Noise. By comparison, the Ugly Noise cover is a unique and welcomed addition to the Flotsam and Jetsam catalog. That's not to take anything away from the artwork on No Place For Disgrace for example, which was done by the brilliant Boris Vallejo; it's simply different than the other CD covers.
…And being different is a perfect segue into the music portion of this review. Let's speak philosophically for a moment. The Chinese have a proverb which can be applied here … "Be not afraid of going slowly; be only afraid of standing still." Here's the analogy, Flotsam and Jetsam have never musically stood still from one CD to the next, they all differ in some way; and some more than others. So here's the big question, why do so many people try to pigeonhole Flotsam and Jetsam into one musical genre? If you approach Ugly Noise expecting it resemble their previous CD The Cold, or perhaps mirror No Place For Disgrace, then you couldn't be more wrong; and you obviously haven't been paying attention to the ever changing musical directions of Flotsam and Jetsam.
Without plagiarizing themselves, the majority of Ugly Noise sounds as though it could have been released following the High CD, or even following Unnatural Selection (If the production on that one wasn't so far removed from the others). Here's a couple examples. With a haunting yet very melodic chorus, "Run And Hide" could have appeared on Cuatro. "Carry On," while delivering even more than its predecessor, has an undeniable "Fork-Boy" quality during the verse, and might have also added to the flow of the High CD. Moments like these make Ugly Noise a fun listening experience for the fans that have been there from the beginning.
As mentioned earlier, experimental elements can also be found on Ugly Noise; which may or may not sit well with some. Case in point, "Rage" has a slight industrial feel, but only when they say the word "Rage," "Motherfuckery" is even more industrial, somewhat in the vein of Rammstein. The only thing questionable would be the chorus on "To Be Free," it tends to get a bit rap-like. Too much rap would simply be intolerable but not to worry, it's just a bit. Although the chorus seems to miss the mark, "To Be Free" is still thrashy and really does play well at loud volumes.
Speaking of loud volumes, the production on Ugly Noise is top quality as are the musicians in Flotsam and Jetsam, so play it loud!
Considering there's something here for everyone, thrash, straight forward metal, hard rock and even some industrial flavor, if you approach Ugly Noise with an open mind then you're sure to find some gems that will appeal to your musical palate.
Genre: Thrash, Metal, Hard Rock
Band:
Eric A. 'A.K.' Knutson — vocals
Ed Carlson — guitar
Michael Gilbert — guitar
Jason Ward — bass
Kelly David-Smith — drums
Track Listing:
1. "Ugly Noise" – 4:10
2. "Gitty Up" – 3:09
3. "Run and Hide" – 5:28
4. "Carry On" – 4:19
5. "Rabbit's Foot" – 4:17
6. "Play Your Part" – 5:29
7. "Rage" – 3:25
8. "Cross the Sky" – 4:45
9. "Motherfuckery" – 3:07
10. "I Believe" – 2:53
11. "To Be Free" – 3:08
12. "Machine Gun" – 3:17
Label: Metal Blade
Web: http://www.flotsam-and-jetsam.com/
Hardrock Haven rating: 8/10