by Alissa Ordabai
– Senior Columnist —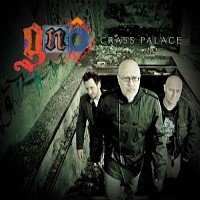 French guitar guru Christophe Godin continues on his cultural deconstruction mission with the trademark mixture of virtuosity and kooky humor. Most know Godin as the leader of the now legendary outfit Mörglbl – the most original, if not the best, French rock band to emerge in the Nineties. But this time Godin is leading a different, although an equally far-out crew – a trio called Gnô. The main premise Godin remains, however, the same – to mix and shake up as many disparate popular music styles as possible to make your head spin and your reason buckle.
Only this time the juxtapositions of punk and jazz, metal and pop, electronica and prog-rock sound even more outrageous and brazen than before. On standout "Toy Boy No More" the band manages to go through punk, pop, and metal with such fierce disregard for decorum, conventions, or respect for the settled ways in which those styles resonate with an ordinary music fan, it drives you beyond confusion and into spasms of nervous laughter.
Add to this the colossal riffs a la Dimebag Darrell and Godin's virtuosic guitar leads which sound both learned and ballsy, and the end result becomes cognitive dissonance of epic proportions. Some would say it's ruthless of Godin to place Beatles-esque melodies and Pantera-style riffs right next to each other, but his main purpose remains to see what happens with such wild contrasts. Exhilarating, constantly developing, and completely unpredictable is how this record asserts itself from the word go.
But it isn't all cerebral fun or experimentation. Subtler tracks such as "Modern Day Jesus" with its NIN-meet-Alan-Parsons vibe, or the self-ironically sentimental "Fly Free" show how Godin can use his knack for writing a perfect melody to test not only the outside world, but things within his own private realm. His fundamental formula may stay unchanged, but here he delivers some of his sharpest songwritng to date. What certainly helped is the fact that this is an album of actual songs, not instrumentals, with all band members taking turns with the mic duties.
Not simply pastiche and post-modernist games with culture, Godin's approach points finger at the atomized state of rock – overflowing with historical references and allusions, and at the same time with a chaotic sense of direction. Song titles such as "Abracadavra" become a perfect commentary on how popular music sees its own reflection in a fractured mirror where dozens of fragments remain irreconcilable and incomprehensible to each other. The final impression is akin to seeing a jazz scholar having an altercation with a punk – fascinating, grotesque, and hilarious at the same time, just like intended by Godin and his accomplices.
Genre: rock, hard rock, jazz, pop, electronica, heavy metal, punk, alternative
Personnel:
Christophe Godin – guitar, vocals
Gaby Vegh – bass, vocals
Peter Puke – drums, vocals
Track Listing:
1. Fate is My Name
2. Momentum
3. The Scavenger
4. Modern Day Jesus
5. The Doll
6. All Life Has Left
7. Don't Waster Your Time
8. Toy Boy No More
9. Punish Yourself
10. Abracadavra
11. Tooth and Nail
12. Fly Free
Label: Send The Wood Music
Online: www.christophegodin.com
Hardrock Haven rating: 9/10