Jimi Hendrix | People, Hell & Angels
by Alissa Ordabai
– Senior Columnist —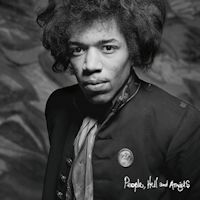 The big question with yet another posthumous Hendrix release is whether Jimi would have consented to it if he was still around. The brutal reality is that he isn't around, and decisions are now in the hands of business people. Either way, parents better take care their kids don't pick up this record before Electric Ladyland, Are You Experienced, or Axis: Bold as Love. Otherwise the whippersnappers may decide Hendrix was simply good; as opposed to being a genius.
That is not to say that the album doesn't offer some magical moments. But surprisingly, the most striking of them reside in the rendition of "Hear My Train A Comin'" – a hypnotic version of one of Jimi's best-known classics where he turns the blues tradition – without betraying it – into something beyond the confines of time, space, or particular culture. Psychedelia, blues, and his own expansive vision stretch into such universally compelling picture, you instantly understand how Hendrix managed to change not only music, but the way the whole generation began to think and live.
Other tracks show less brilliance, but that doesn't mean they sound bad or mundane. Hendrix's caliber makes sure that even when he simply relaxes with the guitar, or when he sketches some ideas at half-strength, or when he plays extended passages seemingly purely for exercise (as on "Easy Blues"), the music remains meaningful.
Disappointingly though, we learn nothing new here about the greatest rock guitarist of all time. There isn't one facet of his creative character that hasn't been showcased more deeply or beautifully on his studio albums released within his lifetime, or on his live recordings. For Hendrix scholars and die-hard fans this collection certainly has its place, but for ordinary listeners – especially for those who are just beginning to get acquainted with his work – this emerges as a confusing release. Portraying Hendrix as a skilled player with quite a bit of imagination, it doesn't show who he really was – a musical genius of colossal power, magnitude, and imagination.
Genre: rock, blues, blues-rock
Personnel:
Primary musicians:
Jimi Hendrix – guitars, vocals, bass guitar (track 9)
Billy Cox – bass guitar (tracks 1, 3, 4, 6-8)
Buddy Miles – drums (tracks 1-5, 10)
Mitch Mitchell – drums )tracks 6, 7, 9)
Juma Sultan – congas (tracks 3, 4, 6, 7, 12)
Additional musicians:
Larry Lee – rhythm guitar (tracks 6, 7)
Jerry Velez – congas (tracks 6, 7)
Stephen Stills – bass guitar (track 2)
Lonnie Youngblood – vocal and saxophone (track 5)
Rocky Isaac – drums (track 8)
Al Marks – percussion (track 8)
Albert Allen – vocal (track 11)
Jame Booker – piano (track 11)
Gerry Sack – triangle and mime vocal (track 6)
Track Listing:
1. Earth Blues
2. Somewhere
3. Hear My Train a Comin'
4. Bleeding Heart
5. Let Me Move You
6. Izabella
7. Easy Blues
8. Crash Landing
9. Inside Out
10. Hey Gypsy Boy
11. Mojo Man
12. Villanova Junction Blues
Label: Legacy Recordings
Online: www.jimihendrix.com
Hardrock Haven rating: 9/10