John Lawton & Diana Express | The Power Of Mind
by Joe Mis
– Senior Columnist —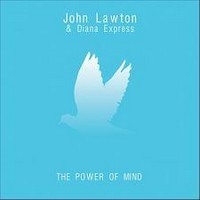 Veteran vocalist John Lawton (Uriah Heep, Lucifer's Friend) has joined forces with the respected Bulgarian rock band Diana Express to release a high concept classic rock opera album entitled The Power Of Mind. Written by musician Milen Vrabevski, The Power Of Mind presents a positive philosophy that states that the ability to change and create happiness and love comes from within. Sometimes abstract and esoteric, The Power Of Mind is an interesting journey through man's collective psyche backed by excellent musical performances.
Rather than the hard core blues rock one would expect from the Uriah Heep front man, John Lawton gives an intense and emotional but low key performance and varies tone and power to suit the music. Listeners will hear influences of the old rockers from Queen to Elton John to Billy Joel throughout the album – a treat for old school 70s or early 80s rock fans. The music moves from atmospheric to rockabilly to solid blues rock, and each track blends nicely into the others giving the release a sense of balance. The arrangements are simple and direct, with little post-recording trickery to break the contemplative mood, and just the right mix of energy levels to keep most listeners interested.
For the most part, the complex music on The Power Of Mind is built around the vocals. Strong performances and well-done harmonies fill most of the tracks but the band behind Lawton is superb, particularly Maxim Goranov on guitar, and the various piano players. The Pleven Philharmonic Orchestra adds a great deal of depth to the recording making it a true rock opera.
"Intro" opens with great blues guitar and orchestra backing a quick spoken word passage. "Mind Power" starts with piano & orchestra before the guitar and vocals kick in. The metaphysical lyrics set up the album's theme about strength of will and thought, and the guitar work is incredible. "Two Hearts" is a soft rock track, one that seems suited for a stage production, but despite being wonderfully performed it is a bit drawn out and seems to run longer than it should. "Love's Light Shining" is a strong piano / vocal piece, and also features a nice drum line and amusing backing vocals at the end. "Max Rock" is a bluesy 60's style guitar rocker with a great bass line and keyboard solo, while "Fairytale" is a piano-driven Elton John style song. Lawton proves that "Rock And Roll Is My Thing" with a toe-tapping up-tempo performance.
"The Search" is a beautifully done acoustic guitar and piano tune at the onset, but it morphs into a solid, but slightly drawn out, vocal rock number by the end. "Springtime" is a lazy acoustic number with a sweet piano break, almost a folk song. Blues rock with a good deal of brass shows up on the bouncy "In Rhythm With You" – a truly enjoyable and fun track. The more energetic guitar rock (with a great acapella interlude) continues on "Now I Know," while "New Rhythm" is a darker sounding, more intense rocker with a Billy Joel / Elton John feel to it. The Pleven Philharmonic opens "Love In The World," a track that features some of the best guitar work on the album. "Finale" ties everything up into a neat little package, reprising highlights from the balance of the album.
Overall, The Power Of Mind is a nicely done album. Fans of Lawton's older work may be slightly disappointed by the lack of high energy tracks, and those expecting gritty rock will be surprised by the smooth and low key approach he takes. While most of the songs are well done, there are moments when they seem to drag a bit. The band's positive messages and raw talent make these minor issues forgivable. If you're into the whole rock opera / concept album deal, John Lawton and Diana Express will not disappoint.
Genre: Classic Rock Opera
Band:
John Lawton (vocals)
Maxim Goranov (guitar, backing vocals)
Nikolay Kardzhilov (bass)
Valeri Konov (keyboards, backing vocals)
Tsvetan Banov (drums, backing vocals)
Guest Musicians:
Rossi Diakovska (piano – tracks 2, 4, 8, 13, 14)
Milen Vrabevski (piano – tracks 2, 3, 4, 6 & acoustic guitar – tracks 8 – 12)
Acho Zaberski (piano – track 14)
Karolina Gorcheva (vocals – track 8)
Pleven Philharmonic Orchestra (tracks 1 – 4, 8, 9, 13, 14)
Gerasim (piano – track 9)
M. Yosifov (trumpet – track 10)
V. Stoyanov (trombone – track 10)
D. Lyolev (saxophone – track 10)
Track Listing:
1. Intro
2. Mind Power
3. Two Hearts
4. Love's Light Shining
5. Max Rock
6. Fairytale
7. Rock And Roll Is My Thing
8. The Search
9. Springtime
10. In Rhythm With You
11. Now I Know
12. New Rhythm
13. Love In The World
14. Finale
Label: Intelligent Music
Website: www.johnlawtonmusic.com & www.dianaexpress.com
Hardrock Haven rating: 7/10