by Jenn Carbaugh
– Columnist —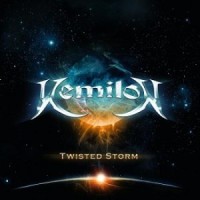 Kemilon is a metal band based in Montreal, but they originally formed in Sherbrooke by current guitarist Chris Geoffroy in 2007. Since the formation of this band, there have been several lineup changes. Despite the changes, Kemilon has released their newest album with their distinctive sound. There's no doubt that the band has a sound all of their own, but the musical influences are definitely heard in their newest album, Twisted Storm. This talented group of guys pulls their inspiration from Gamma Ray, Dream Theater, and video game music. The muses of the classic video games' soundtracks like Megaman and Castlevania can be heard throughout the series of the new album.
Kemilon is thought to produce music that is a fuse of Power and Progressive Metal. The rock style vocals and the band's talent with instruments allow them to create a sound that is unique to them and the music world for the most part. With Yan Gagné providing clean vocals, the speed and precision of the instruments takes the main stage. The vocals are done well, but the real focus is on the rhythmic change ups that attempt to keep the video game feel alive. The melodies and technical ability in songs such as "Night Shades" and "The Gates of Heavy Metal" show that this band can produce a storm of musical talent.
However, the high squealing and video game journey sounds of the keyboard do become redundant within the album. Those sounds are what set Kemilon apart from other bands, but the album begins to get a little monotonous. It feels like if you hear the first part of the album, you've heard it all. Songs such as "The Revolution" and "Warriors of Space" are undeniably worth listening too, but the album is not accomplishing anything too memorable.
Genre: Metal, Rock
Band:
Yan Gagné – vocals
Louis Jacques – guitar
Chris Geoffroy – guitar
Arnaud Spick-Saucier – keyboard
Charles Brodeur – drums
Track Listing:
01. Beyond Frontiers & Ocean of Insanity
02. Night Shades
03. Sons of Lies
04. The Gates of Heavy Metal
05. The Glow
06. The Revolution
07. Twisted Storm
08. Warriors of Space
09. Wormhole
Label: Maple Metal Records
Website: https://www.facebook.com/pages/Kemilon/93542324544?id=93542324544&sk=info#!/pages/Kemilon/93542324544
Hardrock Haven rating: 5/10