LIVE! | Green Day with Best Coast
by Jonna Ambur
– Senior Photojournalist —
APRIL 6, 2013, MOHEGAN SUN ARENA, UNCASVILLE, CT —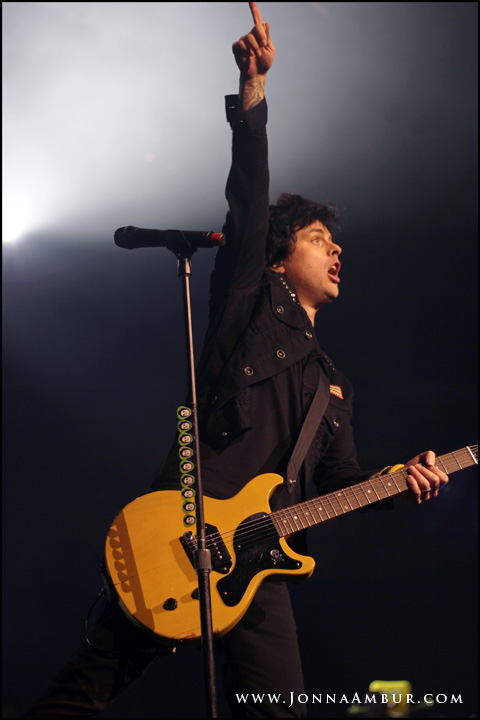 The lights dimmed, the first notes of Green Day's intro bellowed through the speakers, and the crowd noise was deafening. A packed arena was filled screaming fans who sang along with the band, cheered, laughed, jumped and danced for the entire set. The verdict was unanimous: Green Day kicked ass! The set list was packed with favorites, such as like "99 Revolution," "Know Your Enemy," "Boulevard of Broken Dreams," "Hitchin' a Ride," "2000 Light Years Away," "Brain Stew," "Basket Case," and "Minority." Billie Joe Armstrong (vocals), Tre Cool (drums) and Mike Dirnt (bass) didn't let their fans down. Jason White (background vocals), who was made a permanent member of the band, was welcomed warmly by all. After a Connecticut date postponement and a short break, Green Day let its fans know how much the band appreciated every single one of their fan's support over the years.
One lucky teen, who got to sing alongside Armstrong, then launched himself from the stage, flying into the pit and landing into a sea of supportive and cheering fans. Later in the set, almost a dozen additional teens were brought up to the stage to sing, dance and engage with the band that they had been waiting months to see. To say this show was worth the wait is an understatement!
As the night came to a close, Green Day performed a three-song encore, which included "American Idiot." Nobody wanted the night to end, and the band showed no sign of wanting to leave. Right down to the last note, Green Day rocked the house, kept the adrenaline pumping and gave everyone in attendance an experience that will be talked about for a long time, for sure. This is a definite must-see tour if you can get to it!
Green Day Discography:
39/Smooth (1990)
Kerplunk (1992)
Dookie (1994)
Insomniac (1995)
Nimrod (1997)
Warning (2000)
American Idiot (2004)
21st Century Breakdown (2009)
¡Uno! (2012)
¡Dos! (2012)
¡Tré! (2012)
LIVE! | Green Day Concert Photo Gallery
[Photos by Jonna Ambur]