by Deb Rao
– Senior Columnist —
April 13, 2013 at Santa Fe Station in Las Vegas, NV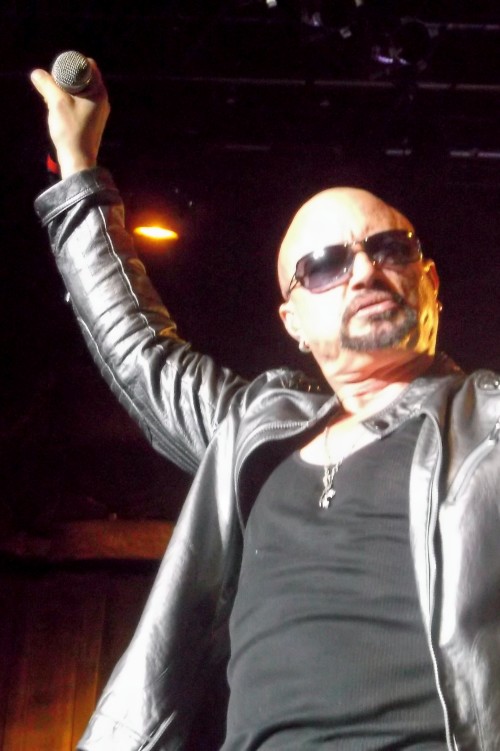 In celebration of the 25th Anniversary of Operation Mindcrime, Queensryche made a special stop in Las Vegas for a sold out performance at Santa Fe Station at the Chrome Room. These days it seems the growing trend for '80s bands to have two versions of the band but in this case it is all for the best. Singer Geoff Tate has assembled top-notch musicians to launch the re-birth of the band. This stellar line-up featuring Geoff Tate on vocals, veteran bass player Rudy Sarzo, Robert Sarzo on guitar, Kelly Gray on guitar, Randy Gane on keyboards and Simon Wright on drums, all gave an outstanding performance. Singer Geoff Tate commented, "Las Vegas was the 5th show of this line-up. The tour has been very fun so far and they were working out all of the kinks." He also wanted to thank the fans at Hardrock Haven for all of their support.
Kicking off the Operation Mindcrime set with "I Remember Now," the new line-up of Queensryche were ready to rock in all their glory. The band roared with "Revolution Calling." Geoff Tate who is possibly one of the '80s greatest singers sounded amazing. He took full command of the stage and sang with much passion and conviction as they played one of the top albums of the metal genre in its entirety.
Guitarist Robert Sarzo was excellent changing from electric to his acoustic Ovation, the intricate guitar work he performed was precise and sizzling. There was also a special appearance by Nina Noir as Sister Mary on "Suite Sister Mary."
Perhaps one of the most captivating moments of the set was when Geoff appointed the audience with water during the song "I Don't Believe In Love," then launched into "Eyes Of A Stranger." This song stills sends chills down my spine. I love the haunting vocals and chord changes during this song. The rhythm section of Rudy Sarzo and drummer Simon Wright was ferocious. Both Rudy and Simon have such a long list of musical accolades. The talent that is in Queensryche is mind boggling.
The show didn't end there. The 90-minute performance of Operation Mindcrime was capped by a 4-song encore that included such hits as "Silent Lucidity." It was great to watch the fans sing along to this song. Robert Sarzo again displayed some fancy acoustic guitar picking on his Ovation. Queensryche then launched into "I'm American," "Jet City Woman" and ended with "Empire."
Be sure to catch Queensryche when they come to a city new you. The last time I had seen the band was in 2008. In comparison, I really enjoyed the new line-up. The high quality display of musicianship was ever so compelling to envision. There seems to be a new found enthusiasm. Geoff Tate seemed really happy to be back onstage. Queensryche will without a doubt build a new empire of fans with this line-up and the ever so stellar vocals of Geoff Tate.
Set List:
I Remember Now
Anarchy X
Revolution Calling
Operation Mindcrime
Speak
Spreading The Disease
The Mission
Suite Sister Mary
The Needle Lies
Electric Requiem
Breaking The Silence
I Don't Believe In Love
Waiting For 22
My Empty Room
Eyes Of A Stranger
Encore:
Silent Lucidity
I'm American
Jet City Woman
Empire
Official Website: www.queensryche.com