by Deb Rao
– Senior Columnist —
March 29, 2013 at Vamp'd IN Las Vegas, NV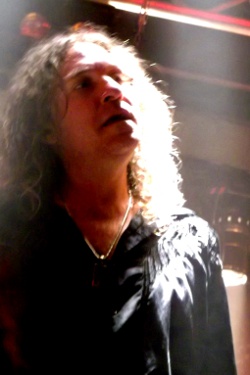 20 years in the making and Saigon Kick are poised for the comeback tour of the year. They say timing is everything, by the looks of the sold out venue at Vamp'd in Vegas, that old cliché speaks volumes. The reunited Saigon Kick featuring Matt Kramer, Phil Varone, Jason Bieler and Chris Mclernon hit the Vegas stage at midnight with a vengeance. Opening with the song "New World" the band performed a 90-minute set.
Matt Kramer voice sounded great. The singer, clad in sunglasses, danced around the stage, reminiscent of The Doors Jim Morrison leading the audience into a psychedelic frenzy. The pissed off angry lyrics spiraled around the venue prompting many fists to be raised up in the air.
Matt commented that the band had been lumped into the hair band genre but the bands music portrayed so much more. With an array of punk, jazz-fusion, and hard rock Saigon Kick's set unleashed it all brilliantly. The sound was tight. It was hard to believe 20 years had passed since I have last seen the band in Boston at the Orpheum, opening for Extreme. Jason Bieler commented it took 17 years and 3 years of talking to make this tour happen. Vegas was one of the select cities on this 5-city tour. The other dates 3 included shows in Florida ending in Los Angeles.
Highlights of the set included the psychedelic song "Colors" and "All I Want." Matt Kramer commented that the Beatles were a huge influence on the band as the band launched into "Dear Prudence." One of the greatest aspects of the band is the harmonies and expertise drumming of Phil Varone. Phil led the band through many up tempo songs and different musical styles. Matt sang with much conviction. The only downer song was "My Dog," which is a sad tune.
Highlight of the set included the encore "Love Is On The Way," the song was a true MTV Kodak moment as the audience sang along. At the end of the set Matt invited everyone onstage for "What Do You Do."
It seems every year defines a moment that captures music history. I am proud to be part of the magic that transpired at Vamp'd' during the Saigon Kick set. Hopefully, the band will continue to tour and maybe write a new album. For now it was so refreshing to hear all the old songs. The future looks bright for Saigon Kick. Hopefully the second time around will be the charm and re-launch the band into super-stardom.
Special thanks to Phil Varone for making this review possible. Be sure to check out Phil's exclusive interview right here at Hardrock Haven.
Set List:
New World
Suzy
Coming Home
Peppermint Tribe
Down By The Ocean
The Lizard
Dear Prudence
Colors
God of 42nd Street
All I Want
Ugly
What You Say
World Goes Round
All Alright
Hostile Youth
My Dog
Month Of Sundays
My Life
Love Is On The Way
What Do You Do
Official Facebook: www.facebook.com/saigonkickofficial