LIVE! | Sevendust with Lacuna Coil, Coal Chamber and Stolen Babies
by Jonna Ambur
– Senior Photojournalist —
APRIL 14, 2013 at WEBSTER THEATER, HARTFORD, CONN. —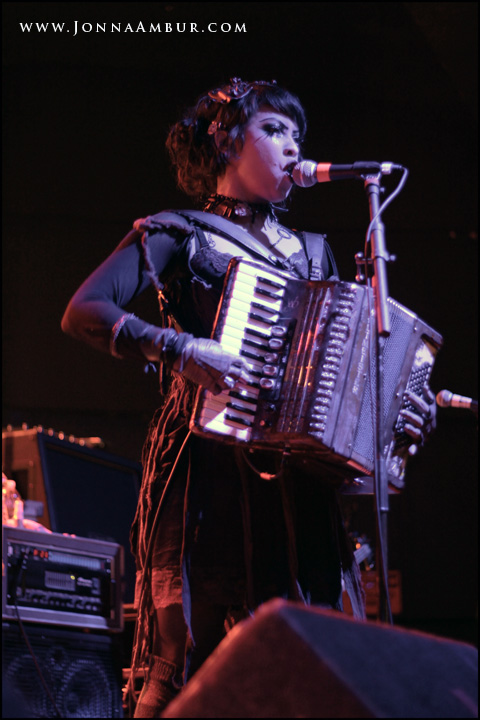 With a theatrical lore and a steampunk style, Stolen Babies started out the night. This five-piece band has been around since 2002 and has three solid recordings, most recently Naught, which was released in 2012. Featuring Dominique Lenore Persi (vocals and accordion), Rani Sharone (bass), Gil Sharone (drums), Ben Rico (keyboards/percussion) and Davey Oberlin (guitar), Stolen Babies offered an avant garde style of music that warmly was received by the full house audience. Having an accordion and a stand-up bass in a "metal" band is not something you see everyday, but they made it work and made it work well.
Set List:
Never Come Back
Splatter
Push Button
Filistata
Mousefood
Tablescrap
Spill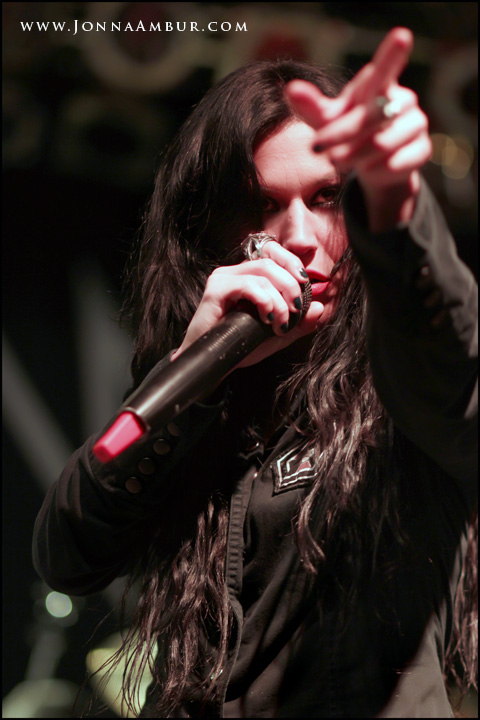 Italian-based metal group, Lacuna Coil was next up. The band played to an easily sold-out venue. The roar from the fans welcomed the group as they started out their set with "I Don't Believe in Tomorrow." The songs "Kill the Light," "To the Edge," "Upsidedown," "Fragile," "Survive," Intoxicated" and "Trip the Darkness" followed. The set ended with the hit, "Spellbound."
The melodic vocals of Christina Scabbia and Andrea Ferro perfectly blend together. Lacuna Coil is one of the few metal bands around that features two lead singers. With full support of Marco Coti Zelati (bass), Cristiano Migliore (guitar), Marco Biazzi (guitar) and Cristiano Mozzati (drums), Lacuna Coil was an unstoppable musical powerhouse!
Studio albums date back to 1999, but the 2004 release of Comalies put them on the charts in the United States. Followed by Shallow Life in 2009 and, most recently, Dark Adrenaline released in 2012, the six-piece group has been unstoppable.
Lacuna Coil continues on the tour until the end of this month. After a break, the band will be back in their home country of Italy for an August performance. Hopefully, you can catch them as the band rounds out this tour. Lacuna Coil is a band that you HAVE to experience live!!
Coal Chamber co-headlined with Sevendust. The band is touring after its 2011 announcement that the group reunited after a breakup in 2003. Dez Fafara (vocals), Miguel Rascon (guitar), Chela Rhea Harper (bass), and Mike Cox (drums) played a full set from the band's three releases, Coal Chamber, Chamber Music and Dark Days.
Set List:
Loco
Big Truck
Fiend
Rowboat
Something Told Me
Clock
Drove
Not Living
Dark Days
I
No Home
Oddity
Sway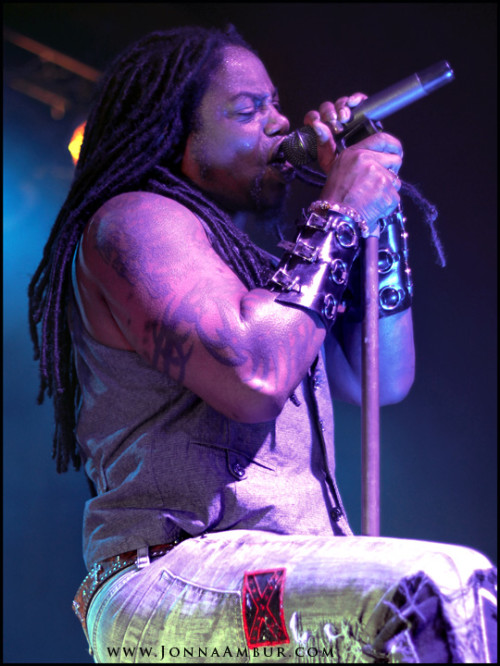 Touring in support of the current album Black Out The Sun, Sevendust's presence as they took the stage at the Webster caused heart-pounding approval from the fans. The first song of the night was "Decay," a perfect introduction to a set customized just for longtime fans of the band. "Praise," "Denial," "Alpha," "Waffle," "Strong Arm Broken," "Rumble Fish," "Bitch," "Pieces" and "Black" followed. Die-hard fan didn't moved from their spots, especially if they were on the rail. In fact, during "Praise," a determined 10-year-old named Ryan was brought over the rail. The packed crowd was keeping him from seeing his first ever concert, and his mother, security and some friends helped him to a seat in front of the stage, where his mom joined him. Lejon then called him over to the stage and handed him two guitar picks to maximize his memorable night even further.
Sevendust is a band that not only is unstoppable in the metal world, but the band members are men with an appreciation for their fans, and that was made evident numerous times during the night. They often paused to thank everyone and their gratitude clearly was genuine.
They left everyone wanting more, even after their encore of "Splinter" and "Face to Face." From the looks of it, if they played another hour, not a single person would have budged.
The band will be touring straight through until July of this year. The Connecticut show was the last performance for Troy McLawhorn, who has been filling in for Clint Lowery. This is a show and lineup not to be missed. Get your tickets early, though; nearly every show as been a sell out!!
Sevendust is:
Lajon Witherspoon (vocals)
Clint Lowery (guitar)
Morgan Rose (drums)
John Connolly (guitar)
Vince Hornsby (bass)
Sevendust with Lacuna Coil, Coal Chamber and Stolen Babies Photo Gallery
[Photos by Jonna Ambur]